When writing the book on the history of Surrey Hills, many people worked at AFH who were not mentioned but deserved praise for their contributions.
One of those was Ross Hills, a Burnie local who rose to a senior position in AFH. As a manager at Burnie during the 1980s, Ross was part of expanding the eucalypt plantation program. While the book gave special recognition to Dick de Boer and later Les Baker, Ross' contribution was immense and deserves recognition.
Ross and his father, Cyril, have a close connection to Surrey Hills. In his youth, Ross spent much time with his father, Cyril, in the bush. Cyril was born in 1924, and the family moved to Guildford Junction in 1935, with Cyril attending the small Guildford Junction school. His father, Walter or Watty, was a fettler with the Emu Bay Railway Company (EBR Co.). Cyril snared with him on Surrey Hills from 1937 until the family moved to Burnie in 1941.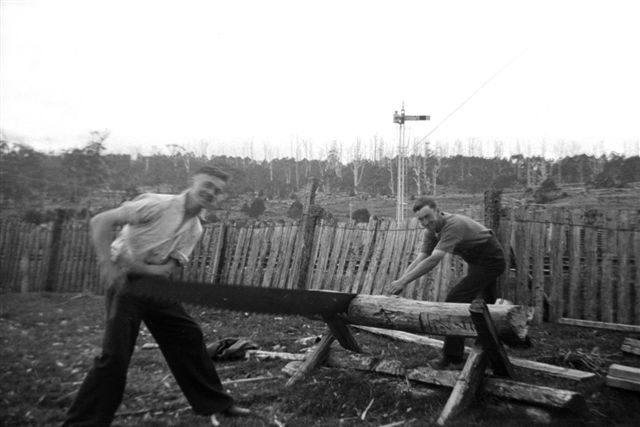 Cyril, left, aged 16 with his uncle Wally Hills, at Guildford, 1941. Photo Diane Walsh.
Cyril left school aged 14 and started wallaby and rabbit trapping and snaring to make a living, spending many hours in the bush. Chapter 7 of my book "Fires, Farms and Forests" details his snaring activities on Surrey Hills. In the 1940s, Cyril obtained a snaring run under tender at Blackmarsh. He used to stay at Thompson's Park hut with other snarers, David Wilson and Luke Etchell, men he knew from his Guildford Junction days.
Cyril at Thomson's Park as part of his snaring activities. Photo Cyril Hills family collection, courtesy Diane Walsh.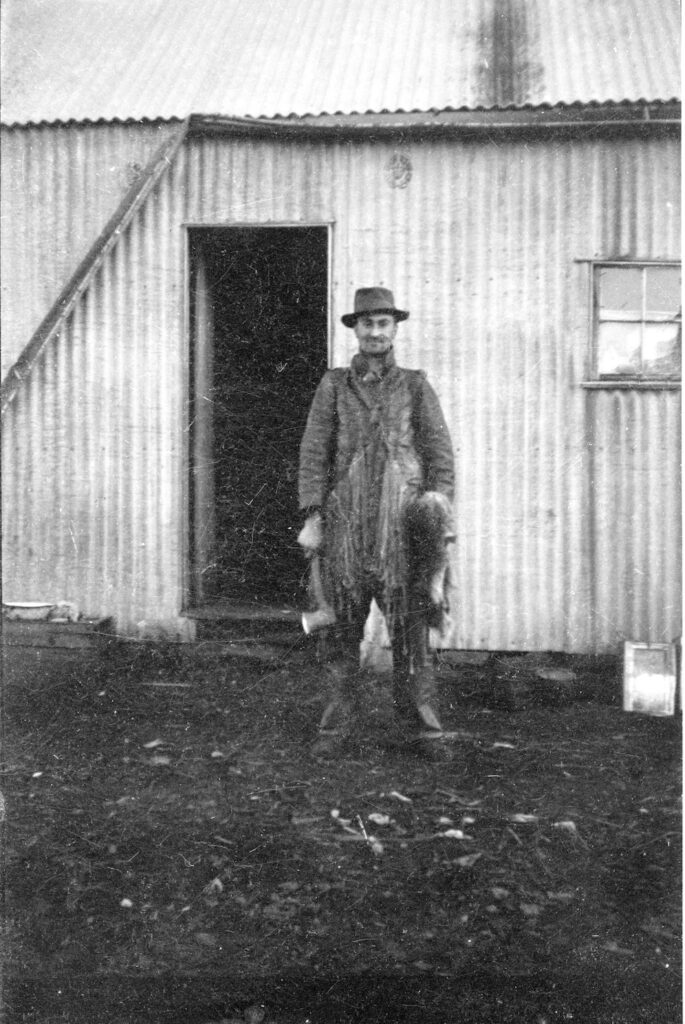 Despite his limited education, Cyril accomplished a lot in life. After moving to Burnie at 16, Cyril got a job as a plasterer, then a cleaner at the EBR Co. He then became a locomotive fireman and first-class engine driver, qualifying as a steam locomotive engine driver. He left the EBR Co. to start shift work at the Burnie pulp and paper mill in 1949 in the No 1 boiler house and, after 18 months, was put in charge of the boiler plant, a position he held for nearly 23 years. He was one of the first boiler operators to be promoted to the engineering department as a technical officer.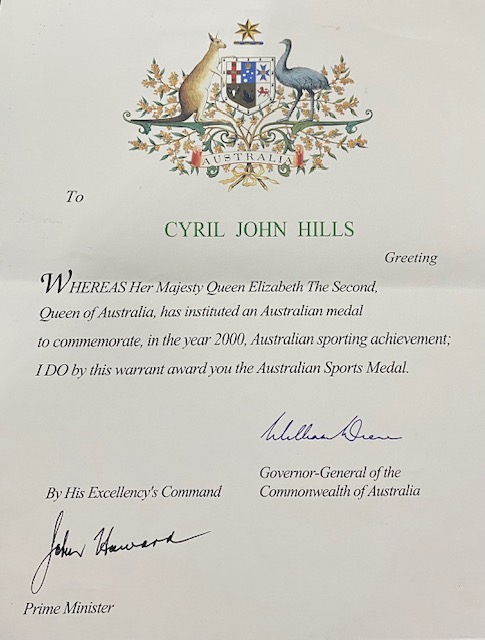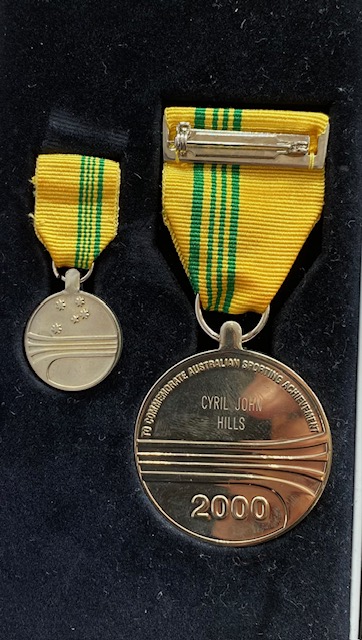 Cyril was also a competitive sportsman. His passion was badminton, probably first flamed on the somewhat smaller court in the Guildford Junction Hall. He played A Grade for many years with the South Burnie Club and coached juniors, becoming a life member of the Western Division of the Burnie Badminton Association. It culminated with him receiving a Commonwealth Medal in 2000. Cyril was also a keen runner, boundary umpire, squash and tennis player. So, it is no surprise that he was on the Burnie Sports Centre Committee.
Cyril with a crop of browned potatoes in 1961. Photo Diane Walsh.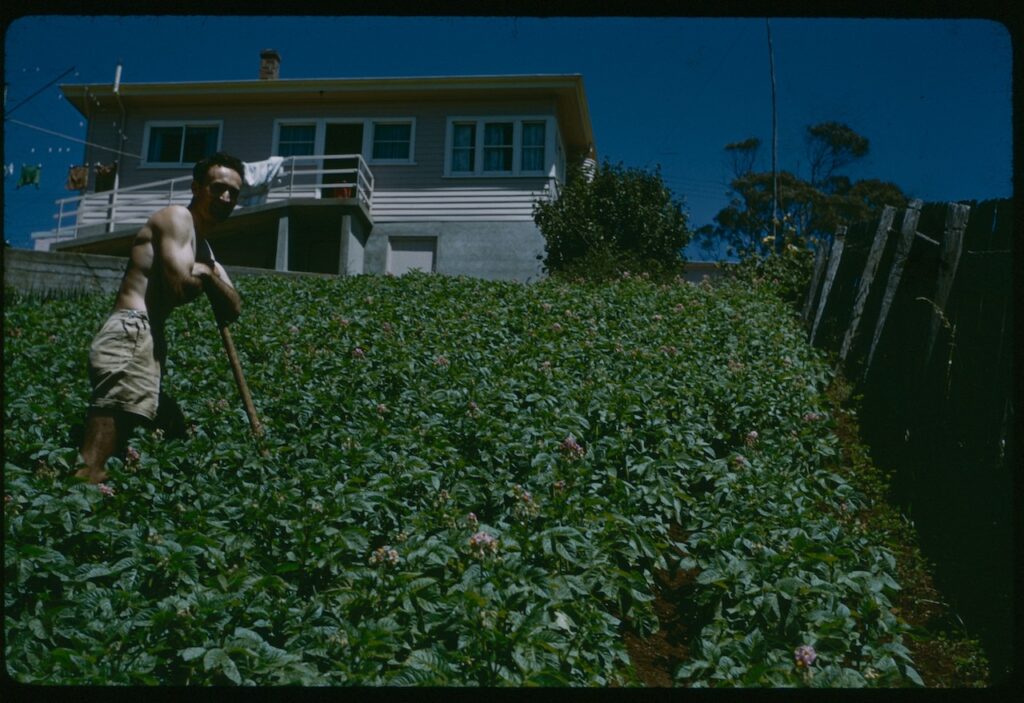 Cyril built his house on Studholme Street in South Burnie on Van Diemen's Land Company (VDL Co.) land in about 1948 and another four for his family. With the family house backing onto bushland, Ross and his sister, Diane, spent much of their childhood exploring the area. Along the creek, they caught tadpoles, picked blackberries and scavenged mushrooms. It was during this time that Ross developed an interest in insects. He used chloroform bottles to euthanise the insects so he could pin them in insect boxes made for him by Cyril. Diane recalls him bringing home praying mantises and putting them on their mother's flowers on the mantelpiece.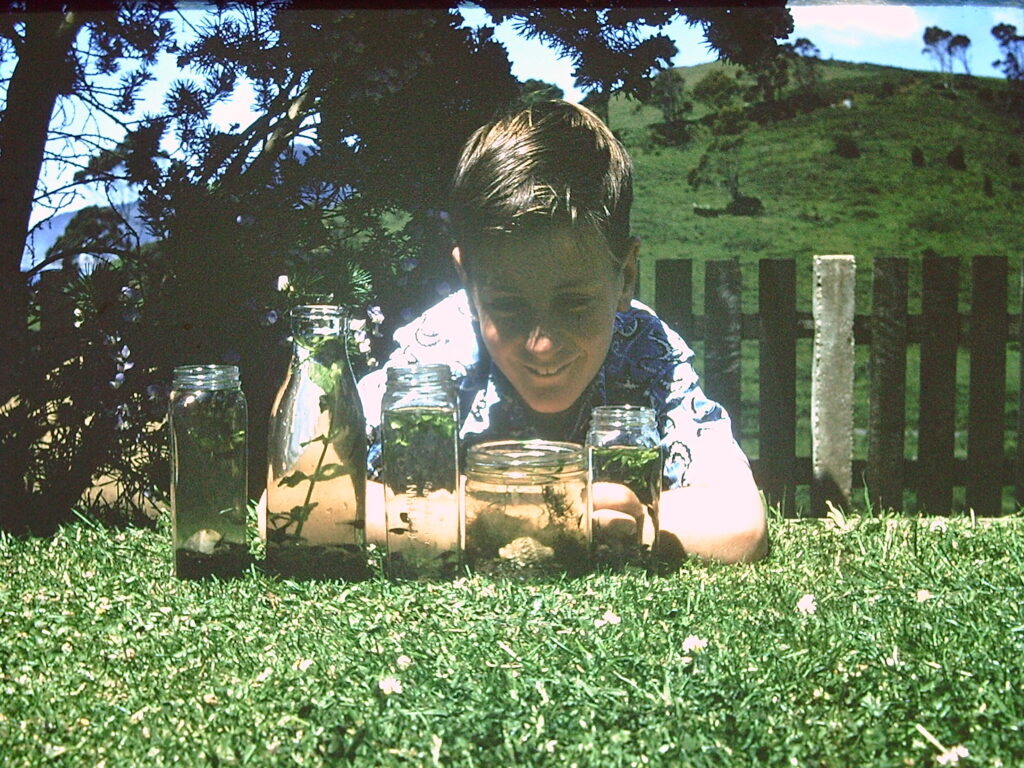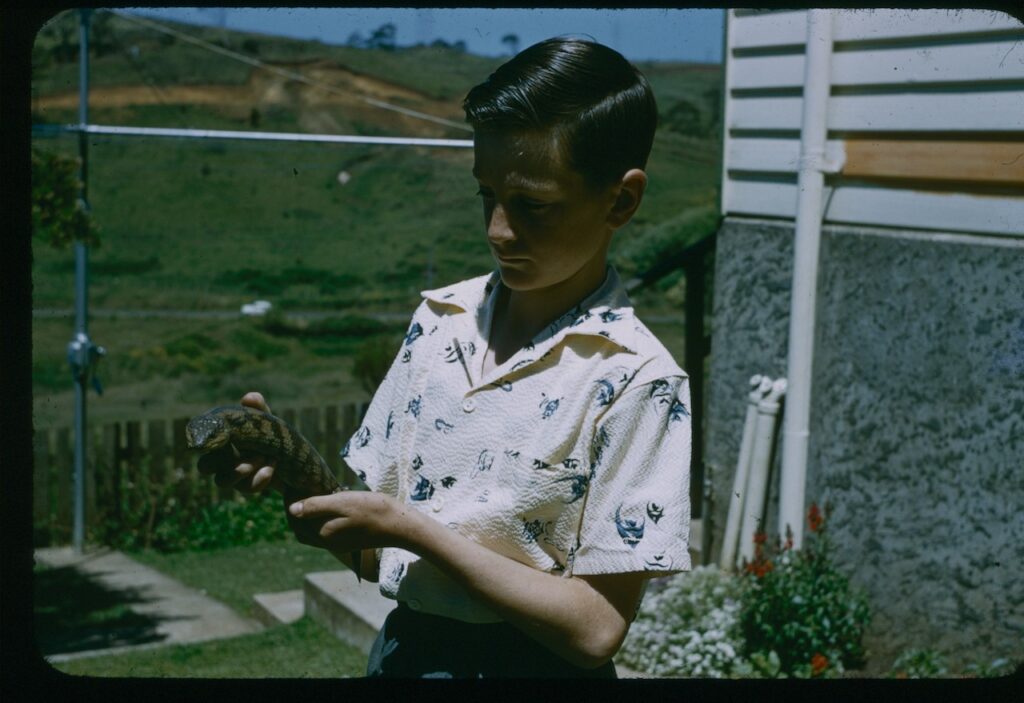 Ross joined the Burnie Field Naturalists Club when he was about ten, learning about insects and the environment. According to his daughter Katie, he discovered Tasmania's first redback spider.
Ross graduated from Burnie High School in 1963, where he was house captain. He got a scholarship from AFH to study at university. In return, he worked as a cadet forester doing fire spotting and burning activities.
Diane, Ross and their mother Beryl at Guildford in 1957. Photo Diane Walsh.
Ross already had a passion for geology, botany and entomology and went to Hobart to study science at the University of Tasmania. Then, in 1967, he studied forestry at the Australian National University in Canberra, graduating in 1968.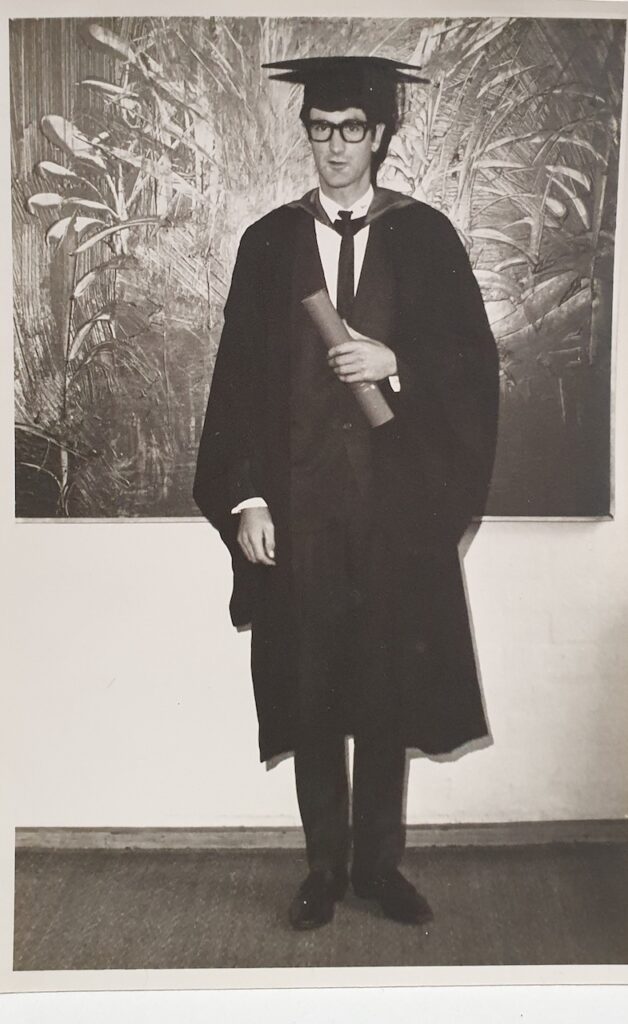 After graduation, he spent a year with a university mate travelling around Australia before moving back to Burnie to take up his position with AFH in February 1969, initially as Forest Planner. Some of his work colleagues describe him an intense person and quite theoretical in his thoughts and understandings. Among his early assignments were trial plantings of eucalypts on company property at Woolnorth in the far north-west of Tasmania. The problems were formidable: weed competition; various insect pests; frost damage; and even hailstorms.
Ross was not overawed. Being a fast learner and good listener, he organised solutions with intense curiosity. Evidence of this was his interest in geology, insect collection, and experimental plantings in conjunction with Dick de Boer's team at Ridgley. Difficult problems were eventually solved. A small arboretum was established in 1969, proving to be a helpful demonstration trial. This was followed in 1974 by a trial with multiple species and seedlots. Ross was thus a valuable pioneer on a difficult assignment.
He married Stephanie in 1974 and they had two children – Damien, born in 1976 and Katie in 1979.
Stephanie recalls going to Surrey Hills on weekends with Ross when they were dating. She learned about measuring trees and calculating the age of a tree by counting the rings on a stump. Ross would record everything in detail in the little note book he always carried. But it was his excitement and enthusiasm in the bush that left a lasting impression upon her.
As she reflected on her memories of Ross, she recalls the scent of eucalypt leaves that drifted back to her along with the sight and feel of various barks that Ross introduced her to. He would split the leaves and wave then under her nose saying, "what do you think of this scent?" Or he would hold a piece of bark placed in her hand for her to examine. He was like a young enthusiastic boy discovering these things for the first time.
The names Eucalyptus regnans, delegatensis and nitens have drifted back into her consciousness during her reflections. She confesses that she has forgotten most of the Latin names of the various species that Ross taught her.
Damien, Ross, Katie and Stephanie and pet Ellie Barker. Photo Damien Hills.
Ross was indeed a teacher who shared his valuable knowledge not only with Stephanie, but their children, during their many excursions to the bush. As she fondly recalls:
"Ross knew every twig underfoot every leaf and fungi and moss. As time went by and he found himself working in a managerial position at AFH, she noticed that he was always happiest on the days when he would be going out to do field work. He would pack a thermos and sandwiches into his sugar sack (a hessian bag) and off he would go with a smile and cheer. She never knew what he might bring home with him at the end of the day. There was always something of interest. An insect in a matchbox or a rock and very often a species of fungi which much to her consternation (after identifying the fungi in his book) he would fry up and eat!"
Surrey Hills was an excellent playground for anyone that spent their youth interested in the outdoors. And Ross was keen to share his passion with his children.
Both Damien and Katie also have fond memories of spending time with their father in the bush. He was in his element while in the field and taught them everything he knew about the natural world.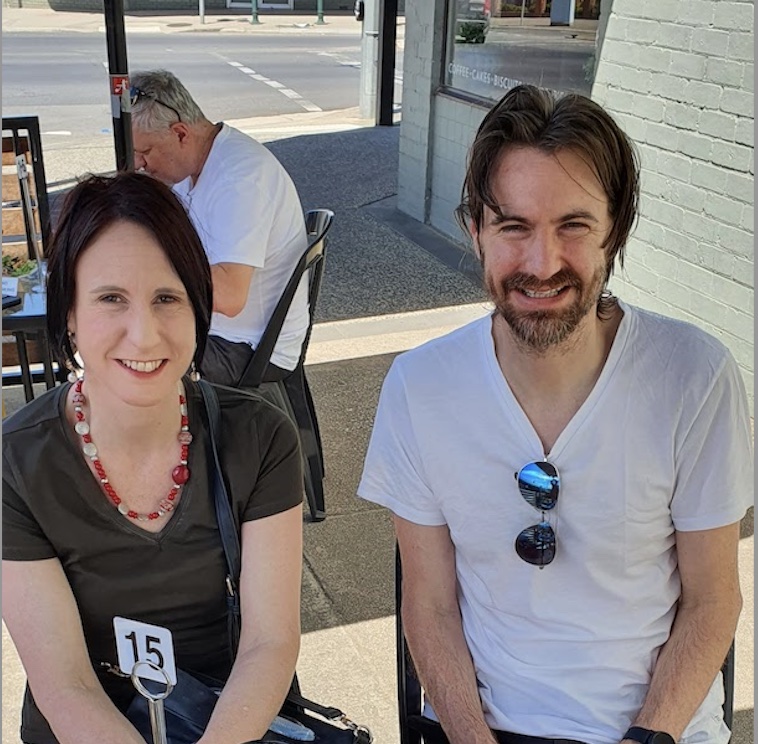 Recent photo of Katie and Damien. Photo Damien Hills.
Ross was passionate about his work, and much of his recreation time included visiting AFH properties. On many weekends Damien and Katie often accompanied their father to the 'pulp' bush, mainly Surrey Hills, where he incorporated their adventures with his job responsibilities. This included trips to inspect plantations, where Ross would look closely at the bark and leaves of the young trees.
According to Damien:
"We would see if we could spot any pests and work out what could be done to help protect the trees. Dad would always point out how straight and tall they were growing and how that was important for getting the most out of the timber".
The more serious work aspect of the trip was usually at the beginning. Then Damien and Katie looked forward to the inevitable bush walk in one of the many reserves on AFH-managed properties. As Damien recalls:
"We would open the gates as Dad said hello to everybody, close them and then go on bush walking tracks up the various mountains. A favourite being St Valentine's Peak. The peak was somehow significant to both Dad and Pop. Probably because Pop grew up around that area".
Ross had a vast knowledge of the local flora and fauna. However, as young children with a little less interest in the minutiae of their natural surroundings, they often struggled to match their father's enthusiasm when he constantly tried to get them to memorise the scientific names. They were more eager, instead, to reach their destination with the oft-said phrase, "are we there yet, Dad"?
Ross and Damien at Mount Gnomon in the Dial Range, 1991. Photo Katie Hills.
Damien says the best way to escape reciting the names of the trees in Latin was to run ahead and try to beat their father to the top! So not only was the day in the bush one of excitement, it was also a good exercise in learning bush skills. Ross would also try and teach them how to find shelter, mark trees so they didn't get lost, drink water from high flow parts of the creeks not standing water, follow rivers etc. He also peeled the bark off trees to show them insects and played practical jokes with stinging nettles.
Geology was another of Ross' passions, and he'd bring along little sample tools, like picks and hammers. He would show them which rocks and how to crack them open to find all sorts of unique little crystals, and they would take home samples to study, although they mostly found quartz and fools' gold. Ross knew a lot of historical mining settlements and explored the mullock heaps for samples.
Diane recalls the amazing collection of rocks and minerals he kept under his bed when he was young. He was very distressed when their cat used it as a kitty box and the colour of some of the minerals changed.
Katie fondly remembers their trips to Surrey Hills, seeing the fire towers and being taught about the fire watch duties, tree planting and forest regeneration. She had an exhilarating day at one of the managed burns in the late 1980s when the new helicopters had arrived with the "Red dragon helitorch" (as an aside, in that blog Les Baker recalls a funny incident involving Ross being sick in a fixed wing).
The family moved to Triabunna in the early 1980s, with Ross taking on the role of Forest Management Superintendent. He returned to Burnie in 1983 as Chief Forest Manager.
In the 1970s and 1980s, when planning the logging of company-owned Pinus radiata stands, allowance was required for the needs of the Burnie pulp and paper mill. It had long been assumed that manufacturing the target grades of paper would require pulp derived from hardwood and a proportion of pulp derived from softwood. As the years went by, it became less clear how much, if any, pine would be required to meet this requirement.
Ross (centre) at an APPM Board Meeting in the 1980s. Photo John Hayes. Courtesy Geoff Dean who also cropped the photo.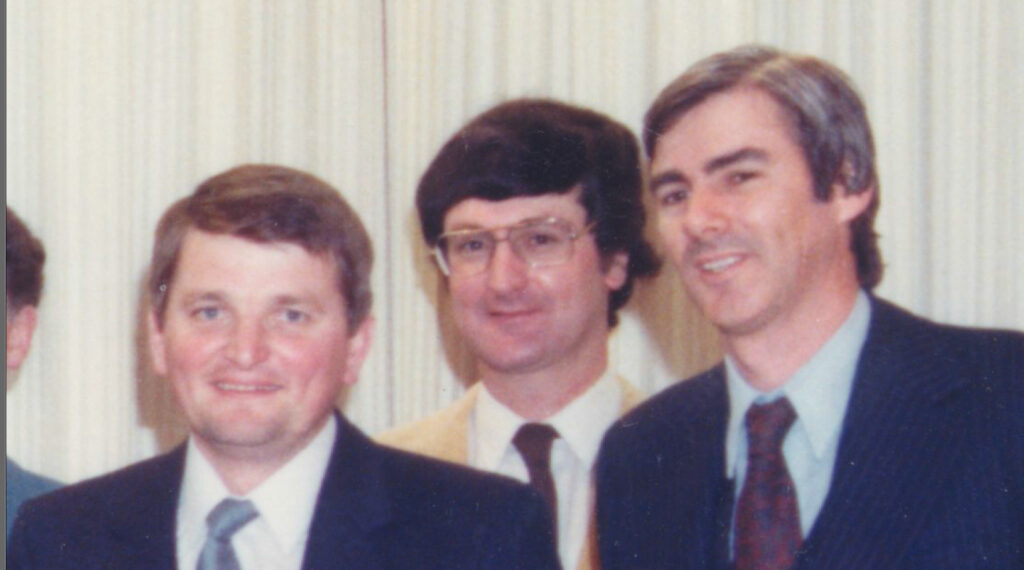 Ross, as a senior forestry manager, followed this issue closely. Finally, one day he picked up the phone and asked a simple and powerful question: "Why are we still growing Pinus radiata"? The short answer was that, due to changing technology, the prime reason for growing pine no longer applied. Subsequent discussions were brief and quickly resolved. And that, essentially, was it. The company proceeded to liquidate the pine estate.
During my research for "Fires, Farms and Forests", it was evident on company files that Ross showed a strong interest in the history of the VDL Co. He produced various maps and reports which proved interesting and useful. He also loved to explore local caves, as well as fossicking in quarries for various valuable deposits and fossils etc.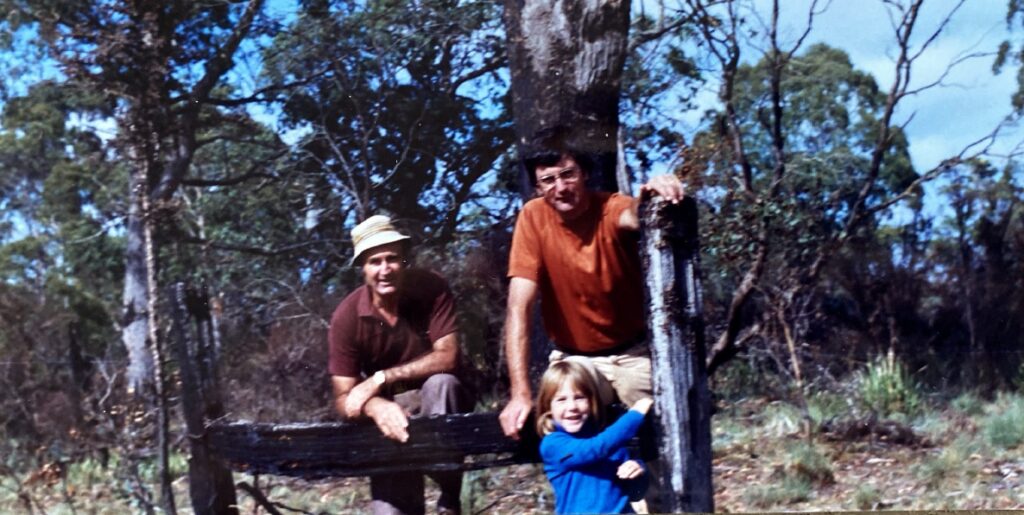 Cyril, Ross and Katie on Surrey Hills, 1982. Photo courtesy Ross Hills.
When Ross got a job transfer to Hobart in 1994, the family moved down to live in a house at Ferntree, and Damien studied music at the Conservatorium in Hobart.
Ross retired in 1999 and returned to the north-west coast to live at Fossil Bluff near Wynyard. As Katie recalls:
"Dad had always been a keen genealogist and spent much time researching the family tree when he wasn't working or going bush. He was particularly fascinated by his convict ancestors (about 19 of them) and spent much time on his research during retirement".
Ross was a proud member of the First Fleeters Club for those with ancestors who came out on the First Fleet. His work was helped by Cyril's book on the history of the Whiteroads, his maternal family.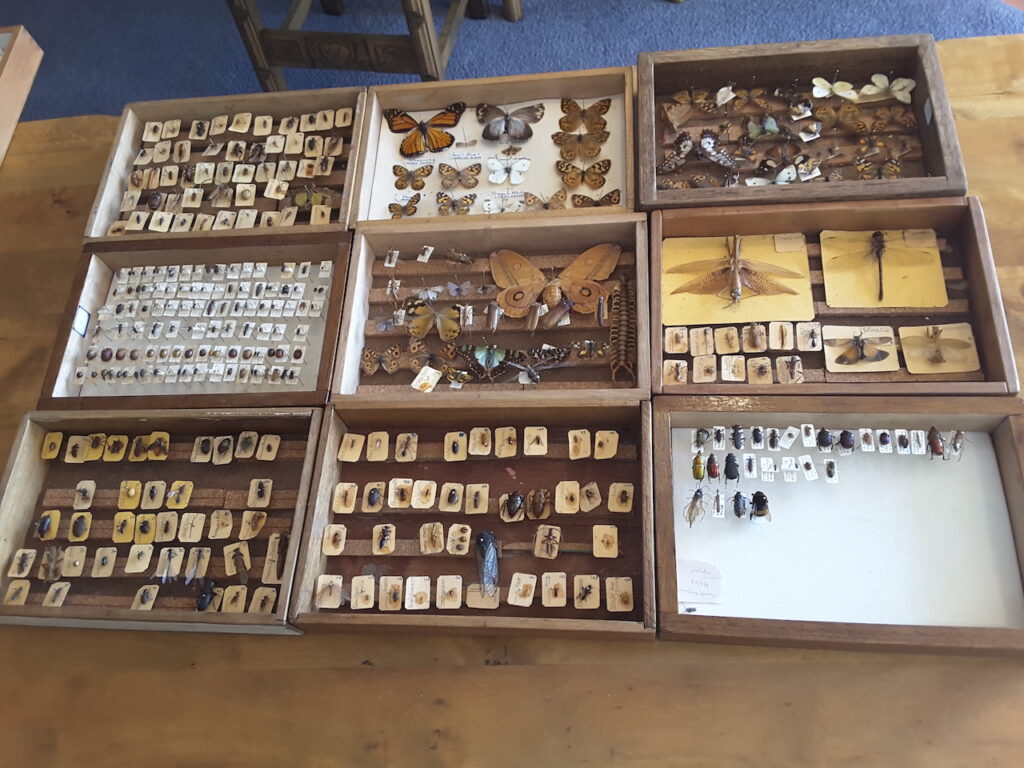 Unfortunately, not long after surgery for a brain aneurysm, Ross was diagnosed with Lewy body dementia and Parkinsonism, a very debilitating disease. He died in December 2015, shortly before his 70th birthday.
The family decided to donate Ross' extensive insect collection, neatly labelled and documented, to the Burnie Pioneer Museum after his passing.
Ross devoted his career to working for AFH and North Forest Products. He was a company man and loved his work. As Katie reflects, "the natural world and his job were fundamental parts of who he was". It was quite an achievement for a local Burnie boy who had a passion for the outdoors and a love of nature, studied science and forestry, and rose through the ranks to hold a senior management role in his hometown.
I will finish this story with Stephanie's lasting and eternal impression of her husband:
"After he passed away, I sat outside one evening at dusk. There were some light clouds in the sky and as I gazed at them, before my eyes there seemed to appear the silhouette of a tall thin man striding across vast plains carrying a rucksack on his back. I was deeply moved by this vision, and I whispered, "be happy Ross". I understood in that instant that I could not separate the spirit of the man from the spirit of the Tasmanian landscape and the wilderness that he had so loved. They were one and the same!"