Bob French has been fishing every year at Talbots Lagoon for nearly 60 years. Although he has a shack at the Great Lake, Talbots has always been his favourite fishing place. Fortunately, Bob has kept records and diaries to document his experiences. He is recognised through the North West Fly Fishers Club as a measurer and collator of statistics on fish caught at Talbots. While he has seen many changes, some good and some bad, Talbots has remained quite resilient as a fishery, despite other priorities of the forestry companies that have owned Surrey Hills. After all, it was the need to supplement secure water supplies for the Burnie Pulp and Paper Mill which led to the construction of Talbots Lagoon. It subsequently became a great fishery. Here is Bob's remarkable story and great photos about fishing one of north-west Tasmania's best fisheries.
---
Talbots Lagoon was created in 1961 primarily to store water from the Wey River, a West Coast catchment, and transfer the water to the Emu Bay River catchment via an open water race. It formed part of the Burnie Mill Water Supply Scheme.
A long past workmate and fishing companion could remember fishing the Wey River before the creation of the lagoon. He said the river ran through a button grass plain with deep holes and undercut banks and could remember catching brown trout up to 2lb. It wasn't long before reports began to filter through about catching magnificent 10lb plus fish. However, access to the lagoon in those early days was for Associated Forest Holding's (AFH) employees only, even though many others found ways of gaining access which was not always legal.
My first trip to the Pulp Dam (as it was commonly known) was in September 1964. My workmate and I obtained written permission from the head boss of AFH, Reg Needham, to explore the fishing at Talbots Lagoon. At its original level, the lagoon didn't flood the main road to Waratah, which ran past the Stockyards along Talbots Sugarloaf to the main gate as we know it now. It wasn't until 1967 when the dam was increased to its present level, that the road was re-routed over the dam wall.
We had decided to fish the dam wall area. To get there, we had to negotiate a logging track, pushing the car through a few wet areas, and after finally arriving at our destination, we made camp. Fishing from late afternoon well into the night, we caught some magnificent fish. My bag alone weighed 34lb 2oz cleaned, the best fish 6lb, the smallest 1½lb. My mate's bag was similar.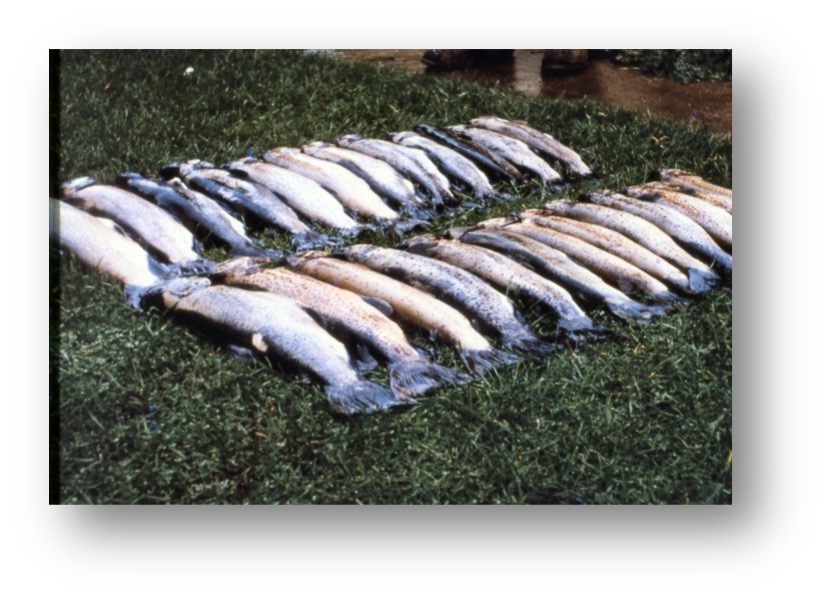 It was challenging to gain access to Talbots in those early years. We managed to fish the lagoon the following season. For some reason, the fish were not as good, but my bag of 12 fish weighed some 28lb.
After the dam wall was expanded, the higher water level created better spawning facilities, and the average fish weight quickly dropped to around 2½lb.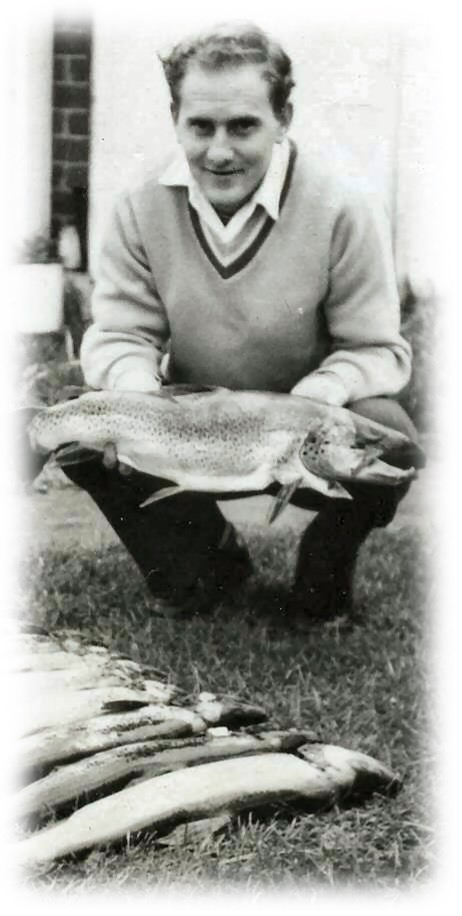 Paradise Bay, one of Bob's favourite fishing places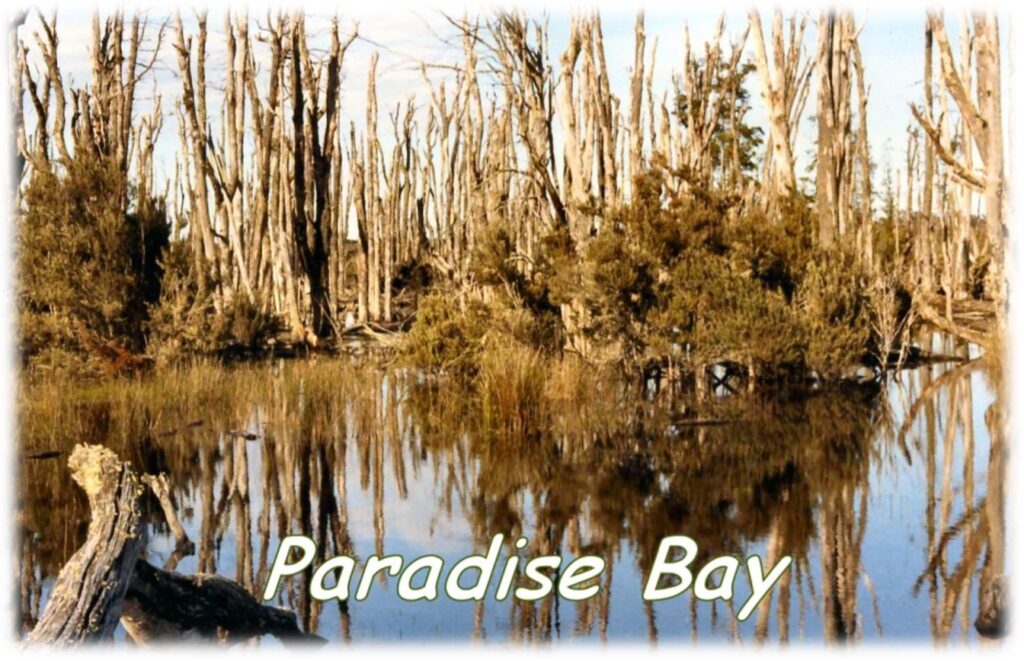 In the mid-70s, access became easier. Hence many more fishing trips throughout the season. I remember many excursions down Whiskey Creek to the Slimey Hole with Rex Bramich, another very keen Talbots Lagoon fisherman. I rarely ventured to the western side during this period, mostly fishing on the eastern side.
Fishing in the 80s was exceptional, with the size averaging around 3lb. In 1985, fish averaged 3½lb, and I caught 60 fish that year, with many over the 4lb mark. Looking back, this was a magic period to fish Talbots Lagoon. During this period, we had access to all of the lagoon, being able to polaroid fish along the edges from September onwards. Even though I had a shack at the Great Lake, I spent most weekends at Talbots with good fishing mates such as Ken McKercher and Powder Applebee. 
I had a couple of favourite flies during this period. One was the humble black beetle tied in sizes 12 to 18, and the other was a black rabbit fur fly. This is an ideal fly to fish the shallow margins of Talbots. Its big advantage is that it sinks slowly and can be fished inert or slowly in front of a foraging trout. It is a must for any fisherman at Talbots to have in their fly box. Tied with natural black rabbit, the best fur is from the back of a mature buck.
In 1986-7, in conjunction with the Inland Fisheries, I collected scale samples along with length, weight, and gut contents. The fish showed a consistent growth pattern right through to six-year-old plus. Gut content showed aquatic items dominate in the early part of the season, but more terrestrial food was taken later in the season.
| | | |
| --- | --- | --- |
| Age (Years) | Age Length (ins) | Age Weight (lbs) |
| 2 | 11 | 11/2 |
| 3 | 151/2 | 2 |
| 4 | 181/2 | 3 |
| 5 | 20 | |
| 6 | 213/4 | |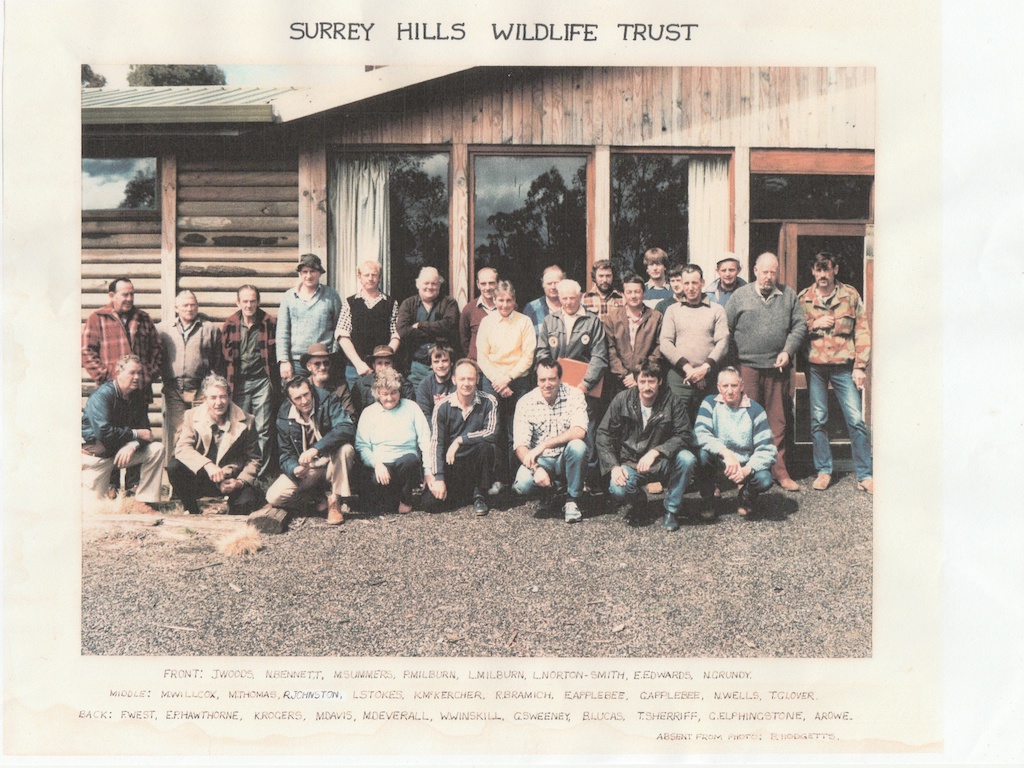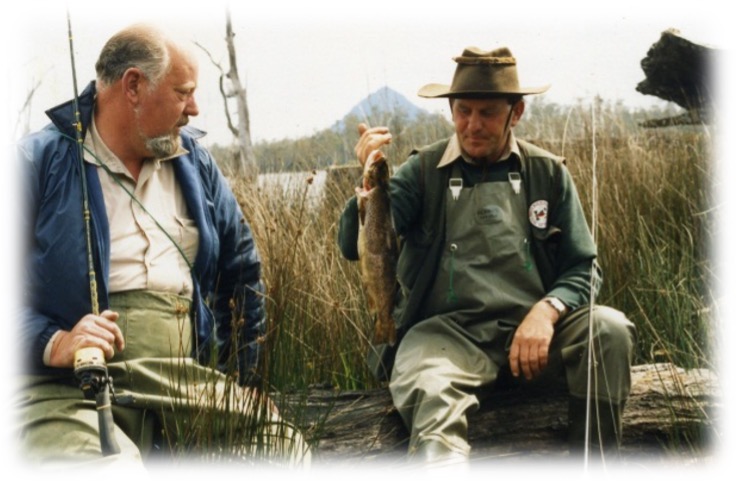 In 1982 following industrial action at APPM, all employees and their families were allowed access. However, this created problems for the company, so in 1985 the Surrey Hills Wildlife Trust was formed. The Trust's main role was to issue permits and control access to the company property. Only members of the Trust were allowed access. While some of us took an active role in the Trust, such as improving the facilities around the lagoon, many others saw Trust membership as a way of gaining access. The Trust was disbanded around 1994, and a new permit system was introduced.
The new permit system stopped all vehicles from accessing the property and required fishermen to sign in and out at the Hampshire chip mill security gate and park in the newly formed car parks. New owners, North Forest Products, formed a consultative committee around 1995. Its role was to plan continued access to Talbots Lagoon and provide anglers with a voice. Ken McKercher was on this committee representing the North West Fly Fishers Club. The committee met regularly and prepared a management plan by 1996.
During drought periods, and depending on water demand, the level of the lagoon was very low for some years. I remember in 1994 being able to drive out onto the peninsula, across to the Stockyards. Although, in other years, I could walk across in knee-deep water from either side, these low levels did not appear to have any adverse effect on the trout, but it exposed lots of weed beds, creating some exciting times fishing to tailing fish.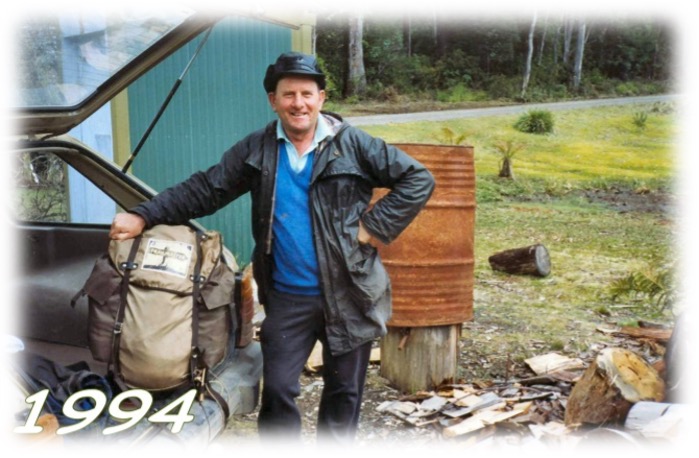 In 1991, 2,000 rainbow trout fingerlings were introduced by Inland Fisheries. This led to some exciting fishing for a short time, with the rainbow trout growing quickly to 2kg. However, many of these fish were caught eggbound, suggesting unsuitable spawning conditions. Gateman Merv Pike and his wife camped at the Stockyards for several years during his annual leave. I visited him on one occasion. He had a couple of rainbows, which must have been 6lb. Although I did not fish for rainbows, many others did, especially around the dam wall.
In December 1995, Inland Fisheries introduced a further 5,000 rainbow trout fingerlings, and another 4,000 the following year. This had a devastating effect on the fishery. The brown trout we all had become accustomed to polarioding along the shoreline had disappeared, and in their place were dozens of small rainbows. It took a few seasons for the brown trout to return. Many of the rainbow trout were caught eggbound. However, today there are still some rainbows caught, suggesting they must have spawned successfully.
Sometime in the 80s, some mayfly nymphs were introduced to the lagoon. It took many years for them to become established. I remember fishing on the peninsula with Kerry sometime in the mid to late 90s and finding fish jumping to spinners. This was new for us, as no matter what fly we used, we could not catch them. Finally, after many trials and discards, I have a fly that will take fish on most occasions. This fly is my variation of the Macquarie Red Spinner (Max Christenson). The lightly palmer-hackled body makes the fly sit high on the water like a natural insect, which is essential.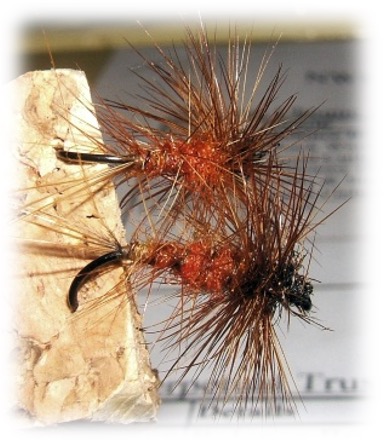 Because of spawning problems around 1985, barriers were constructed on the Wey River to stop the trout's progress further upstream. Although the trout could move freely upstream when the water was at a high level, at lower levels, many were trapped and became diseased. Poaching was also rife, but the barriers made it easier to police. The barriers were removed some years ago, allowing the trout the freedom to spawn naturally.
One day I look forward to each year is the 1st September, the start of the fishing season. Talbots trout spawn a little later than in some other waters, so they are usually in poor condition for the first couple of months. But by the end of October, they are in good condition. In some years, there have been dozens of fish cruising the shoreline. Surrey Hills is notorious for not always having good weather conditions. Even though Talbots Lagoon is only 50 kilometres south of Burnie, one must always be prepared with a raincoat and warm clothes. An old saying, "if it is not raining at Guildford, it won't be long before it is".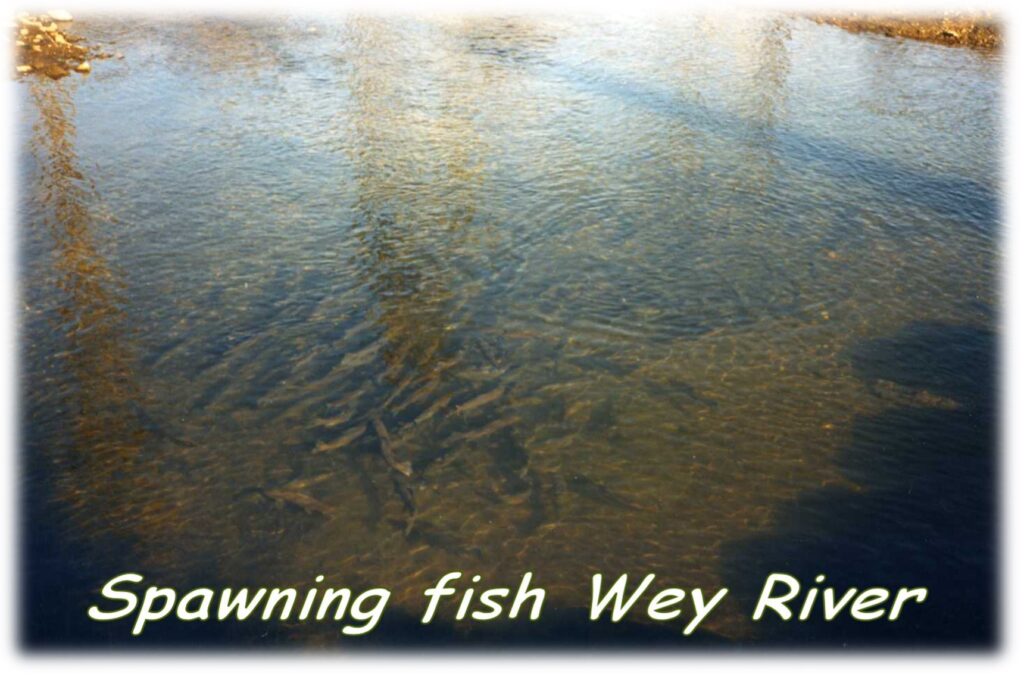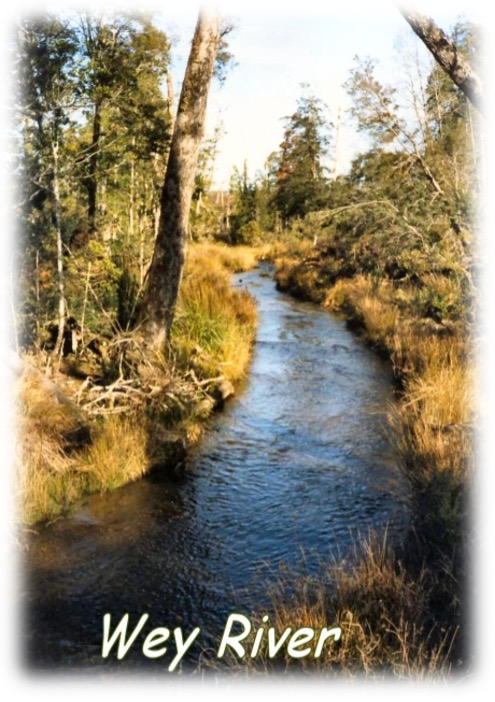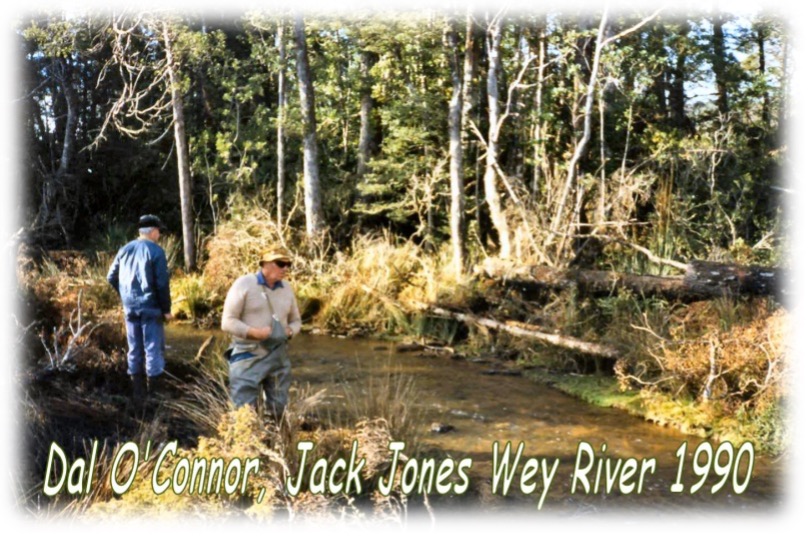 Another exciting time was when the water levels were kept high from September to November. It can be amazing where fish will go looking for frogs. These fish will test your patience. They lay dormant in front of a tussock, just waiting for an unfortunate frog. This is the time the fur fly comes into its own. Fished inert in front of a foraging trout, there is nothing better than to watch some trout slowly swim up to your fly, study it for a moment, and then eat it.
Caenids, or smut as we call them, can be prolific sometimes, with fish smutting everywhere when conditions are right. These feeding trout can be tough to catch, but with lots of patience and perseverance, they can be caught sitting or standing on a log. These fish will feed right up close to you, so you will have a full view of the whole fish as it feeds randomly, with no set pattern.  I have tried many flies but have found a small Red Tag works best.
Some 20 years ago, in the early 90s, I fished the Medway River several times. This river runs east of Talbots and flows into the Leven River. This river at that time was full of small plump fish with pink coloured flesh. The fly of choice was a small black wolley bugger with a red butt.  
Another time I remember was AFL's grand final day in 1995. Walking from the car park to paradise bay and around the Peninsula, I caught 11 trout on the humble black fur fly and was home in time to watch the final.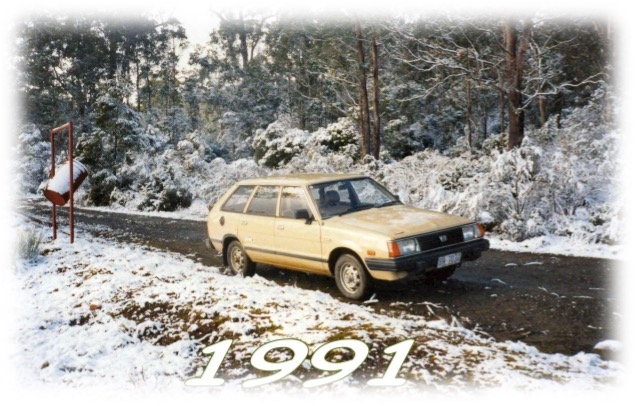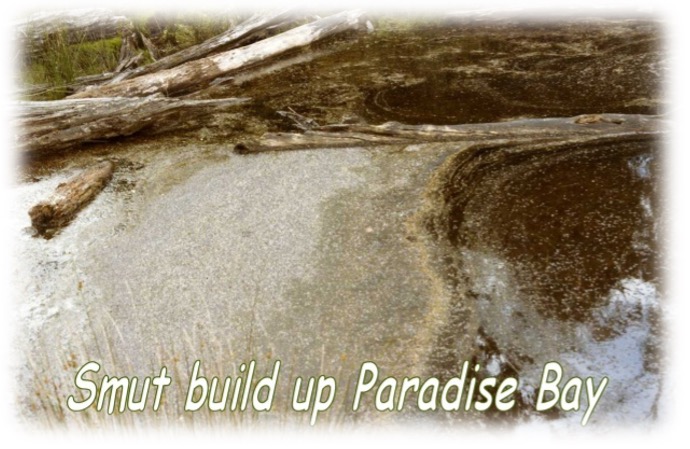 Surrounded by forest, Talbots Lagoon was a much different place to fish in the early days. Gone are all the myrtle forests that once surrounded the lagoon, replaced today by eucalypt plantations. It is hard to believe today that a group of fishermen could become lost overnight when fishing Talbots Sugarloaf (Peninsular) and then be unable to find their way back in the dark through the then myrtle forest, but it did happen.
Today we are still privileged to have access to fish Talbots Lagoon, although many things have changed.