There is an interesting 4,000-hectare forestry reserve located just outside Esperance called the Helms Forestry Reserve. It protects one of the largest areas of sandplain heath near Esperance, known as kwongan. It is dominated by banksias, hakeas, grevilleas and woollybush.
Within this reserve is an 800-hectare arboretum named in honour of Andy Helms, a well-respected forester and academic. He attempted to establish the first commercial tree planting on the sandplains using cluster or maritime pine (Pinus pinaster) in 1928. It is believed he used seeds from France.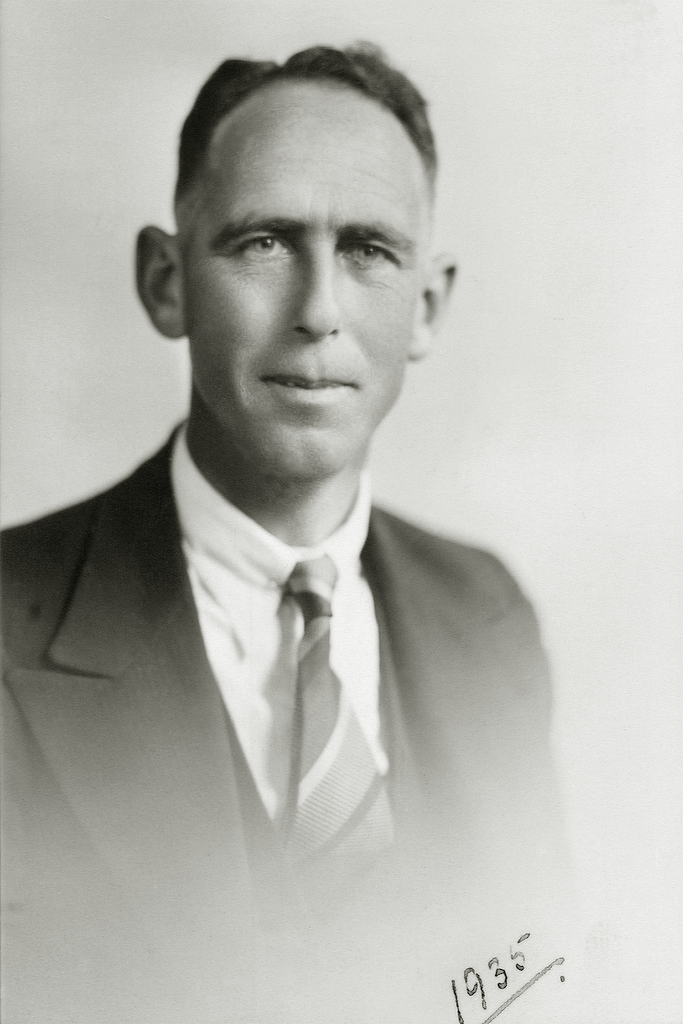 Helms was born in Sydney in 1891. Both his parents were Danish immigrants. His father identified the Childers area in Queensland as a suitable area for growing sugar cane and was appointed Manager of the Colonial Sugar Refining Company mill, built there in 1895.
Because there was no school in Childers, Andy was sent to Copenhagen where he went to high school and university and graduated with the equivalent of a Masters Degree in forestry.
He began his forestry career with the NSW Forestry Commission in 1919, initially as a field survey officer and later as Working Plans Officer. During this time, Helms was sent to Europe and North America to review reforestation practices and procure suitable Pinus seed after trials had begun for plantation development of pines in that state.
Helms then joined the Western Australian Forests Department as Divisional Forest Officer in 1924 based in Bunbury. After resigning in 1928, he was appointed as the Manager of an 18,000-hectare lease north of Esperance owned by Esperance Pine Forests Ltd. He was involved in attempts to establish the first commercial tree growing venture in the area. He planted 200 hectares with cluster pines directly onto the sand plain country. The trees didn't grow well and this prompted Helms to initiate fertiliser trials that showed the area was deficient in nutrients and trace elements. Competition from munji (Nuytsia floribunda) didn't help as well.
He forecast, however, that due to the time needed for even fertilised trees to reach commercial size that investors in the Company would gain much needed quicker returns on their investments if initial emphasis was switched to the growing of cover crops, which he showed to be very successful.
During the Great Depression the company struggled to raise necessary capital and went into liquidation in 1932. Helms had hoped to outlast the Depression by working two years without receiving his salary. Needing employment, Helms and his family left Esperance. He managed to get a job as a Ganger in charge of Unemployment Relief Workers at King's Park in Perth. Later that year, he was then rehired by the Forests Department as Overseer in charge of its Relief Workers Program. In 1937 he was appointed as the Department's Research Officer to conduct surveys in the jarrah forests.
In 1940, he was seconded to the Australian Forestry School as a relieving lecturer in mensuration, products, valuation, and protection. Later that year, Helms resigned from the Forests Department to take up an appointment as Assistant Research Officer of the Commonwealth Forestry Bureau stationed in Hobart, Tasmania. In 1942 he became Working Plans Officer and Post-War Planning Officer after the war.
In 1947, he then became a lecturer in Forest Management and Policy at the Australian Forestry School in Canberra. He retired in 1958 and died in Canberra in 1968, aged 77.
Helm's keen interest in the Esperance sandplains region continued after he left, keeping a catalogue of cuttings and letters. These documents and letters were donated to the Esperance Historical Society and Museum by his son John Helms in 2015.
The first plantings in the arboretum date back to 1928 during Helms' time. Plantings of different trees were undertaken to determine their usefulness in the Esperance area. Between 1973 and 1980, there were many additional experimental plantings to see which Australian species would thrive best on the sandplains to complement agricultural activities. The arboretum consists of over 120 plots of plantings of a wide range of tree species. Botanists established the plots under the guidance of Officer-in-Charge at Kalgoorlie, Peter Richmond. In 1985, another 20 species from throughout Australia were planted. Some species have shown that they are not suitable for the region, while others have flourished. The arboretum has been a great resource for farmers to assist them in selecting suitable trees to plant on their property.
The pine plantation established in 1928-29 by Andy Helms adjoins the arboretum. The Forests Department established several experimental plots to assess the nutritional requirements of the pine in that area. They carried out further planting of pine between 1951 and 1956. By applying a limited amount of fertiliser, better soil preparation, and improved pine strains, they found that the trees planted in 1951 had surpassed the trees in the original plantation.
But it was the pioneering work of Andy Helms with trace elements that had a profound influence on early attempts to establish legume pastures on the infertile Esperance plains. His legacy is that despite the failure of the pine plantation, nutritional trials carried out at the site by Helms led to further research and the eventual development of the Esperance plains for farming.
Along with Fred Bow and Arthur Turner, Andy Helms also demonstrated the practicality of establishing trees on farms. This was a remarkable achievement considering that a short distance north of Esperance, the land rises sharply to a peneplain of heath country about 80 kilometres wide and extending east and west for many miles. Underlying this heath are low fertility sands with few plants exceeding one metre in height, except for limited areas of paperbark and yate in the swamps and scattered marlock, chittick and munji on higher ground.
In recognition of the pioneering work by Helms in the district, the arboretum was named in his honour in 1991.