We arrived in Cardwell at the end of August, and I was very much looking forward to seeing the town again. I have only been to Cardwell twice previously, and I have fond memories of both visits. We lived at the seaside village of Penguin when we were in Tasmania. It is unique in that most of its main street has one side fronting an undeveloped beach. Cardwell is the only other town I know of in Australia that is similar. Of course, Cardwell is different from Penguin in many other ways. It has Hinchinbrook Island, with peaks towering over 1,000m above sea level to the east in the Coral Sea, similar mountains immediately to the west, a tropical climate, and gets slammed by the odd tropical cyclone.
The first time I visited Cardwell was in January 1987 straight after finishing my forestry degree. I had a six-week forestry job picking pine cones in the seed orchard. I left Maryborough (Queensland) in my first car which I got the previous month – an XY Falcon with a big (250 cubic inches or 4.1L) engine plus modifications like a top loader gearbox and bucket seats. It was a beast and looking back, it was the best car I have owned, or will ever own.[1]
The orchard work involved climbing large trees to pick the cones that would provide seeds for future pine plantings. What I did not realise was the primitive method of doing this. First, you started with 10-foot aluminium ladders chained to the tree. Most trees were up to 60 feet in height before the first branches. We had to attach up to six ladders with their hollow legs onto the tops of the previous ladder's legs and secure them with a chain near the top of the ladder. We then did a vertical climb up the ladders with our tools – an extended leather belt and nine-foot stick – to the first whorl of branches. We lifted ourselves using the branches up into the tree. The whorls were about five feet apart in height. You had to lift yourself with your outstretched hands until eventually, you arrived near the top of the tree, some 100 feet above the ground.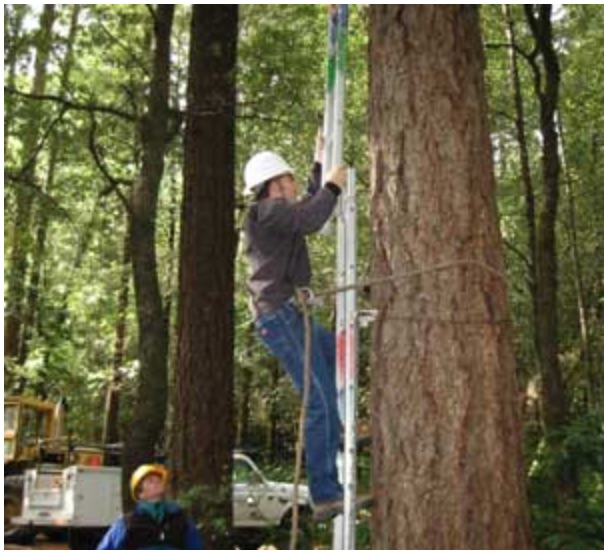 It was tempting to reach out and grab the cones within easy reach, but the foreman instructed us to get those on the very outside of the branches as they produced the best seed. He wanted to make sure we got as many of the cones as possible to improve the yield. Facing outwards, you wrapped the belt around the tree trunk and your waist. You then leaned out, and using the long stick, hit the cones until they were dislodged and fell to the ground.
The only problem was I am scared of heights. I get vertigo, and while I can overcome the fear, it is not pleasant. I think the only reason I persevered at climbing these tall trees was; first, there were many local school kids also employed, and I couldn't have these little upstarts outdoing me. Secondly, I travelled up to Cardwell cashless and relied on credit. I had to endure at least a fortnight before the first pay packet to reduce my credit card debts.
I think there was another reason I continued despite working in the middle of a hot and humid summer. There were ex-miners on the job who had moved to the coast, and they worked hard and partied harder. As it was stinking hot and humid, I couldn't resist the other temptation – the afternoon carton shout. After work, we would take turns to buy a carton, and between four of us, we would consume it while a tropical storm passed. I quickly learnt the drunk's way home to the caravan park, where I would sheepishly arrive and have dinner prepared by the park owners. And it added to my credit card entrapment.
Looking back, it was a great introduction to the tropical Queensland way of life. I recall that thankfully I had the foresight (or my mother simply packed it) to bring an electric fan to help me sleep in my on-site van during the height of summer. Did I say it was very hot and humid?
My second visit to Cardwell was in October 1991. A mate and I travelled north together from northern NSW to spend a week sailing in the Whitsundays with four colleagues. After that, we headed further north. He was going all the way to Darwin. I was going as far as Innisfail to see a school mate. We mainly stopped at free campsites during the road trip and shared his one-person tent where I had to sleep half inside and half outside. We seemed to pick a place with the most sandflies and midges, and I suffered severely.
We stopped at Cardwell to spend a few nights on Hinchinbrook Island walking part of the Thorsborne Trail. Our first night was at Zoe Bay, where there was the possibility of crocodiles disturbing us during the night. We took a bottle of tequila with us, which ended up being an excellent social aphrodisiac for my colleague who had an ardent liking for an Irish backpacker camped on the same beach. At least I had our tent to myself for a night.[2]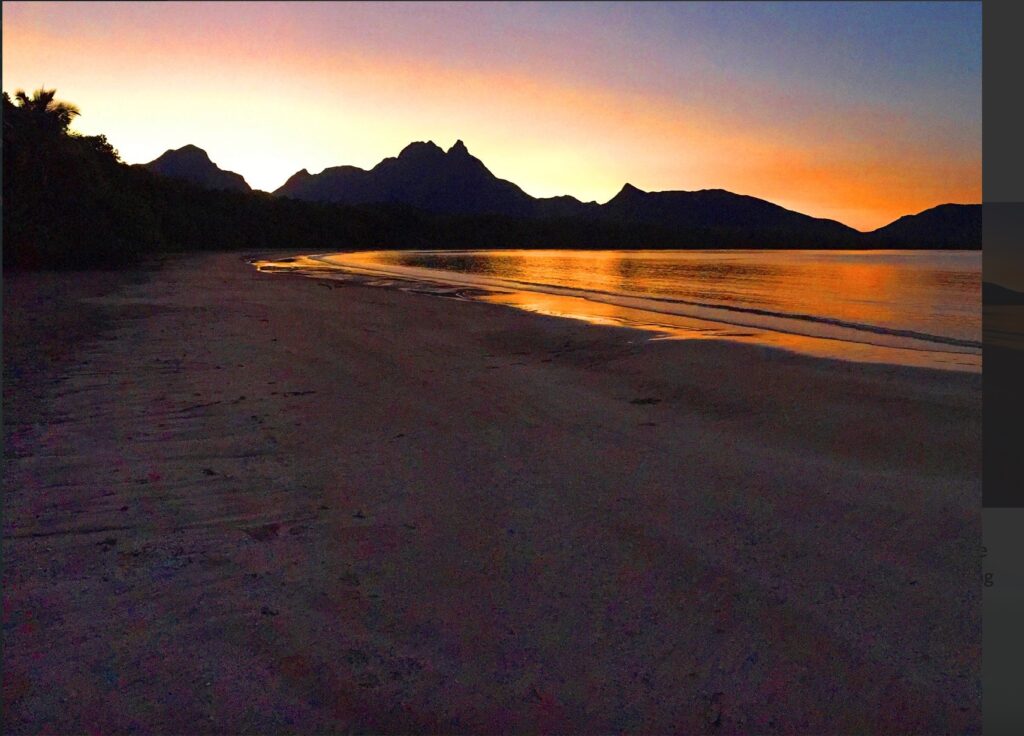 Since my last visit, Cardwell has attracted some significant investment in tourism. Most notable was the $100 million Port Hinchinbrook development in the 1990s by veteran entrepreneur Keith Williams. A 240-hectare development overlooking Hinchinbrook Island generated many environmental backlashes and legal battles before being built. There was even a Senate Inquiry that examined the environmental effects of development in the Hinchinbrook Channel. Unfortunately, cyclone Yasi ripped through towns on the Cassowary Coast in early February 2011. Cardwell was reduced to a disaster zone, and the marina destroyed. It hasn't recovered, nor has the small resort on Hinchinbrook Island. Owners of the marina, Williams Corporation, went into liquidation in 2013 and there are disputes by residents over body corporate issues. Today, the marina is heavily silted and virtually non-existent. In 2016 new owners promised to spend $450 million redeveloping the site but to date, the development remains in limbo.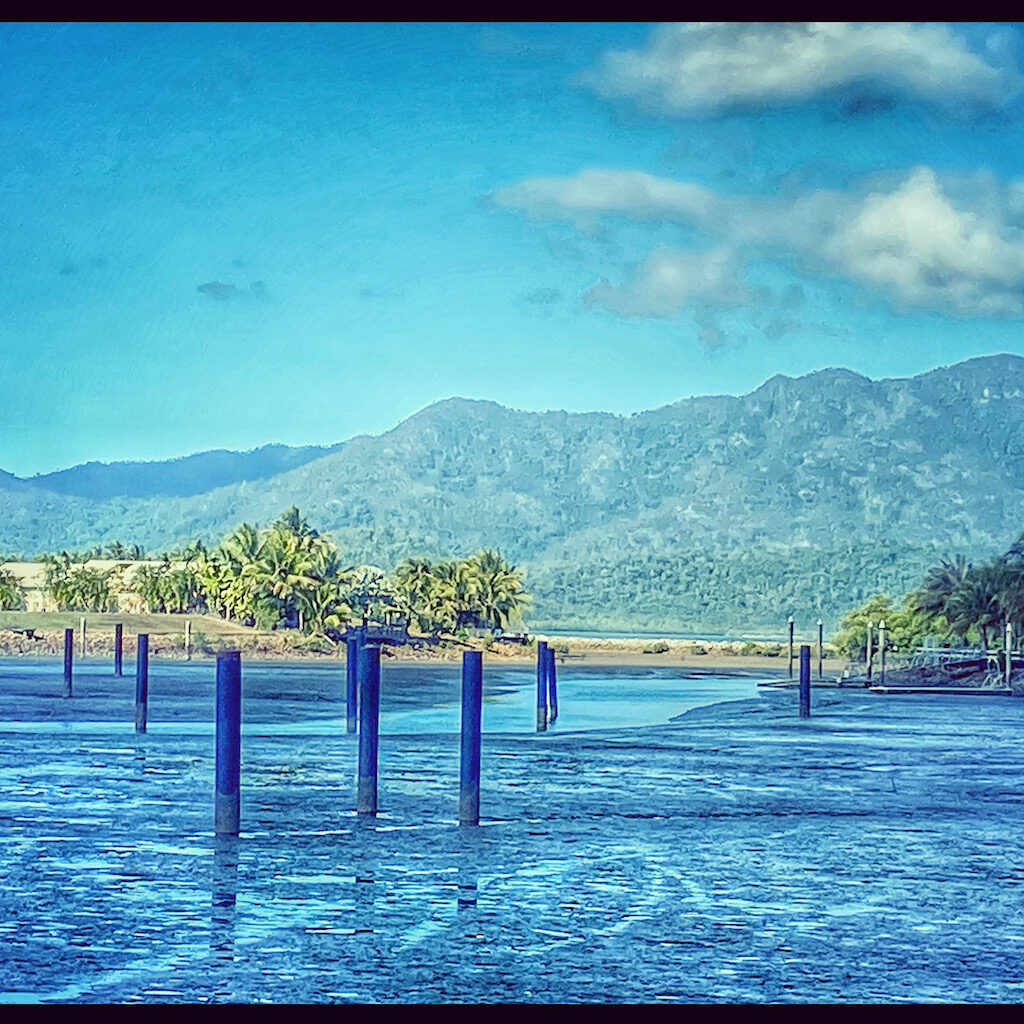 During our visit last August, we walked along the Cardwell foreshore and were impressed by the works carried out by Council, including some tremendous interpretative signs. I knew Cardwell as a sleepy little fishing village over 30 years ago. As it was then, It is reliant on tourism and infrastructure associated with it, even though there are still signs of the devastating cyclone nearly 10 years ago. Despite no longer supporting a resort on Hinchinbrook Island, and left with the legacy of a failed multi-million dollar marine development, Cardwell is still an attractive place to visit. However, it needs to be careful precisely what is developed as it is prone to destruction in one harrowing event, which is part of living in tropical Australia.
---
[1] The car was nearly 17 years old. It had one owner since new, and he looked after the car and did the modifications. The only tarnish was a split in the driver's elbow rest on the door. And maybe the maroon colour. You could look under the bonnet, see where everything was and tinker with the simpler motor and lack of computers. When it started misfiring because the rings were worn, I used to periodically clean the spark plugs. I also remember doing my own quick repair on the electrics when I had a short from the alternator to the starting motor. I couldn't dream of doing of those repairs today with my fully computerised LC200.
[2] Just in case my colleague reads this, I admit to embellishing the amorous liaison – we had the usual sleeping arrangements in our one-person tent that night. This time, however, I had the added responsibility of looking out for crocodiles, and fighting off the bush rats attacking our backpacks for food.