It is always good to get the opportunity to visit a historic site that represents the area you are visiting. In this case, I am talking not about an old building or monument in town but a sizeable pastoral station in the Outback.
Bladensburg was one of the original stations in the Winton district, grazing thousands of sheep and around one thousand cattle. It is located about 15 kilometres outside of Winton.
Bladensburg is situated on fertile black clay soil that supports vast Mitchell grass plains (Astrebla spp). A lack of tree cover characterises the Mitchell grass country.[1] Still, I did see a lot of belts of lancewood (Acacia shirleyi), as well as gidgee (Acacia cambagei) scattered throughout our drive through the station.
Mitchell grasses are tolerant of heavy grazing and are renowned for their capacity to respond well following heavy grazing, provided summer rainfall is reasonable. One intriguing factor is that high animal productivity from these pastures derives from the ephemeral grasses (Mitchell grass is perennial) and forb species that grow after rainfall. Mitchell grass provides bulk drying during the dry non-growing winter season. But there is no doubt that changes have occurred on these plains from the pastoral industry. The main impact has been the spread of the exotic prickly acacia (Acacia nilotica) which was first introduced as a fodder tree. Prickly acacia essentially transforms the previously treeless grasslands into savannas with clumps of wattle.
A study by University of Queensland Professor and plant ecologist Rod Fensham and colleagues in 2000 showed that sheep and cattle grazing had a weak yet detrimental effect on the Mitchell grass plains' community composition.[2] Fensham believes that the shrub invasion, which has exacerbated this process to favour trees over grass, is not a result of removing traditional Aboriginal burning practices or CO2 fertilisation. Fensham maintained what he called an open mind when he studied the shrub invasion. Rather than using models or physiological predictions, which climate scientists and ecological academics rely on these days, he treated the story as a hypothesis that required testing based on history and the evidence he encountered in the bush.[3] His work led him to look at regional surveys and long-term monitoring. He decoded the records of explorers and surveyors and deciphered the archive of aerial photography and beyond. He is convinced that the real force driving the outback landscapes was not humans, herbivore or fire, but the notorious Australian 'drought and flooding rains' – the boom and bust conditions that so many animals and plants are adapted to in the Outback. It certainly questions the status quo that lays the blame for the ecological problems in the Outback on the pastoral industry.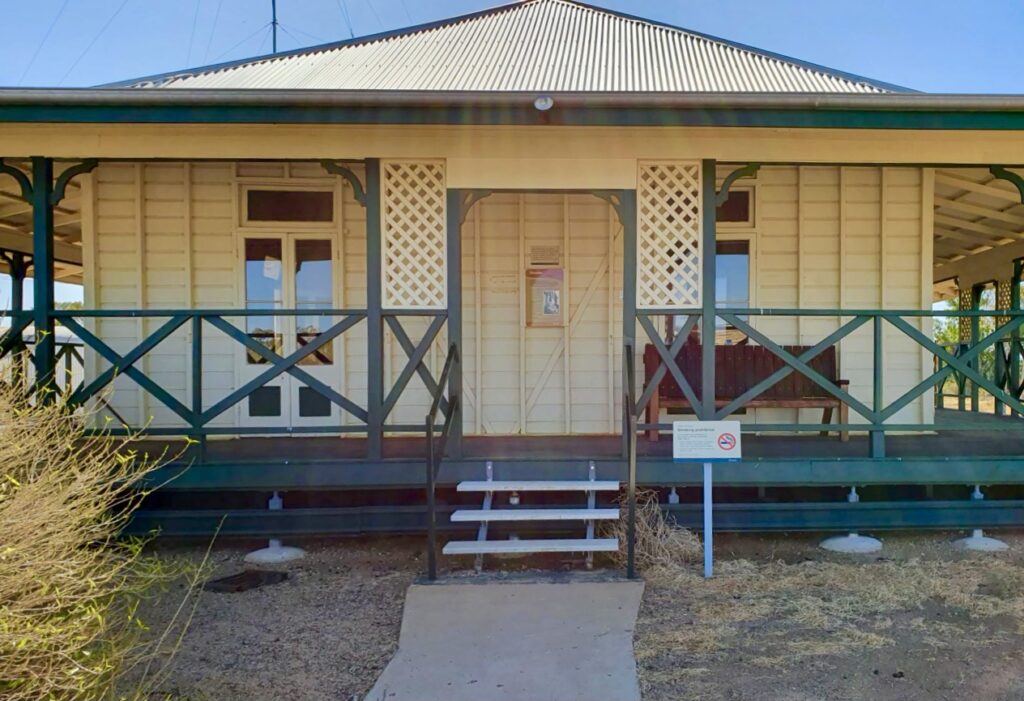 Bladensburg is now a National Park covering 85,000 hectares, dedicated in 1994. The homestead is used as an information centre and ranger base. You can walk into and around the old homestead and see photos that show the station at its peak. There is also information about early station life. In fact, in the early 1900s, it is believed the homestead was moved from Charters Towers to its current location. The original old hut became the blacksmith shop. There is a woolshed nearby that was built in 1925. Before then, they took their sheep to Winton for shearing.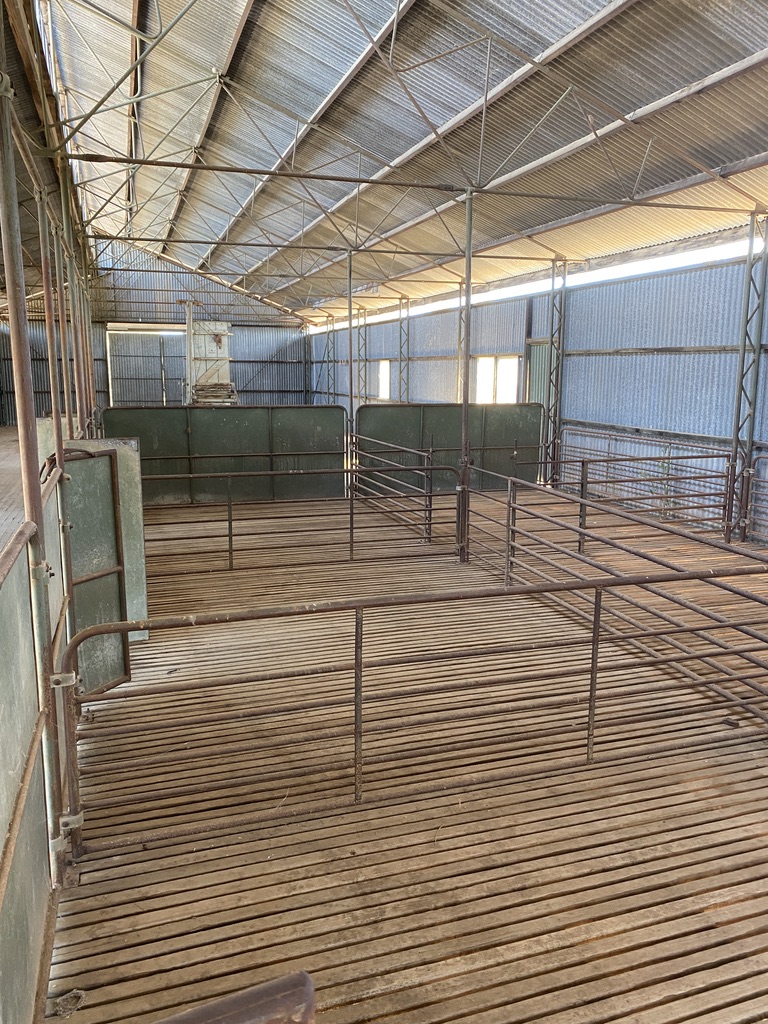 An interesting place to visit is Scrammy Gorge.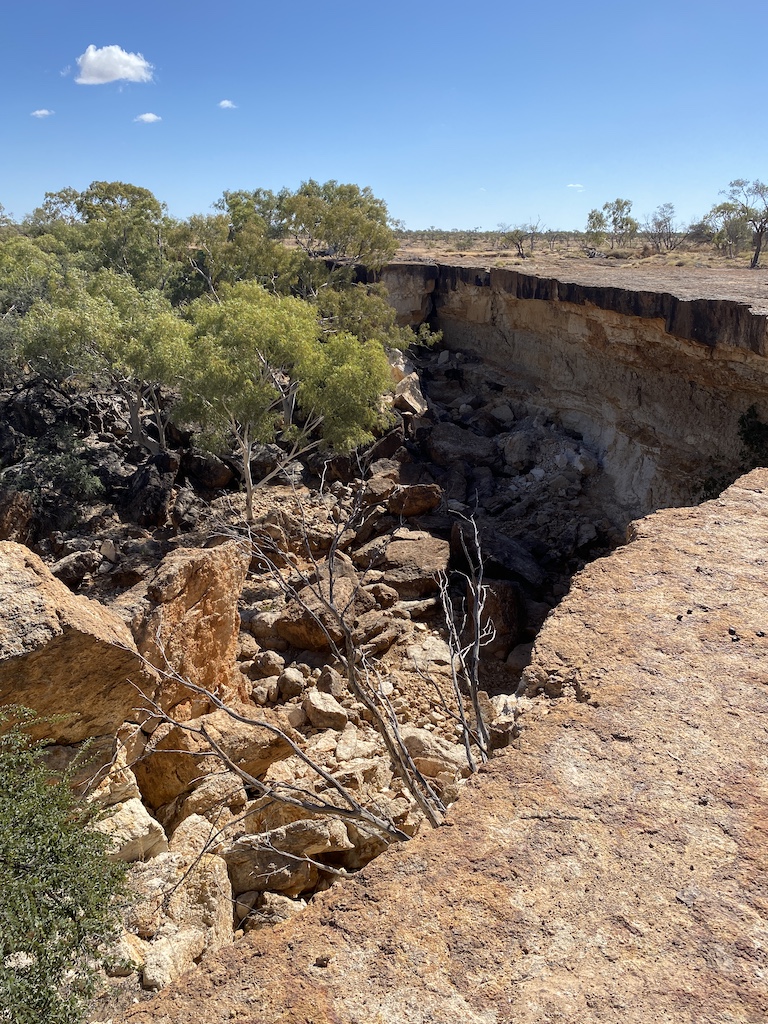 During rain periods, water flows down crevices in the rock and over time, the cracks have widened. Erosion of the sandstone beneath harder caprock has occurred over millennia until, eventually, large blocks have tumbled into the gorge. We see it today.
Part of the tourist drive takes you up onto a mesa[4] to Scrammy Lookout[5] with a beautiful view looking back towards Winton over the Mitchell grass plains. There are mesas over varying heights scattered throughout the park. This lookout would be a great place to watch the sunset.
Has anyone got a sunset photo from this spot?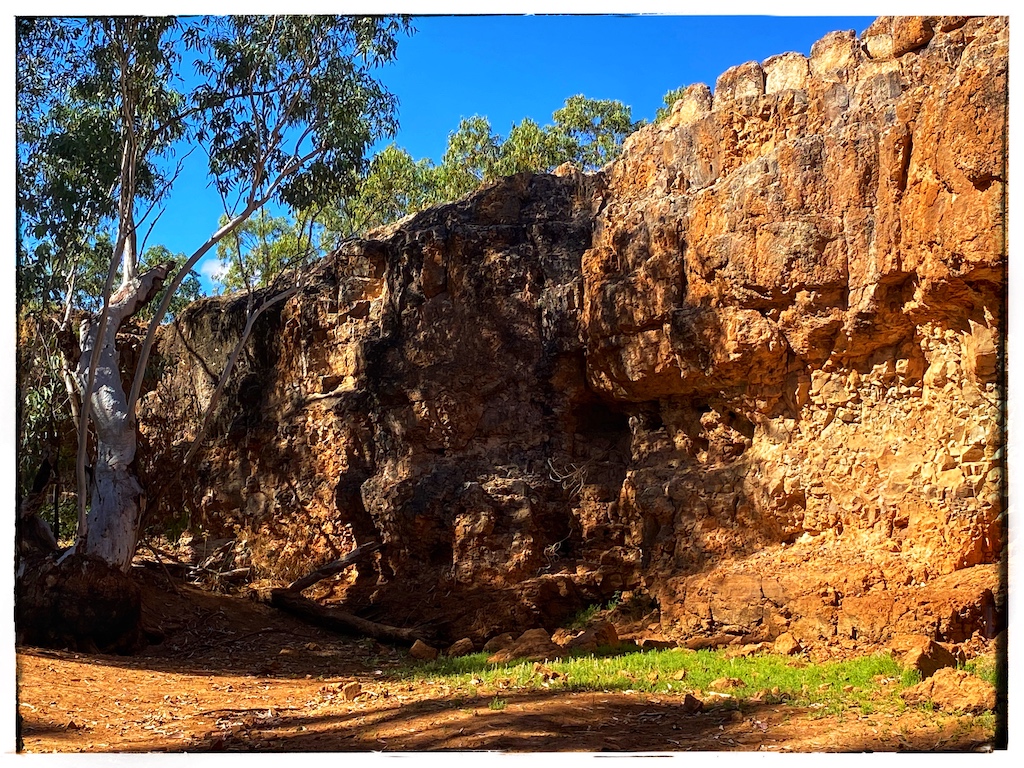 ---
[1] For more about the Mitchell grass plains see my blog https://www.robertonfray.com/2020/11/06/woody-weed-invasion-of-the-rangelands/
[2] Fensham, R. et al (2000) Broad-scale environmental relations of floristic gradients in the Mitchell grasslands of Queensland. Australian Journal of Botany 48(1):27-38
[3] My type of academic, one that knows what he is talking about using the proper scientific method!
[4] A mesa is a flat-topped mountain or hill with steep sides and stands distinctly above a surrounding plain. They usually consist of compressed layers of sedimentary rock with a top layer of harder rock that is resistant to erosion.
[5] Scrammy Gorge and Lookout are named after Scrammy Jack who was a boundary rider. Scrammy is an old English term for someone who was left-handed. Apparently Scrammy Jack injured his right hand at a younger age when it was run over by a large wagon wheel.