This month's guest blog is by Leigh Titmus, who worked at Surrey Hills between 1978 and 1986.
Leigh grew up as a kid in Devonport through the 1950s and 60s. His father built one of the earliest shacks at Sisters Beach, so almost every weekend, the family would head off there, and they would drive past the Burnie Pulp and Paper mill very often. Little did he know that he would work for this huge company as a forester one day.
Leigh always enjoyed the outdoors and did a lot of bushwalking as a member of a Scout Group. But, not having any idea what he wanted to be, a profession involving the outdoors beckoned. So, in his matriculation year, Leigh applied for scholarships to study geology and forestry and was also interested in surveying. Being offered a Commonwealth Forestry Scholarship decided his fate – he spent one year at the University of Tasmania doing the pre-requisite subjects and then three years at the Australian National University (ANU) in Canberra completing the BSc (For) Hons. degree in 1972.
Leigh worked as a casual employee with APPM Tamar during his last two years at ANU before the Tamar Woodchip Mill commenced production. Having a foot in the door during this time, Bill Meadows (who was responsible for the development of the mill) offered him a permanent job after finishing his degree.
---
I have read Robert's book, "Fires, Farms and Forests" with great interest and commend him on his publication. It is wonderful to have all the information possible about this wonderful tract of land between two hardcovers. So well done Robert.
After recording a comment on one of the Surrey Hills monthly blogs, Robert asked if I would contribute. I said I would because I spent eight very enjoyable years working as a Forester at AFH between September 1978 and April 1986.
I would like to record my thoughts and memories of the Surrey Hills property, the people who worked there, the forestry objectives, the commitments AFH had to supply the various sawmills and pulp mills and the inter-connection with the 1926 APPM Concession. I would also like to mention many of the outstanding people I worked with during those eight years.
I spent my first five years as a forester at Tamar doing a range of jobs including log yard overseeing at Mole Creek and Fingal, logging supervision, establishing a potted stock eucalypt nursery, office and workshop at Nunamara, establishing eucalypt plantations at Myrtle Bank and the Ritters block on the lake Highway near Deloraine and regenerating selected private blocks by burning and seeding which effectively was the start of the Associated Tree Farmers scheme. Then I was encouraged to do a post-grad degree at Oregon State University at Corvallis, Oregon. The objective was to learn about forest management techniques (including logging) on steeper slopes. The Wesley Vale Concession had an estimated pulpwood sustainable yield, including the resource on these steeper slopes, which were not yielding due to limitations of ground harvesting equipment. My mission was to learn about the theory of various cable logging methods. This included many visits to logging operations from Vancouver Island through Washington to southern and eastern Oregon. I was to recommend roading and logging methods for the Wesley Vale Concession to enable steeper areas to be logged, regenerated and managed in a sustainable and environmentally responsible manner. Consequently, in 1977/78, my wife and I spent a delightful but busy 12 months in the USA and came home via Europe, where we spent about two months playing the tourist.
On my return to Tasmania, I was transferred from Tamar to AFH in Burnie. There had been some staff movements at "the top of the tree" with Bill Meadows being promoted to a senior position in Melbourne and Evan Shield taking over the senior forestry role within APPM in Tasmania, including AFH where Ted Crisp was in charge. Suffice to say that there was a degree of friction between the two camps.
AFH was a very diversified business. It was responsible for hardwood and softwood supply to many sawmills and veneer mills, the hardboard mill in Burnie, the particleboard mill at Wesley Vale, the Burnie and Wesley Vale pulp mills, and pulp log supply to two railheads (South Burnie and Wiltshire Junction) which was railed to the Tamar Woodchip Mill. AFH was also responsible for water supply to the Burnie Pulp and Paper Mill from Talbot Lagoon on Surrey Hills, it ran a beef cattle farming operation on the significant areas of pasture within the vast property estate under AFH management, and it ran an ever-increasing nursery operation for both pine and eucalypt seedlings.
As well as administration of AFH's forest estate, I was responsible for forest management on the 1926 APPM Crown Land Concession. This included harvest planning, road construction, logging and subsequent artificial regeneration operations using the burning and aerial sowing method. Forest management also included fire control of Crown and Company land from Woolnorth to the west, Rubicon to the east and as far as Boco Siding to the south. Hence, AFH had several fire tankers and ran a fire roster in the summer months, including the manning of strategically placed fire lookout towers. The company also had a large range of heavy equipment to perform the many tasks it was responsible for, such as road construction and maintenance, plantation establishment, log loading, farming operations and some logging equipment. This equipment was maintained in a well-equipped workshop by in-house mechanics.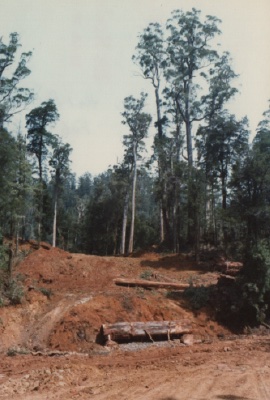 I thought it was exciting for a young forester to work due to the wide diversity of tasks for which the AFH staff were responsible. My initial title was Management Forester, and I reported to Ross Hills. My job involved setting up forest compartments on Surrey Hills using natural boundaries and the already extensive road network. Maps detailing the forest resource on the Ringwood and Surrey Hills blocks were based on fairly old aerial photography and, therefore, quite outdated. These blocks were used for winter logging when ground conditions on most areas of the 1926 Concession were unsuitable for logging. In the late 1970s, plantation establishment was concentrated on Pinus radiata, and in the main, lower altitude blocks were established where growth rates would be higher. Hence, logged coupes were regenerated on the higher elevation areas using the burning and aerial sowing method. The Company also used "pepper dozing" in the pure E. delegatensis forest areas to create ground disturbance, remove shade and encourage natural regeneration to occur before logging at a later date. Neither of these regeneration methods was very successful in my view, and besides, the growth rate of this species on the exposed 600 metre elevation plateau was very slow.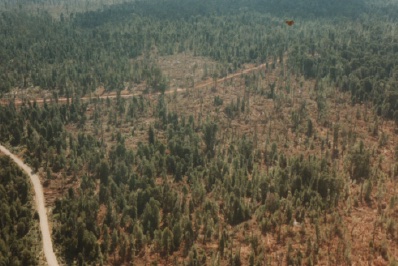 The 1926 APPM Crown Land Concession was allocated to APPM by the Government of the day as an incentive to proceed with the Construction of the Burnie Pulp and Paper Mill. This gave the Company rights to pulpwood from this area. In addition, many sawmillers in the north-west had rights to sawlogs and veneer logs from within the Concession. AFH was responsible for the roading, logging, regeneration and fire control of this large tract of land, which surrounded the Ringwood and Surrey Hills freehold to the west, south and east. The Parrawe area in the Arthur River valley had been opened up for many decades prior, and the next main area to be harvested and regenerated was the Huskisson Valley. I planned much of this valley for subsequent forest operations, including delineating compartment boundaries and road access. I spent many a day in this valley on foot planning and locating the road network. All forestry Concessions in Tasmania had a Working Plan, except the 1926 Concession. So, Ross and I engaged Jim Walker, a retired, experienced Forester from the Forestry Commission to work with us to prepare the 1926 Working Plan.
One of the delightful facets of working for AFH was its people. So, in no particular order, and apologies to anyone reading this whom I haven't mentioned:
I had met Dick de Boer during my early Tamar days when the Company wanted to establish a potted eucalypt nursery in the north east. Dick was very helpful in imparting his wealth of knowledge. Dick had been very busy establishing radiata pine plantations for the Company over the previous couple of decades. However, in the mid 1970s, E. nitens was beginning to be recognised as a superior eucalypt species for eucalypt plantation establishment, so Dick's focus was more on E. nitens now than P. radiata.
I recall a trip to Surrey Hills with Geoff Dean to observe a eucalyptus species trial – I think it was in Bunkers Road. The dominant performance of E. nitens over E. delegatensis, E. regnans and others in the trial was quite evident. A trial plot was also at the Ridgley nursery, which exhibited the same result. Geoff worked closely with Dick on many such trials, which eventually led to E. nitens becoming the dominant plantation species for Tasmania.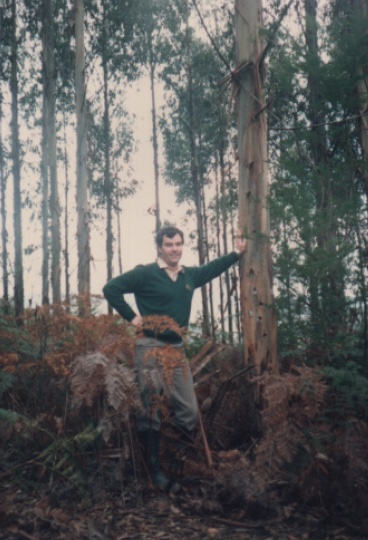 One of the big problems with the slow growth of the main native eucalypt species on Surrey Hills (E. delegatensis) was the leaf-munching insect called the Chrysomelid beetle. Dave de Little was engaged in research into the control of this and other pests. Dave established protocols for controlling this particular insect and completed his Doctorate on this subject. Geoff and Dave were heavily involved in establishing the research centre at Ridgley after I left AFH.
Ted Crisp, what a character. Manager of AFH, he had his own uniform – a bone coloured zip-up jacket, shirt and tie and light-coloured pants. He had a moustache, nicotine-stained fingers and wore a slight grin most of the time unless Collingwood had lost! If they had, he would arrive at work on Monday morning, go straight to his office and shut the door, then go home for lunch and then maybe he would talk to you in the afternoon. Ted had his fingers on the pulse of this multi-faceted business and ran a tight ship.
Bill Huett and Max Tippett planned the logging coupes for all the hardwood contractors. I never saw a written logging schedule where contractors would be placed – I think it was all in their heads, but it seemed to work. Both men were very helpful to me in my early days at AFH.
Snow (Terrence) Turner looked after the softwood logging contractors and was always a source of mirth around the office. Stories abound about his frequent trips to the Pieman Heads.
Gentleman Jim Barbour looked after all the machinery maintenance. His knowledge of machinery parts was exceptional. Some of the machines AFH had acquired in the 1950s and 60s were three Skagit heel-boom log loaders which were still working hard well into the 1980s. Jim knew these machines inside out. He was a regular at the Burnie Gentleman's Club, along with Ted.
Flip Wyker worked out of the Ridgley office with brother-in-law Dick de Boer. Flip was AFH's radio technician and set up the Company's two-way radio network. He must have been the fittest guy around in the 1950s, having to climb St Valentines Peak every fortnight, rain, hail or sunshine to carry fuel to the summit for the generator to run the system. Eventually, a road was built to the top of Companion Hill and mains power connected, much to Flip's delight, I would imagine. He was the go-to man for any technical problems, so everyone had reason to know him.
Ellis Ashton looked after the farming side of the business. Red Angus cattle was the main breed, and stock were grazed from South Nietta (after purchasing the significant Craig Mostyn property) to Jims Plains at Woolnorth. The red Ford Louisville tray truck driven by Nobby McNeair was kept pretty busy with stock transport. However, with the ever-expanding eucalypt plantation programme of the 1980s, the cattle grazing area was in constant decline, spelling an end for this business in time.
Frank Sheridan worked as a hardwood logging supervisor, and in the main, he looked after contractors logging predominantly derelict myrtle forest on Surrey Hills. These areas had been high-graded for myrtle sawlogs in the past and were now destined to be burnt and aerially sown with E. delegatensis seed. However, this program was short-lived as the desire to establish eucalypt plantations grew. Frank also looked after the Morbark portable chipper operation, which supplied chips to the particleboard mill at Wesley Vale. Frank was a tree faller in earlier years and an experienced axeman.
Teena Bester was in charge of all road construction. He oozed experience, having been a dozer operator himself for much of his life. When I arrived at AFH, I spent a day with most senior staff. I will never forget Teena taking me out to Blackwells Road in the Arthur River area where his favourite machine was operating – the famous Caterpillar D9 bulldozer. Merv Pike was the operator, and he could make that machine sing!
Then there was the formidable surveying team of Bruce Hodgetts and Mike O'Shea. They looked after all the AFH freehold titles and survey information. They also did a lot of road location and mapping, and surveying of new roads. Water supply to the APPM Pulp and Paper Mill was an AFH responsibility, and this fell to Bruce and Mike. This involved a constant watch on the water race from the Wey River into the Companion Dam to keep it clear from fallen trees and other debris. Then a constant flow of water needed to be fed into the Emu River to be then pumped from the weir at Fernglade Reserve to the Mill. In my later days at AFH, I recall Bruce being involved in the State Government's compulsory acquisition of a swathe of land across the southern end of Surrey Hills to construct the Cradle Mountain link road with the Murchison Highway. I also recall being with Bruce and Mike in the Cattley Range area where we saw evidence of the old Van Dieman's (or Middlesex) Track which extended from the VDL's Highfield property at Stanley to Launceston. It was a corded length of the track through a swampy section. Bruce and Mike not only worked together, but they both also played top-level cricket for Yeomen in the Coastal competition.
Brian Roberts had joined AFH in the early 1970s, and he was responsible for scheduling the owner-operator trucking contractors around the Skagit log loaders and other logging operations. Brian also liked a fire – he was the fire boss on many regeneration burns on freehold and crown land and was also involved in aerially seeding those areas.
Andy Warner was a younger forester at AFH when I arrived there. His role principally involved assessing the growth rates of Radiata pine plantations by installing continuous forest inventory plots, planning the pine logging operations, and trying to control Snow Turner.
Greg Flynn was another younger forester based in the far north-west as a logging supervisor. He was responsible for the logging contractors delivering pulpwood from State Forests to the Wiltshire log yard. Occasionally we would see him breeze through the AFH office in Burnie, especially if he had an ulterior motive!
After being at AFH for about four to five years, a huge change came over the whole APPM business when North Broken Hill completed a takeover of APPM Ltd. There were some immediate senior staff changes, with many of the older AFH employees receiving redundancies and younger staff members being elevated to more senior roles. I was appointed to the position of Chief Forester reporting to Ross Hills, who took over the General Manager's role from Ted Crisp.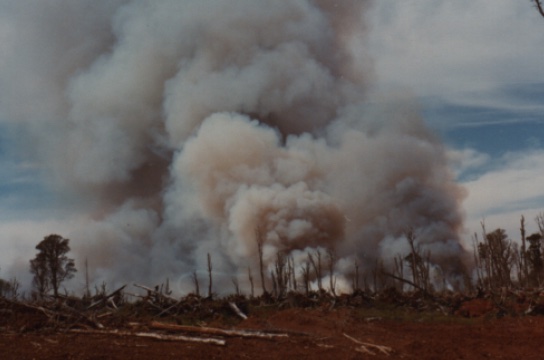 Other changes included:
Les Baker, who had joined AFH in the early 1980s to assist Dick de Boer with plantation establishment, took over the role of Plantation Superintendent from Dick. Developing hardened seedling stock was a real focus for AFH. The Surrey Hills climate was severe in winter, and Les was credited with the development of the ½ ½ seedling. This is where a seedling is first grown in the potted stock nursery and later planted into an open-rooted site at East Ridgley to grow on and harden off. This worked very well, with losses on planting reduced dramatically.
Likewise, Tom Fisk had joined AFH just before the North takeover as a management forester. With the push to plant more and more eucalypt plantations, Tom's role was to identify plantation land and, once planted, develop and maintain a database of all the new plantations. He also worked with Snow Turner on radiata pine procurement.
With the changing of the guard at AFH in 1983 came a real sense of optimism. The newly branded company called North Forest Products had momentum. Sales were booming, capital was flowing, and a youthful senior staff had grasped their new responsibilities. It was a great period to be working in the Forest Industry.
My time at AFH came to a close in April 1986 when I was offered the job of Forest Manager back at the Tamar Woodchip Mill. My wife and I were sad to leave Burnie, where we made many friends, built a house, and two of our three children were born there.
And, as many people have commented, once you have worked in, on and around Surrey Hills, you develop a real sense of belonging to this wonderful tract of land.
I left the forest industry in December 1989. That was a big decision for me, but I have always had a real passion for trees and the benefits of growing and harvesting trees. I have climbed St Valentines Peak a few times since leaving the industry, and on a couple of those times, I have taken organised groups to the summit. Here, I would recount the history of the land use of Surrey Hills to the best of my knowledge whilst looking out over the biggest plantation estate in one continuous block in Australia.