One of the best secrets in the hills surrounding Warburton is a plantation of various softwood species planted from the 1930s. The most impressive are the coast redwoods (Sequoia sempervirens) which stand majestically at up to 60 metres tall. Called the Cement Creek plantation, the area is a significant softwood plantation. We were thrilled to visit the site and walk through the forest and see the conifer plantings. It also adjoins an impressive forest of mountain ash (Eucalyptus regnans) across the creek.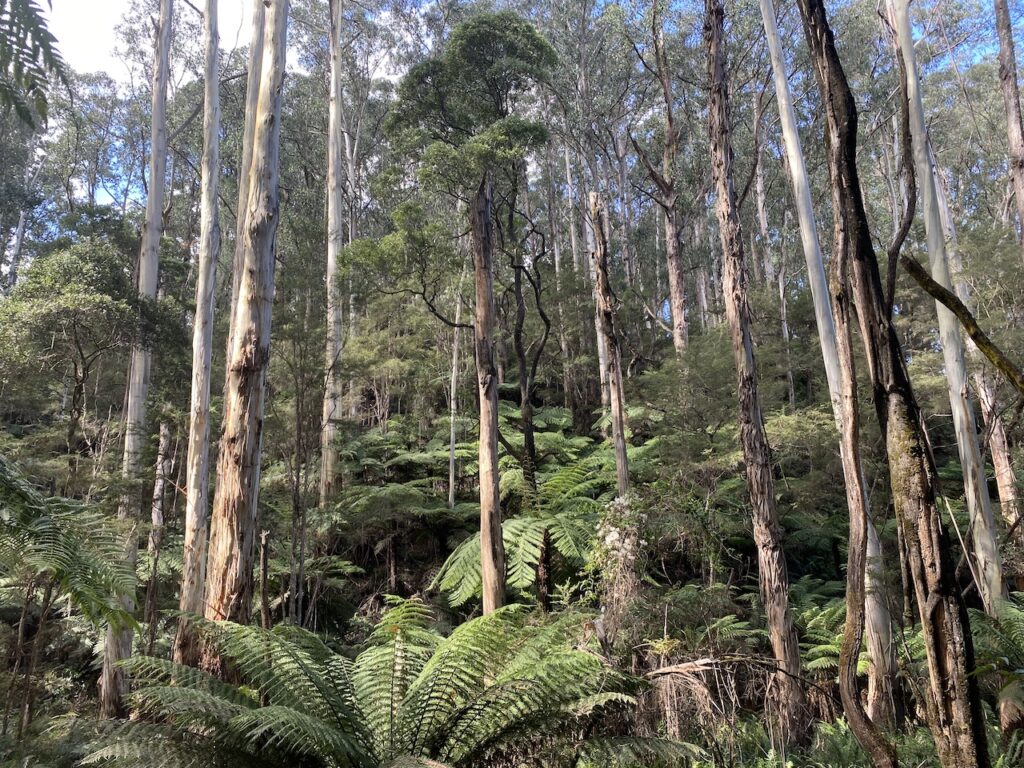 The planting of softwood trees on a limited scale started in Victoria in the late nineteenth century. Some plantations were established on extensive coastal areas that were not suitable for farming.[1] Virtually all of them failed mainly due to the unsuitability of the sites.
After the formation of the Forests Commission Victoria (FCV) in 1918, one of the governing principles was the establishment of conifer plantations. In 1925, FCV set a target for the establishment of 80,000 hectares of softwood plantations. Some unemployment schemes during the Great Depression funded planting programs and focused on degraded farmland purchased by FCV. One of these was in the Otway Ranges, where a variety of species were trialled. These included sitka spruce (Picea sitchensis), Canary Island pine (Pinus canariensis), Bishop pine (Pinus muricata), Corsican pine (Pinus nigra), western yellow or ponderosa pine (Pinus ponderosa), Douglas fir (Pseudotsuga menziesii) and coast redwood.[2]
The conifers at Cement Creek were planted by the Melbourne Metropolitan Board of Works (MMBW). The areas they managed had been cleared and devastated by fire. As a result, they had become overgrown with scrub and weeds such as blackberries. The MMBW planned to undertake an extensive reforestation program in the catchment areas under their control. At that time, the FCV, along with Tasmanian foresters, had a limited understanding of regeneration requirements of mountain ash, the predominant eucalypt species of the area. Instead, MMBW relied on what seed was available. There was also a prevailing nineteenth century ethic towards aesthetic plantings that dominated cultural thinking during those times.
MMBW acquired seeds from the species trialled in the Otway Ranges to progressively plant in the Cement Creek area from 1929-34.[3] While it was essentially a weed control measure, the coast redwoods, Douglas fir and Bishop pine all thrived.
Further areas were planted with radiata pine (Pinus radiata), western red cedar (Thuja plicata) and coast redwood in 1960-63.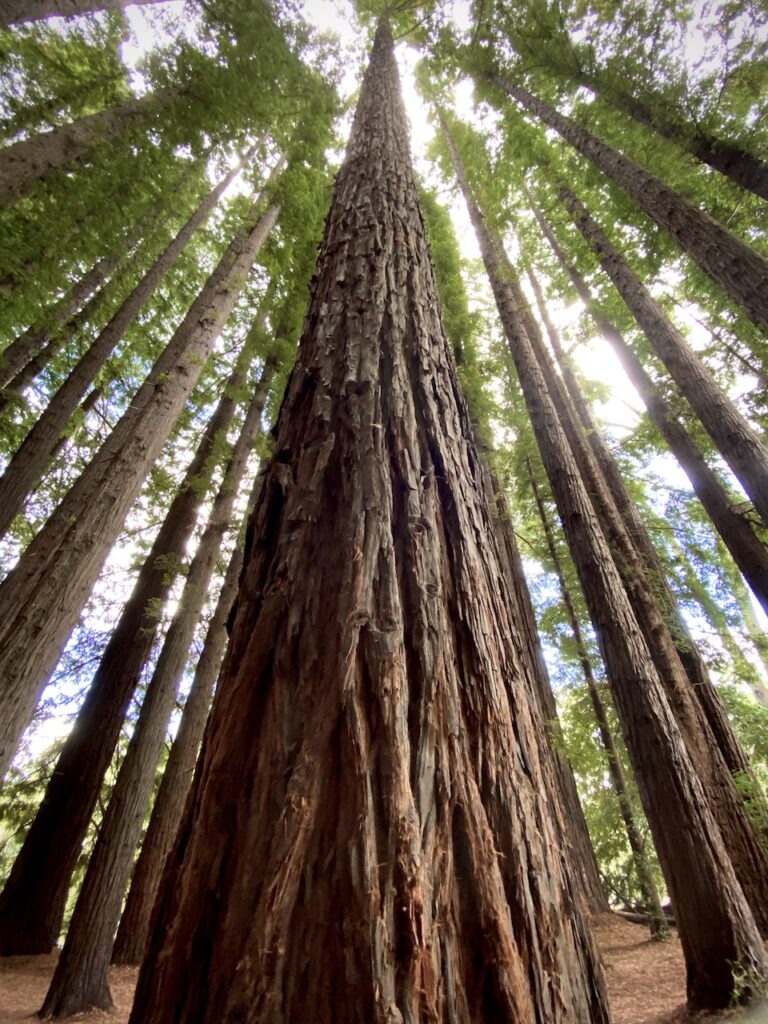 An interesting feature of the plantation was its selection to be part of MMBW's forest hydrology research project in the 1950s. The Cement Creek plantation offered small plots to study canopy interception compared to native forests in the nearby Coranderrk area. The purpose of the research work was to establish a relationship between vegetation type and water yield. While the main aim was to gather data for different native forest catchments, conifer plantations were included to give comparative data.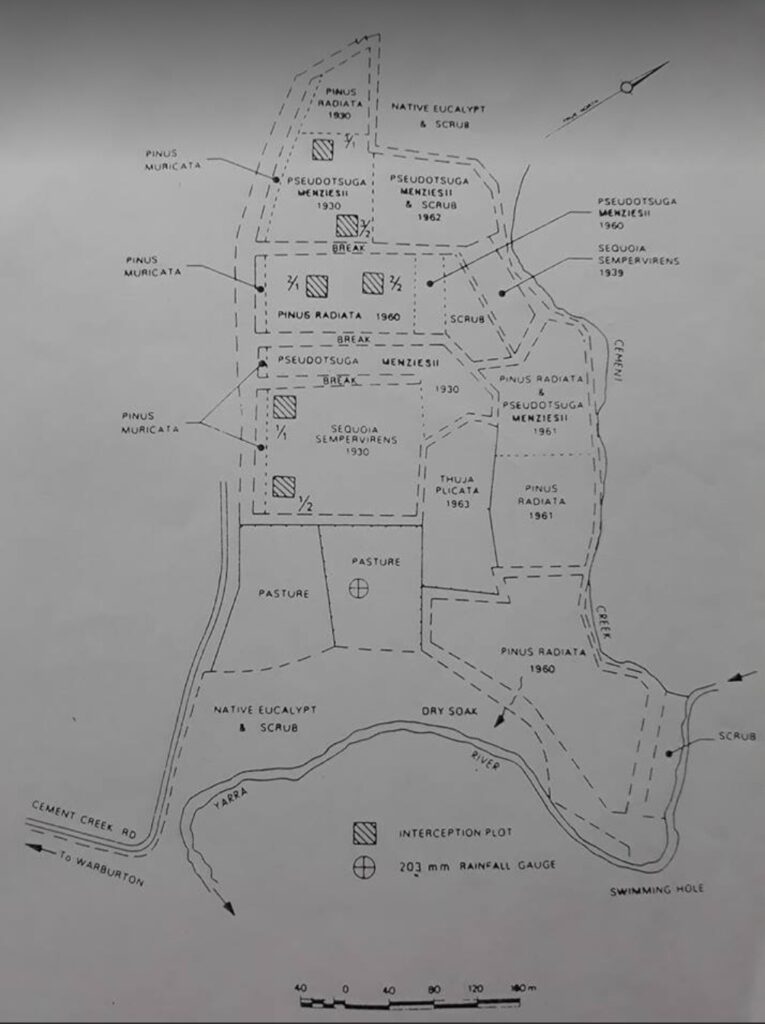 One of the many highlights of the Cement Creek plantation are the giant gun-barrel straight coast redwood trees. There are nearly 1,500 of them ranging in height from 20 metres to the tallest at almost 60 metres, all in excellent condition. They are spaced at 3.3 metres apart which helps to explain why I felt a brooding atmosphere between the rows of trees as the closed canopy far above prevents any light from reaching the ground.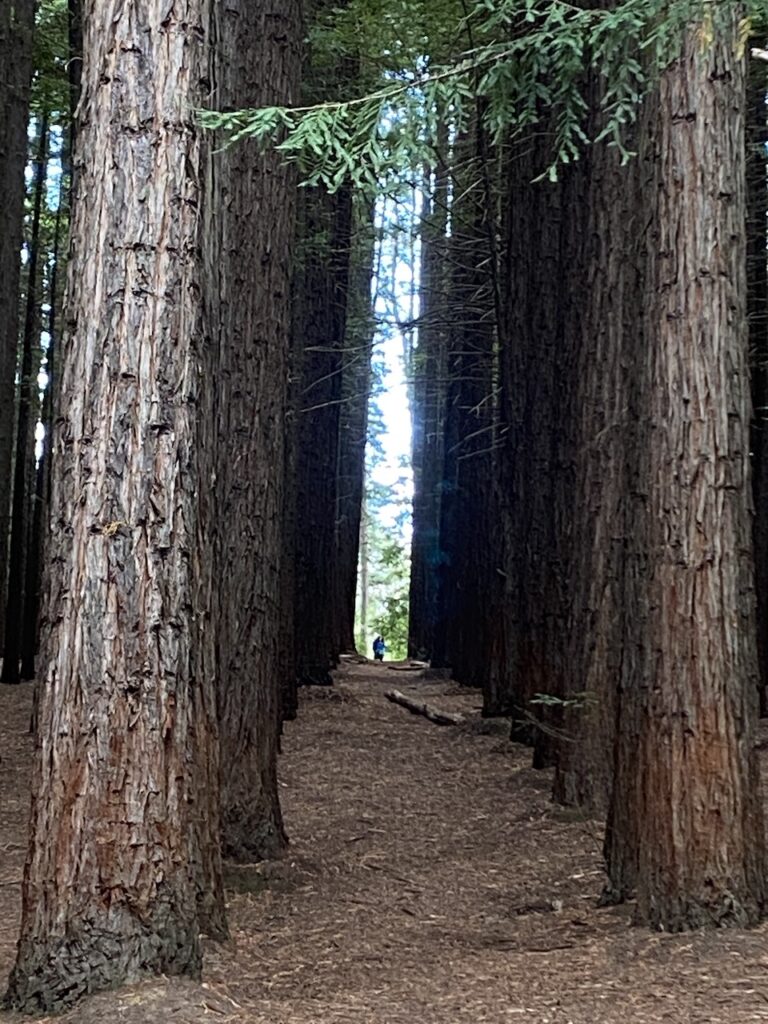 Redwood was known by local foresters because of its prodigious height, even though it was a slow-growing species. Its timber is useful in light construction, durable cladding and roof shingles. However, it is not clear what awaits these trees in terms of timber utilisation.
What is clear is that Cement Creek plantation is an attractive tourist spot that receives many visitors. However, it is a pity there is no interpretative information to educate them about this fascinating area and its history.
---
[1] The areas were established at Frankston and Harcourt (1910), French Island (1911), Wilsons Promontory (1913), Bright (1916), Port Campbell (1919), Anglesea (1923) and Mount Difficult (1925).
[2] This is known as the Aire Valley plantation and is now a popular tourist destination in the Great Otway National Park. It is classified as a site of Biological and Cultural Significance.
[3] It is believed that the seed came from England and the seedlings were raised at the Forests Commission nursery at Creswick – Peter McHugh pers comm.