This month's guest blog is by Lloyd Wilson. I met Lloyd online and on the phone when writing "Fires, Farms and Forests". He enthusiastically provided me with a lot of material for the Guildford chapter of the book. Born at Guildford in 1946, Lloyd spent his childhood living there.
Despite its isolation and persistently cold and wet weather, Lloyd provides a fascinating account of what life was like at Guildford and how the kids occupied themselves to keep out of mischief. It is an excellent story of childhood adventures. The blackout restrictions during WW2 is incredible and a little known piece of history.
I finally met Lloyd at the book launch, and I must say he looks in fine fiddle – I reckon an active life in refreshing, clean mountain air during his younger years has a lot to do with it!
---
Early Memories
I was born at Guildford Junction in January 1946 to Ruby and Charlie Wilson. I have a sister Merilyn and an adopted sister Denise (who is deceased). Dad worked for the Emu Bay Railway Company (EBR Co.) on the Permanent Way as a fettler and then later as Ganger between 1939 and 1981. He left the EBR Co. in 1955 and spent 12 months with Associated Pulp and Paper Mills (APPM) assigned to various tasks but rejoined the EBR Co. in 1956 and remained in their employ until retirement. Mum was a school teacher and taught at Guildford, Parrawe and later on at Wivenhoe and Montello.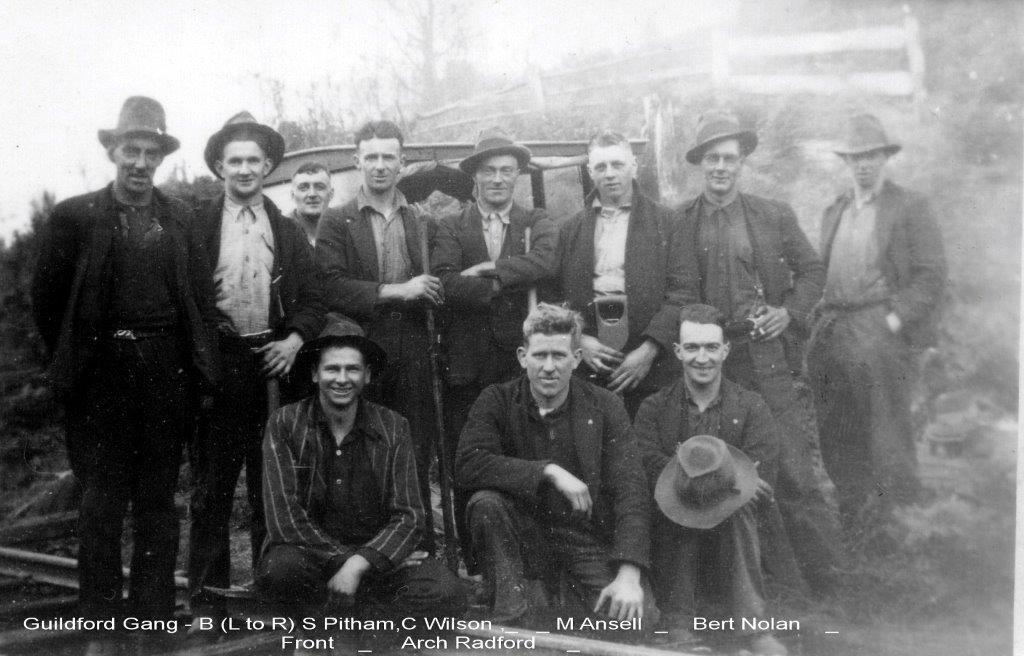 Like most people, I guess, I don't remember too much about my early childhood. There are a few memories that readily come to mind. The first was the fatal shooting accident near Guildford of my uncle George in 1948. My mother later told me that his body was taken to our place when George died and laid out on the couch in our lounge room, where she cared for it overnight. According to The Advocate newspaper clipping, the body was also taken to the Waratah morgue at some stage. The funeral left from our place at Guildford on Monday 24th May 1948. His wife was pregnant with Denise at the time of the accident, and due to hardship, which befell the family, my father and mother adopted her. Arch and Vera (Dad's sister) Overton of Ridgley adopted the older sister, Julie. Unfortunately, Denise contracted meningitis and passed away on the 15th August 1949, a day after her first birthday.[1] George is buried in the Ridgley Cemetery beside Denise.
Also, a face that seems to linger in my memory is that of the school Headmaster, Mr Cody, who taught at Guildford from 1948 to 1949. I would only have been around three and a half years old at the time of his departure.[2]
I also have recollections of blackfishing with both Dad and Mum in the Hellyer River below Chilton bridge which is about two miles from Guildford. We always went below the falls, mostly on a Saturday evening, for obvious reasons, as we had no car at this time, so we had to walk to and from the river. It was necessary to cross the bridge to access this spot, and then walk a little way downstream past the falls (if you stand on the roadside towards the top of the hill from the road bridge, you can hear the falls below). The trek home was probably the worst but not that I had much to worry about because it wouldn't be long, and I'd be riding piggyback!!
Some people who read this will have heard about, read about, or even remember the blackouts during World War 2. The government imposed blackout regulations to thwart night bombing attacks, which thankfully never came! All doors and windows were required to be covered with heavy dark material or curtain which would not allow rays of light to escape that may be seen by enemy aircraft. Even Guildford Junction was included, with all of their 20 plus houses. According to Mum, Dad either volunteered or was selected to police these restrictions. There may have been others, I cannot say, but with only that few houses there probably was not. I suppose it was a "Dad's Army" of sorts throughout Australia. I have included a photo of the ID band marked "C. D. L" and underneath "Special Police". I understand it was a Civil Defence Legion armband. I am currently waiting on the Tasmanian Army Museum to confirm. I imagine it would be designed to be wrapped around the arm and then pinned at some point. As there are no pinholes visible, I can only conclude that he probably only carried it in his pocket and never displayed it outwardly because everybody in Guildford knew one another. I know that there was a lapel badge issued showing Tasmania C. D. L. and wondered if the soft material type armband like his was for smaller towns and settlements up to a certain number of residents.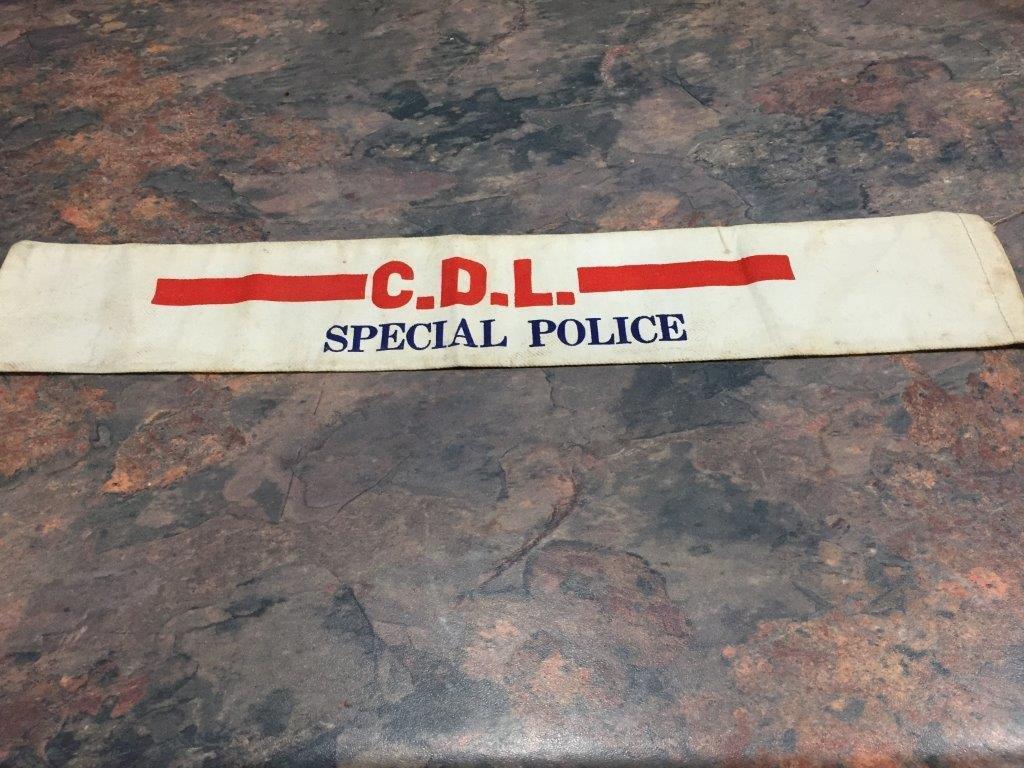 Something I can remember is the heavy frosts during winter. Most houses had their water tanks for domestic use although the water was sourced from a second tank erected adjacent to the original that fed the trains, but this was not until some years later. There was a short length of exposed and uninsulated galvanised pipe that provided water to the house in most cases. Sometimes on cold, frosty mornings, I saw residents burning newspaper under the pipes to attempt to melt the ice to access the water. On severely frosty mornings, I have seen the pipes fracture due to the expansion of the ice. When this occurred, a plumber would be despatched from Burnie that day if possible, to repair the pipe. Otherwise, he would arrive via train the following day. At these times, we would be without water for more than 30 hours. I still cannot understand why people did not insulate the pipe's exposed part before winter.
Day-To-Day Living
Although we were only approx 30 miles from Ridgley via the "Pulp Road" (now Needham Avenue) and about 50 miles from Burnie via Hellyer Gorge, living at Guildford still threw up its challenges. For many years, the only privately owned car belonged to Mrs Burridge, a brown Vauxhall, if I'm not mistaken. There had been shops in the area from time to time, but after the closure of Berwick's shop, it was a few years before the next shop was opened up by Ray Hodgetts (my uncle) in one of the front rooms of the EBR Co. house in which he lived. When it closed, Mr and Mrs Revell set up the same type of shop, and Mr Kevin Burridge and his wife Edna did the same after them. Before this, and for some time after, our groceries used to arrive from Burnie by train each Friday. They would usually be packed in a cardboard carton tied with string. As a result of this and mainly before there was a shop, borrowing was the norm – a cup of flour or sugar until the next grocery order arrived. Many residents kept chickens, which took care of the egg/poultry situation. A greengrocer, Mr Beaumont, would regularly call with a truck of fresh fruit and vegetables. I assume he had a permit to travel the shorter route instead of using the Hellyer Gorge route each time. This still left the problem of bread, meat and milk. Our meat was typically sourced from a Burnie butcher who would deliver to the Burnie railway station where it would be despatched per train each Wednesday and Friday. It was not until well after power was delivered to Guildford that we acquired a refrigerator, so the meat was initially stored at our place in an old battered grey meat safe, and it wasn't until after I had started school that we acquired a brand new "Whizz-Bang" green one. Not once can I ever remember meat going bad. Many residents at that time supplemented their diet with wallaby and kangaroo patties, or if you could get hold of a young one, stuffed and baked was the way to go!
The one method of receiving our milk that sticks in my mind was in the old tin billy delivered each Monday, Wednesday and Friday also by train. Mostly there would be two containers on Fridays to last us the weekend. The lid would be secured with twine to minimise spillage caused by the train's rocking and rolling. As a full one was collected, an empty one would be returned on the train's return trip for refilling, so there could be up to three containers in transit per one family at any one time. It wasn't until Dad purchased his first car in the early fifties that we became a little more self-sufficient and were able to take the odd trip to Waratah (approx. 11 miles) to stock up on a few necessities to see us through until the next grocery order etc. He owned three cars while living at Guildford (all Vauxhalls) and it wasn't until he moved to Burnie that he changed to Holdens. Day trips to Burnie prior to motor vehicles (or anywhere for that matter) were few and far between. If anybody wanted to travel to Burnie for shopping, it would always involve at least one overnight stay at Burnie, whereas, if the goods required could be sourced from Rosebery, residents travelled by passenger motor in the morning, alight at Barker's Crossing, and the motor would continue to Zeehan. With only a short walk to the centre of Rosebery, shopping would be completed, and they would be collected again by the railmotor on the return trip and be back home in Guildford by approx. 3:30 pm. I often heard my father refer to a "Pass" or a "Privilege" when talking about train travel and I am almost certain that this was written permission for anybody who worked for the EBR Co. and their families to travel free on the railway. I am not sure what limitations were applied to these, e.g., number of trips permitted in any one year etc. and I am also uncertain about the difference in the meaning of each.
Primary School
The first thing that comes to mind regarding school at Guildford was not too long after I started. For one reason or another, I turned up late for school one morning, and I remember it to be a cold wet winter's day. When I arrived at school, all the other kids had gone inside and begun their lessons. I remember clearly that I was in such a state, having to walk in by myself ahead of the other kids, knowing that all the bigger kids i. e. Grade 6 and 7 would be "looking at me". I thought initially of returning home, but that wasn't an option because I knew I'd be "lugged" back to school anyway. So, still bawling, I made my way to the shelter shed and lay on the seat until 11 o'clock, which was recess time. When recess ended, I then walked in with all the other kids. I can't remember what happened from then on, but I guess I thought "safety in numbers". During my time at Guildford, the three main teachers were Mrs Quilliam, Mr Schurer and my mother, Ruby Wilson.[3] Guildford School generally consisted of Grades 1a, 1b, 2, 3, 4, 5, 6, and 7 although I can remember some years Grade 7 did not exist. Class numbers fluctuated from memory, but at a guess, in my time, probably averaged 20 to 30+. The school ground was quite small and housed the shelter shed, wood-shed and was fenced on three sides, the school itself pretty well comprising the fourth side. The toilets were both outside the fenced area, the boys' being on top of the hill and the girls' being about the same distance away from the school but situated on a flat site. In the middle of winter with a couple of inches of snow on the ground, and you were "wanting to go real bad", it seemed like they were halfway to Waratah!
The classroom housed an open fireplace where, in wintertime, a roaring fire was kept burning all day long. Our house, while Mum was teaching, was the actual school residence which was attached to the classroom, so by living so close, it always fell to me and one of the other boys to have the fire alight and burning brightly in preparation for the arrival of the teacher and the rest of the pupils. At recess and lunch time the girls mostly stayed and played within the schoolyard's confines while the boys utilised a clearing just over the fence for cricket and football. It was just a matter of dodging the tussocks and snakes although we did not often see a snake near the school and if we did, it was not such a big deal as we had many encounters in the bush surrounds and especially along the railway line as they would coil up on the warm ballast. Our cricket bats and wickets were mostly home-made, and it wasn't long before I left primary school that we received proper bats, wickets and balls, as per the Parents and Friends Association I assume).
The Education Department supplied milk on a daily basis for the schoolchildren. It arrived by train in crates of half-pint bottles (later reduced to one-third pint). The crates were carried from the railway station to the school by two of the boys on a roster system. There were hand-holes in each side of the crate and although it was probably only 100–130 metres from the railway station, a full crate of milk took its toll on the slighter built kids, at times requiring a spell halfway. The crate of empty bottles would be returned to the station the next day and a full one collected. Firewood for the school was usually supplied by a few of the pupils' fathers and others who unselfishly donated their time to ensure the school would have enough wood for the winter. As mentioned previously, the classroom adjoined the school residence where we lived, and each day when lunch break came, it was a race to see who would get out the door first. Whether it was the children to get outside to play, or Mum to get to the back door of our residence which was at the end of the building, get it unlocked, and get inside so she wouldn't miss her favourite serial "Blue Hills" on the wireless. The head of my bed almost touched the wall which separated the classroom from my bedroom, and as the wall was constructed of timber and quite thin, you could almost hear everything that went on in the classroom. It wasn't until much later that I thought to myself maybe I didn't miss as much schooling as everybody thought!
We had visits from the school dentist periodically, but it was always much like the shopping expeditions previously mentioned if treatment was required in between times. If it was Burnie, it was most likely a night's stay somewhere, if it was Rosebery it was walk up the street to Mr Graham, the dentist. I assume it was Dr Graham, but I can't ever remember him calling him doctor. I think I called him lots of other things under my breath when on one visit I just happened to have an abscess under two double teeth, so he presented me with a cork to "bite on" while he removed the offending teeth. I'm not sure which was worse – the toothache, the extractions, or riding the passenger motor back home to Guildford.
Leisure Activities
Leisure activities were quite varied, especially for the boys. From memory, girls appeared to be preoccupied with dolls, prams, sewing, knitting, cooking etc while the boys still loved their footy and cricket and we just had to make do with the numbers we had. We still picked teams out of those that were available at the time and consequently could end up with three per side, or four on one side and five on the other. It could get pretty willing at times when you'd have four on the home side, four on the away side and eight umpires. More often than not, nobody would win but we'd probably be back again in a few days ready for another battle but mostly with altered teams. People sometimes ask what we did back there to fill in the time, and I guess we always thought we were just as well off as the city kids. We had bikes, a couple of the kids had air guns, we'd fish. More than once I can remember swapping my bike for an air gun for a few hours. When the Waratah trees were in bloom, we'd arm ourselves with bags, carts wheelbarrows and go out and pick the flowers, bring them home, bunch them and sell them on the railway station to the rail motor passengers for two shillings a bunch, which resulted in a little extra Christmas money.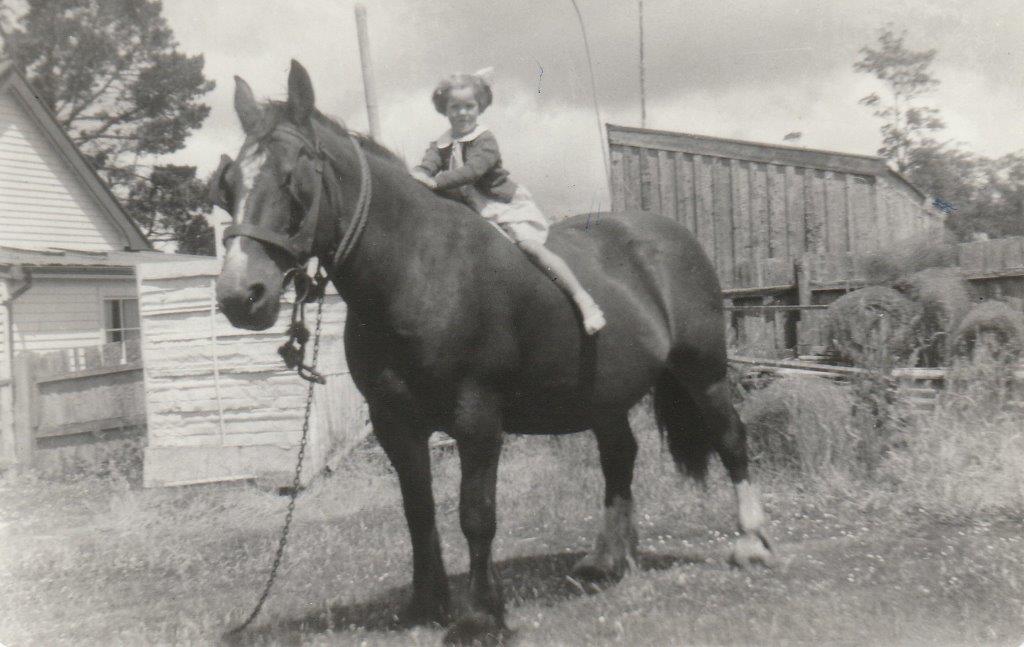 A snowy day was just like any other day to us and providing it wasn't snowing too heavily, we'd still be out in it doing much the same as if there was no snow. Rabbits were in abundance, so we did our share of trapping and hunting but the main thing was, that no matter what the weather, we'd always find something to keep us occupied even if it was only two or three kids gathering at somebody's house. I cannot ever remember being bored. We could always seem to make our own fun. When Kevin Burridge and his wife Edna had the shop at Guildford, Mrs Burridge would pay me to lend a hand to stack the shelves when stock arrived. Speaking of shops, I was recently speaking to a mate of mine, Bevin Revell, and he reminded me of the time that his mother and father owned the shop at Guildford. They also owned a pet cockatoo and the Revell kids, unbeknown to their parents would let the cocky into the shop where it would chew the paper off the corner of the cakes of chocolate. The chocolates would then be rendered unfit for sale so the kids would end up with them. Fishing was always high on my list and together with my father we often fished the Medway River on Tommy Walker Marsh, the Wey and Whisky rivers on Talbot's Marsh (now Talbot's Lagoon) and to a lesser extent the Hatfield River on Romney Marsh. Dad used to own a horse and dray for the most part of my life at Guildford mainly for carting firewood, and we would utilise that on the few trips to the Hatfield, stay all night and come home next day. This, of course was long before the days of the Murchison Highway.
Each end of year school break-up at the local Hall would include Santa making an appearance to hand out presents from the Christmas tree prior to the awarding of school prizes, which would then culminate in games and dancing for everybody. The Christmas tree was normally Celery Top Pine (from memory), selected by the fettlers some days prior and brought home by gang car a day or two prior to the event. There would also be "Old Time Dances" held regularly throughout the year where we would get visitors from Waratah, Yolla etc. Dad owned an old wind-up gramophone which he would carry to the hall if an orchestra was unavailable. He also owned around 500 78 rpm records so there was never any shortage of music, albeit more Hillbilly/Western than actual dance music. Some days when I was looking for something different to occupy myself, I would put the old gramophone out on the front verandah, release the brake, open up the shutters on the front, which controlled the volume, and it wouldn't be long before there would be a few kids make their way over, as the sound was quite penetrating.
The floorboards in the old Dance Hall were pretty rough, knotty, uneven and therefore not dead straight which left gaps between the floorboards that was wider than the width of a 2 shilling coin. Dance nights were eagerly awaited by just about everybody who could dance and just about as many that couldn't. En route to the dance many single men made a detour via the bar at the Railway Station. They would have a few there, then take a few with them and hide them within close confines of the hall. It was mainly the single men who would hang around the door at the back of the hall, I suppose it was because they could slip out for a nip and nobody would know they had left while it would be a little more difficult for the married men, although a few still did. When the time finally came for the raffles, donations etc, they wouldn't bother walking up the hall to part with their cash. They would just pull out a two shilling coin and bowl it up the hall. More times than not it would end up falling through one of the cracks in the floor. Not to be outdone, it would be try, try again until they succeeded but by this time all would be involved. The floor was constructed almost on the ground so there was little hope of retrieving anything at all. I know because some friends and I tried numerous times but we always went away disappointed. Most of my friends and I had well & truly left Guildford by the time the old Hall was demolished but there has been a name or two bandied about that just happened to be there at the same time the floor was being torn up. I can assure you I wasn't one of them.
High School
Some of the boys, once they had reached school leaving age, gained employment with the EBR Co. or APPM, no doubt in a lot of cases assisted by their fathers who were also employed by the respective companies. Girls were not so fortunate in gaining employment locally, so were caught up in home duties until they could make the move from Guildford either by themselves or by the family moving on to alternative employment closer to the North West Coast so as to provide better opportunities for their family.
However, those who wished to further their education by attending High School were required to undergo an Ability Test where the pass mark, I think was 50 percent, had to be attained to be admitted to High School. I'm not sure if there was any leniency involved, but I'm quite sure, in my time, nobody ever failed. The test I think was just mainly general knowledge with a few maths thrown in for good measure. I ended my schooling at Guildford in 1957 and along with Graham Revell and Faye Strudwick, we sat the test and continued on to High School. Graham's brother, Bevin, was the first pupil from Guildford to access High School via this system and had done so two or three years earlier. I was quite lucky for the first three years after I left Guildford to attend High School. I boarded with my Uncle and Auntie (Syd and Ruth Wilson) at "Armitage" near Pigeon Hill. Their house was only about 500 metres from the Pigeon Hill siding, so I was able to catch the rail motor home on the Saturday morning if Mum and Dad weren't coming down that weekend. For a few years, Sunday School was held at Guildford every second Sunday and was conducted by some of the male fraternity of the Gospel Hall at Ridgley. There would be a minimum of two, but mostly three people travel from Ridgley to conduct the service and I would be set for a ride back to Ridgley after attending Sunday School, of course! If it happened to be a long-weekend then it would be either the rail motor or train on Monday and they would pull up and let me off at Pigeon Hill. The rail motor seldom came to a stop when I would board to go home. The driver would slow down to a crawl, I'd throw my Gladstone bag in through the open door and then jump onto the first step and scramble up from there. As I mentioned earlier, I regard myself as very fortunate to be able to do this as most of the other kids were boarding in towns such as Ulverstone, Penguin etc where it was difficult to get to the Burnie railway station and then get transport back to the places where they were boarding when they returned. Another mode of transport for me were the empty pulpwood wood trucks on their return to Guildford after unloading at Burnie.
I hope I've achieved what I set out to do in this article, which was to, at the very least, give some insight into life as a kid growing up at Guildford. I guess some of the younger generation would say we had it hard. Older ones would say not as hard as they had it, but to me, life at Guildford for me and most of my friends was not hard and although I probably should not speak for them, I'm sure they would agree. There were some exceptions, of course, e.g. large families, families who lived on the outskirts of Guildford with no means of transport and were required to walk miles to school but this was more the exception than the rule. Most of us had warm clothes, gumboots, thick socks and coats etc for winter. We had plenty to eat. We had warm beds. One way to warm the bed which I experienced on more than one occasion during the cold winters was to place a brick near the open fire until it heated through and then wrap it in a towel or something similar and place it in the bed probably half an hour before we would get in, resulting in a nice warm bed. I guess this would have been the forerunner to the hot water bottle. We knew that if it was something we needed, we normally got it but also knew if it wasn't affordable, then we'd just have to wait until it was. No credit cards those days. Santa Claus, as I remember, always gave his utmost to fulfil most requests. I still make it my business to return at least twice a year just to reminisce and wander around the places we would frequent as a kid. I made many friends during my time at Guildford. Names like Bevin and Graham Revell, Lloyd Febey, Dale Bailey, Leon and Trevor French and Allan Medhurst (deceased) just to name a few (there were others) and most of those friendships still exist today. There are some I see quite regularly, some who are still around with whom I have casual contact and others who have moved to other States in search off greener pastures. Of the girls, names that immediately come to mind are Beverley Revell, Lorna Radford and Faye Strudwick and the Williams sisters, one of which Cynthia, is married to Bevin Revell.
The reason why I have not made mention of the AFH residents is that during my time there, there were only about half a dozen AFH residences. One of those was Ted Crisp's house and his office. When he married, he took up residence directly opposite. The AFH workers were younger and tended not to have a family. Those that did have a family, had children that were much younger than me. Some also lived at Waratah and their children attended school there. Time does dim the memory, however, I would like to acknowledge two of the de Boer boys, Edward and Richard, who have since tragically passed. Also two others in Keith Strudwick and Kevin Beswick, with whom I have not had contact in a long, long time.
People still ask me "Why do you even bother going back, there's nothing there?" Maybe not, but to me, it was "Home" and the place where we enjoyed many good times. It quickly becomes obvious that they have never lived there nor experienced the good times that growing up at Guildford afforded. At the risk of sounding nostalgic, or even sentimental, I would just like to emphasise the fact that Guildford was where I spent, what I consider, to be one of the main and most enjoyable periods of my life, and whenever I am back there in the late afternoon or early evening, it's not difficult to imagine the sounds of children playing, or the whistle of a train approaching from either direction, or Dad's shrill whistle signalling it is time to come home. That whistle would signal the "end of play" until tomorrow and when you were a kid living at Guildford, you knew there would always be a tomorrow.
---
[1] More details about George's tragic accident and the adoption of Denise are covered in "Fires, Farms and Forests" on page 154
[2] Michael Cody was arguably Guildford's most qualified teacher. He started in June 1948 but had to resign 12 months later due to the tragic death of his infant daughter. More details about Cody can be found on pages 154-5 of "Fires, Farms and Forests"
[3] Alfreda Quilliam was Head Teacher from September 1950 until July 1953. John Schurer followed and was teacher at Guildford for a short period until the end of the 1954 school year. Ruby Wilson was Guildford's teacher over a number of separate time periods starting in 1937 until 1940; 1941-44; 1947-48; and 1955-60