This month's blog is by Allan Jamieson. Most of you would know Allan from his time working with APPM as a chemical engineer at the pulp and paper mill in Burnie, and as the inaugural manager of the new research unit set up by North Forest Products in Ridgley in 1993. Allan is also the author of the beautiful book on the Burnie pulp and paper mill called "The Pulp: the rise and fall of an industry", published in 2011.
---
My professional experience of Surrey Hills began in 1993 when I assumed the management of what became known as North Eucalypt Technologies (NET), the forestry research group within North Forest Products.
My first experience of Surrey Hills, however, was in February 1961 – 32 years earlier. At that time, a fellow Chemical Engineering student and I worked at the Electrolytic Zinc works in Hobart during Melbourne University's summer break. Dick had a 1936 Ford Model 68 sedan, and each weekend we would tour some part of the island of Tasmania. We kept the West Coast to last, as we would travel that path to reach Devonport and board the Princess of Tasmania ferry to return to Melbourne.
In 1961, the West Coast was even more isolated than it is now. We drove from Hobart to Queenstown, camped overnight on the 'infamous' grass-less football ground, took a detour the next day to ride the fantastic narrow-gauge railway to Strahan – now known as the West Coast Wilderness Railway – before driving north to Rosebery, the location of EZ's zinc mine. The Mine Manager allowed us to stay in a miner's hut, saying; 'boys, it will snow tonight – a bit cold to be in your tent.' We did not believe him, but it DID snow. The next day, we were allowed to descend into the mine and see some of the workings.
Rosebery was the end of the road to the north, so we put our car on a flat railway truck, and we rode the train about 50 km north to Guildford, where we could take the car off and restart our road trip – now on a corrugated, dusty, dirt road towards the Murchison Highway through Parrawe.[1] After a while, Dick said he was having difficulty turning right, and he soon stopped the car. I slid underneath and saw that the front spring, a transverse leaf spring, had moved; the central bolt, intended to hold the leaves in place, had fallen out and one leaf had moved sideways and was pushing against a brake drum, stopping that wheel from changing direction.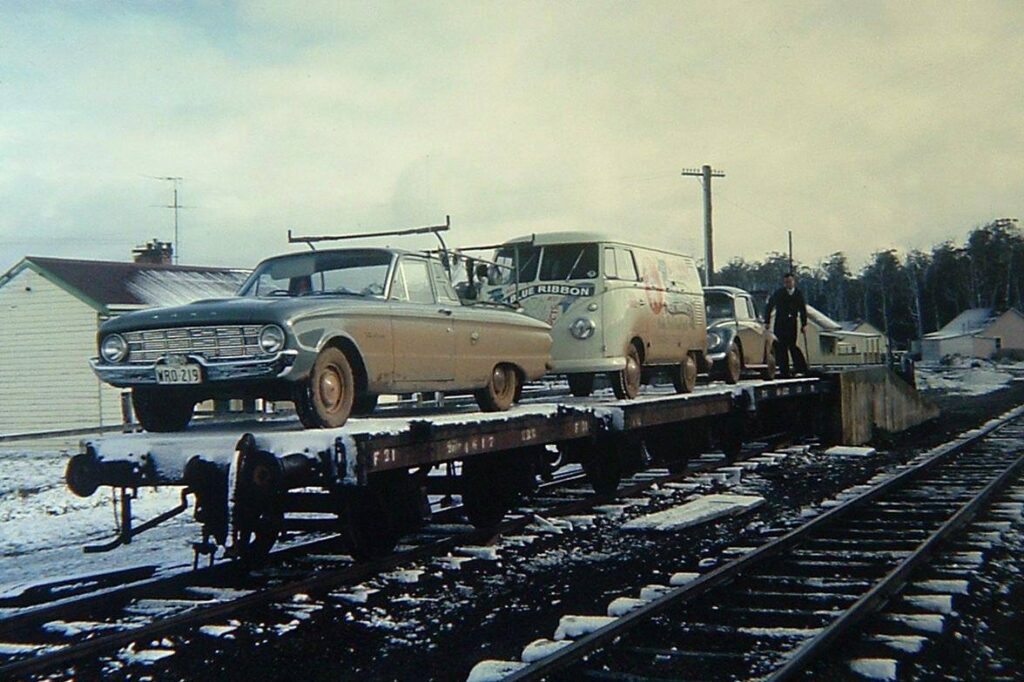 We knew that we had been the last car in the convoy that left Guildford. We still had around three hours of daylight left, and there wasn't a cloud in the sky. It was pleasantly warm. We had not seen a house for some considerable time, and none were in sight now. There were no trees either; it transpired that we were in the Surrey Hills forest operations. At this point, we had exactly 24 hours to be on board the ferry.
I started to pitch the tent while Dick walked ahead in the hope of finding a farm. It was not long before he was over a hill and out of sight, but about an hour later, he returned – by car. Dick had found a farm and the farmer had once owned a '36 Ford; had experienced the same problem, and knew how to jack the front of Dick's car up, so the leaf springs were relaxed. The 'rogue' leaf was soon back in place, at which point the farmer gave his spare bolt from his Ford to Dick. What an extraordinary coincidence!
The next day, we resumed our journey north. Soon, we came to the Hellyer Gorge. There was no way we could have negotiated this with the splayed front spring.
When I began working at Ridgley in 1993, I endeavoured to find more about the farmer. The whole area is now thickly forested. The farm must have been at or near Parrawe, but I could not obtain the farmers' name.
---
Thanks to Allan for his vivid memory of his road trip nearly 60 years ago through Surrey Hills. There weren't too many farmers left at Parrawe in the early 1960s so I am sure we can find out who the farmer may have been. If anyone thinks they know who the farmer was at Parrawe in 1961, and knew about the 1936 Ford Model 68, please leave a comment below.
Parrawe's history is fascinating and worth a separate blog. Once a road was built from Henrietta to Waratah through the Hellyer Gorge at the end of 1904, farmers began exploring the area for suitable land. The road was upgraded in 1913 and in 1921 became a 'highway'. Owners cleared their farms sometime before WWI. Most of the farmers were from Yolla, and they used Parrawe from early summer through winter as the high rainfall was consistent during this period and provided late summer and autumn feed. They drove the cattle through Hellyer Gorge. Some notable farming families were Smith (several siblings), Docking, Franks, Mather, Thow, Keygan, Poke, Diprose, Bell, Huett, Tetlow, Jordan, Cameron, Jones, and Neal to name a few. Most blocks selected were 200 acres. These heavily forested blocks were cleared, burnt and sown with clover in the ash. The pasture growth was prolific. About 3,000 acres were cleared and farmed.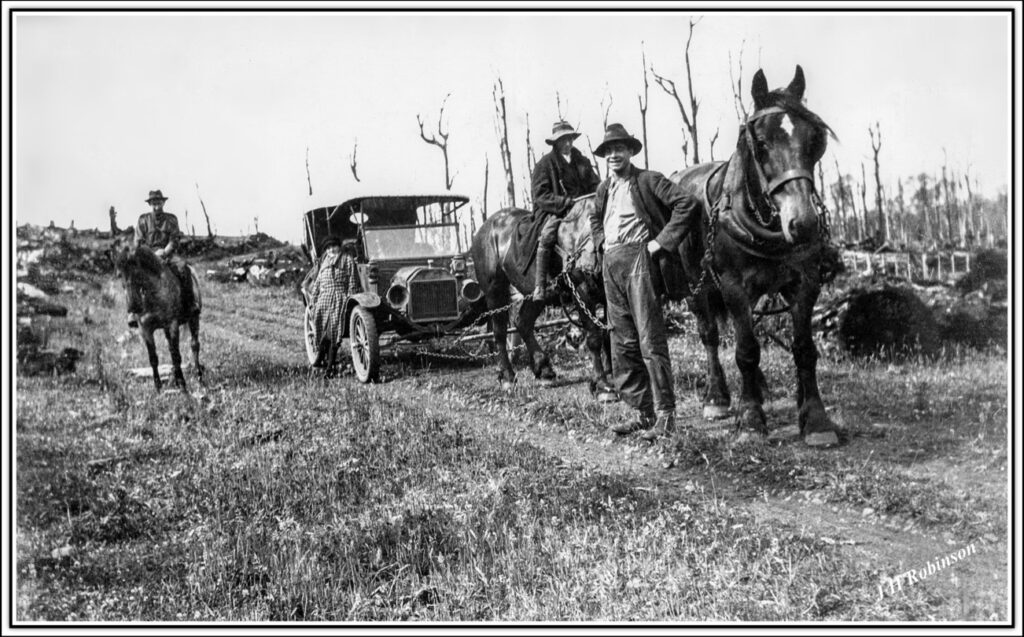 There was a school from 1934 to 1950, a shop, a post office and several sawmills; the most notable was Fenton's sawmill, built in 1937. I am not sure when it finished up. The 1930s was the height of Parrawe life, but once rabbits arrived that decade, they were the death knell for Parrawe as they ate out the good pastures and cattle struggled on the remaining inferior grasses and weeds. Potatoes were a staple crop. Brownells was the main variety planted, and Parrawe seed potatoes were very sought after in the north-west.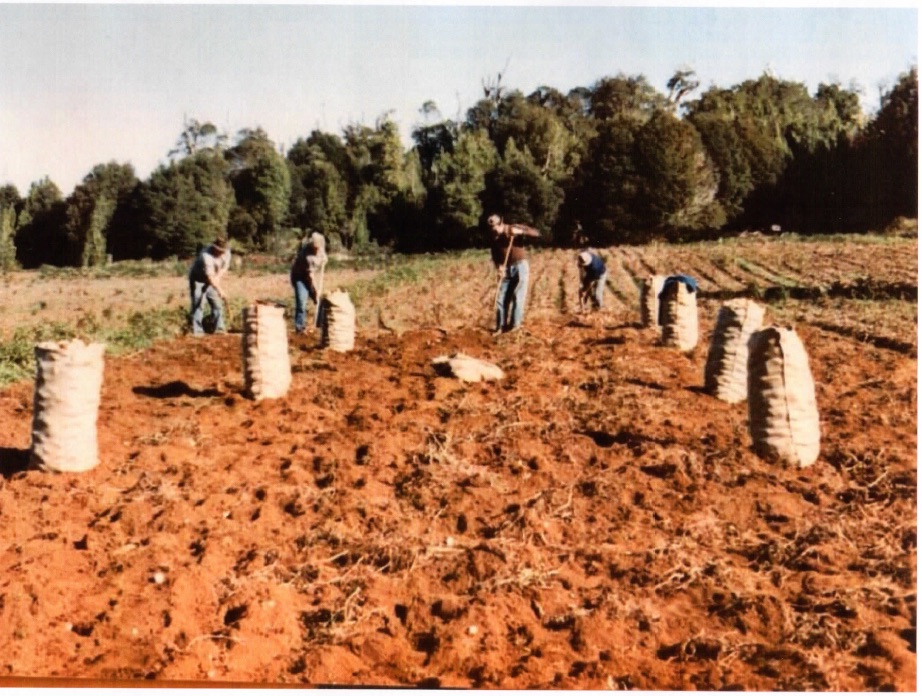 Ex-AFH/North Forest Products/Gunns' employee, Josie McCarthy (nee Hills), has kindly shared some information about her family who lived at Parrawe. Josie's cousin was Cyril Hills, who features in Chapter 7 of "Fires, Farms and Forests". He produced a booklet on their family history in 1994.
Walter James Hills, bought a farm at Parrawe in July 1934. The 300-acre farm was first alienated from the Crown in 1912 by the previous owner, Arthur Walton Illingworth. Walter and his wife, Flora, moved to Waratah in 1907. Walter cut timber for the Mount Bischoff Tin Mine Company and soon worked in the mine until it closed in 1928. He then worked at the Magnet Silver Lead Mine for a short period. After obtaining a Mining Lease, he made a living searching for tin until 1937. Walter then moved his family to the Parrawe property.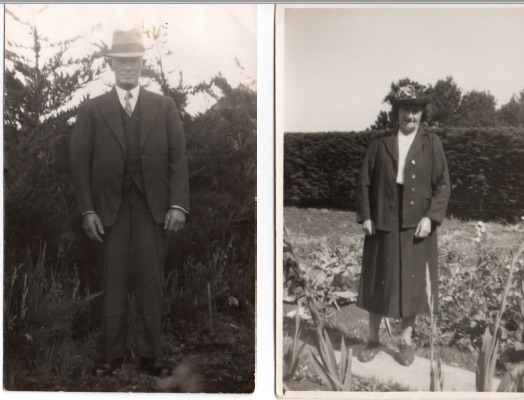 They had 11 children.[2] Even though rabbits were a curse, Josie's mother always said they were the only thing that kept the family alive. The family house was very primitive. It didn't have power, and Josie recalls a resident snake in the roof cavity.
Walter and Flora left the farm in 1951 when it could no longer support the family. They moved to Upper Burnie. Eric (or Ec), their fourth child, took over the farm until the mid-1980s when it was sold to AFH.[3] Many people knew Ec and a lot of business travellers, passing through Parrawe, would stop and visit. He always had a drink ready, mostly alcoholic, as he didn't need an excuse. Ec had a reputation for growing the best swedes 'you ever tasted after the frosts'.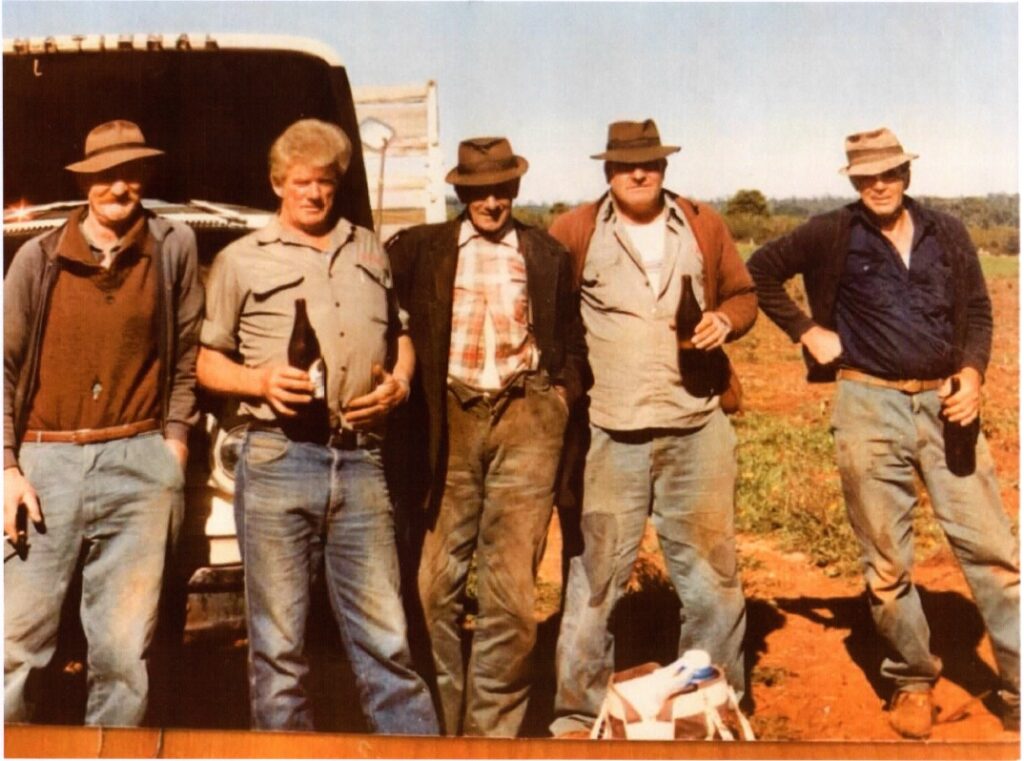 I did wonder if Allan had come across Ec all those years ago. However, Ec didn't have a car licence or own a car and only drove his Fergie tractor. He used to drive the tractor into Waratah for supplies. After he sold the farm, Ec moved to a house in Wynyard, the first time he had electricity. He took his tractor with him and used to drive it around Wynyard's streets. He got away with it probably because he was known to deliver people's groceries from Woolworths on the back of his tractor. Ec's rough, open-space tractor-driving skills weren't suited to the streets of Wynyard, and he quickly earned a reputation as a poor driver. He was that bad a driver; one day he actually drove the tractor into the side of his brother's house. Josie recalls there was a lot of name calling and swearing from her father that day.
---
[1] The Murchison Highway as we know it today was not built until 1963 and the section through Parrawe was widened and bitumised.
[2] The 11 children were:
Walter Cyril (b 1/11/04- d 4/6/58)
Clement Francis (b 26/11/06 – d 20/9/70)
Delma Margaret (b 19/9/09 – d 16/9/92)
Eric William Arthur (b 31/8/11 – d 24/3/93)
Olive May (b 4/5/13 – d 21/6/95)
Alma Jessie (b 4/4/15 – d 18/4/05)
Frank Fleetwood (b 7/3/17 – d 1/1/98) – Josie's father
Violetta Trixie (b 14/3/20 – d 23/7/13)
Wallace Terrence (b 1/12/22 – d 28/3/16)
Icsis Joan (b 13/6/26 – d 11/1/05)
Zoe June (b 17/5/28 – d 25/2/38)
[3] Ec suffered from asthma from a young age and because of this, he lived with his grandparents at West Ridgley, from age five until he was eleven. Ec remained a bachelor who only ever ironed the front of his shirts that would show under his jumper. People also often saw his white long johns drying on the verandah as they drove past.