In my book "Fires, Farms and Forests", Chapters 8 through to 10 cover the development of forestry operations on Surrey Hills. Barry Graham worked in the pre and post-industrial forestry era on Surrey Hills during four separate stints. Endnote 819 on page 248 of the book summarises his career. Barry is only one of two people still alive, that I know of, who worked on Surrey Hills in the 1950s. I was privileged to work with Barry before he retired. I have invited him to reflect on some of his experiences at Surrey Hills.
Barry first started in 1957 and was shocked to see the changes on Surrey Hills when he returned much later. More considerable industrial activity had replaced the early forest operations concentrated on the native forests. Here are some of Barry's recollections:
I had the pleasure of starting work at 17-year-old straight out of school in 1957, where I became survey assistant to David Dickinson, the company Chief Surveyor. We worked under the imposing rule of Chief Forester Reg 'Bull' Needham when the major infrastructure on Surrey Hills was being constructed, such as roads, dams and water races. Reg was not only a stern taskmaster, but had a soft, caring and generous side to him and was very loyal to his employees. I can still hear his heavy footsteps coming up the hall from his office toward the drafting room, with some dread in my senses..!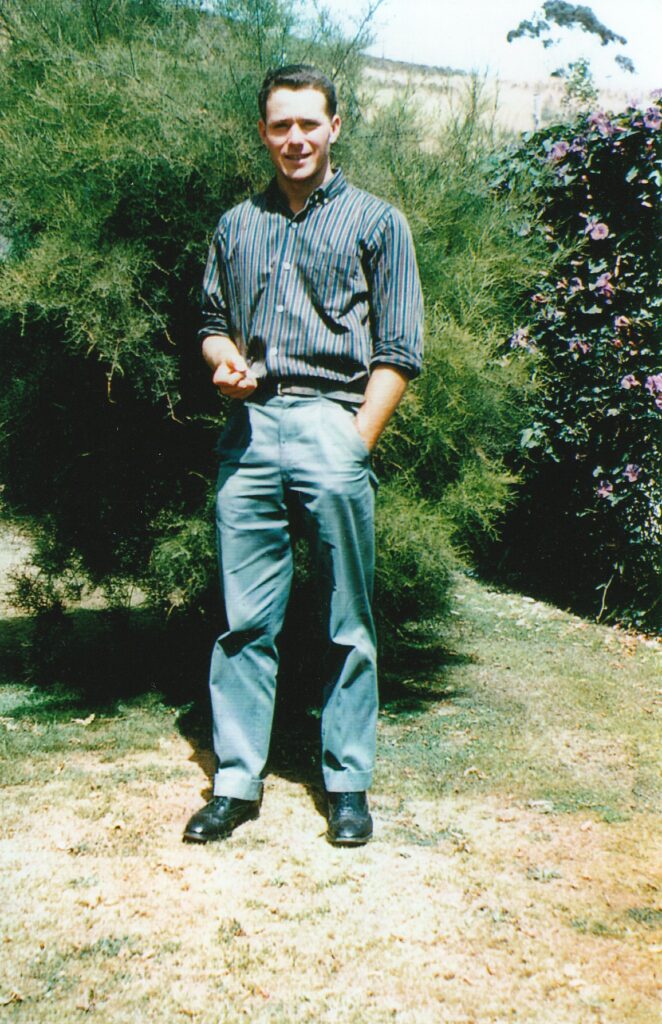 I can recall many a stormy, winters night when Dave and I camped out on Peak Plain. Often, on a Wednesday evening we would wash up after a hard day running boundary surveys or setting out road lines and slip into Guildford at the invite of Ted and Betty Crisp for a sumptuous dinner which was supplemented with a refreshing glass or two of a nice liquid appetiser; after which many a raucous card game ensued. At evenings end, I drove Dave and myself back to camp, a little under the weather myself, being all of 17 and 18, through boggy trails and unfinished road grade in the pouring rain or thick wet snowstorms. Dave was hard on me if I went too fast, or too slow, or just right. We both laughed in that cold, sweating aluminium box of a Land Rover that got us to many places in those years.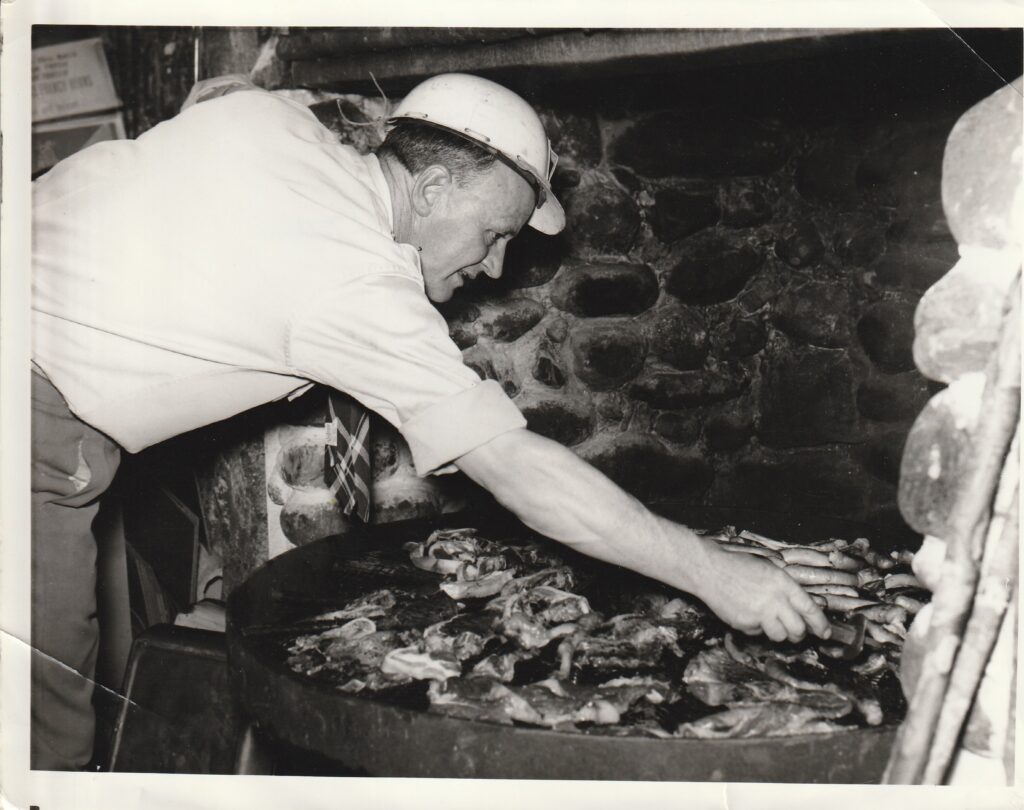 Stan Bester and I hand-mixed all the concrete that went into the Talbot Marsh sluice control tower. Dave and I would paddle a little, horrid, unsafe craft out to adjust the opening now and then to test the water-race to the Emu River watershed before AFH installed a catwalk. Jim Madden, who went on to become a crime reporter in Sydney, and little Louie Cox, a builder from Ridgley, hand mixed all the concrete that went into the centre pier of the now decommissioned Lever River bridge that once accessed the Mt Tor 1926 Concession timber.
I learnt the rudiments of operating a 'cat' or bulldozer during the crew lunch hour breaks when we built the Talbot Marsh dam wall. Joe Bester would get out in front of me and throw rocks in the blade area indicating I was pushing nothing. I operated a little D4 while Joe, Tiff Stubbs and Reg Needham went and had a couple of lunch-hour beers over at the Beach Hotel during the removal of the reef rock at West Beach, Burnie, in preparation for the 1962 Australian Surf Life Saving Championships. AFH donated the equipment and operators' time. I would also occasionally operate the D9 during the Morey Road quarry crew lunch break and rip and push the rock.
I believe the three Skagit mobile loaders are legend for the contribution they made to modernising the stump to dump process, thanks to a visionary Reg Needham. However, a couple of equipment purchases by Reg were nowhere as successful in their application. I refer to a custom-built highway-legal Pacific log truck from that company in Canada with two trailers to be used in the form of, but not too successful, pre-load system. It was powered by a Rolls Royce engine which gave nothing but trouble, rather than by the ever-powerful Detroits of the era – the same ones that powered the big Skagits. Anyway, eventually, the whole thing died on its wheels. I don't know where the old rig ended up. Reg also fell in love with a D7 sized Vickers (British) bulldozer. It had a hydraulic blade, which was not used on any of the company D7's or D6 dozers at that time. Hydraulic equipment was available on Caterpillar machinery as far back as the 1940s, but AFH maintained using the old PCU's until the early 1970s. Anyway, I digress, the Rolls Royce powered Vickers 'dozer was a lemon from the get-go. It continually walked out of its flexible military tank-like tracks. The mechanics hated the bloody thing. Someone might have eventually used it as a sea-anchor somewhere..!!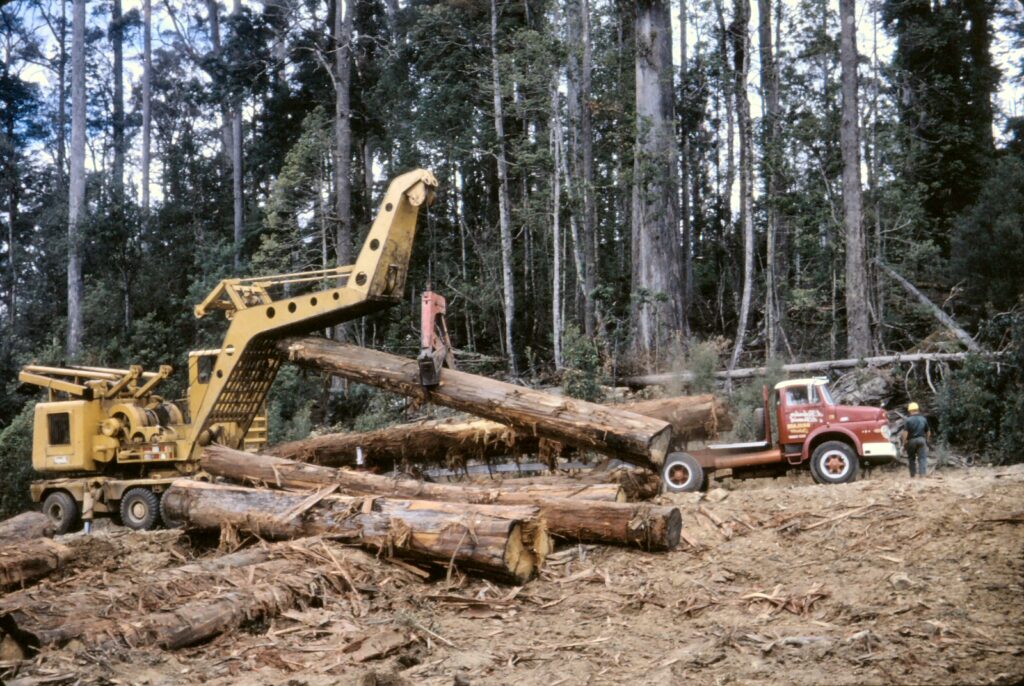 During Reg Needham's era, the Wesley Vale board mill arose out of the beautiful farmlands of that area. Much of its wood supply came from Surrey Hills in the form of wire-tied one-ton bundles of small myrtle that were hand-loaded onto sleds and skidded from the stump to roadside behind 40 hp Fiat crawler tractors. They were then loaded onto 20-ton highway semi-trailer flat decks (Bonney Bros) by a mobile industrial yard crane. P. radiata also was used in the furnish, which came from AFH Ringwood and Tewkesbury plantation thinnings. A lesser amount was also supplied by Forestry Tasmania. I was involved somewhat in the Surrey Hills operations, and sadly we removed a lot of young myrtle regrowth along many of the riparian zones of the lesser streams and creeks of Surrey and Ringwood. The Forest Practices Code did not exist then.
In the early 1970s, Ted Crisp created a plan to establish P. radiata plantations on good basalt sites that were once mostly mixed E. gigantea and Myrtle forest along the Basil's road corridor at Ringwood. My task was to survey and plan the area for future southward plantation development. Initially, P .radiata was planted, but it soon became a non-desirable species, and so the march south of eucalypt tree farms toward north-west Surrey Hills began.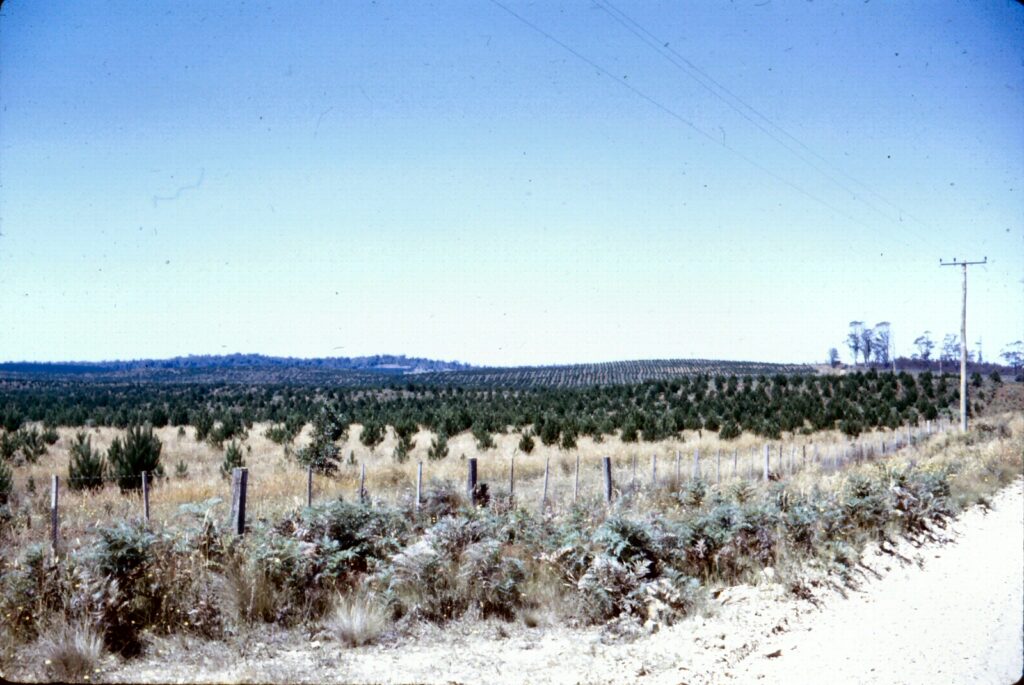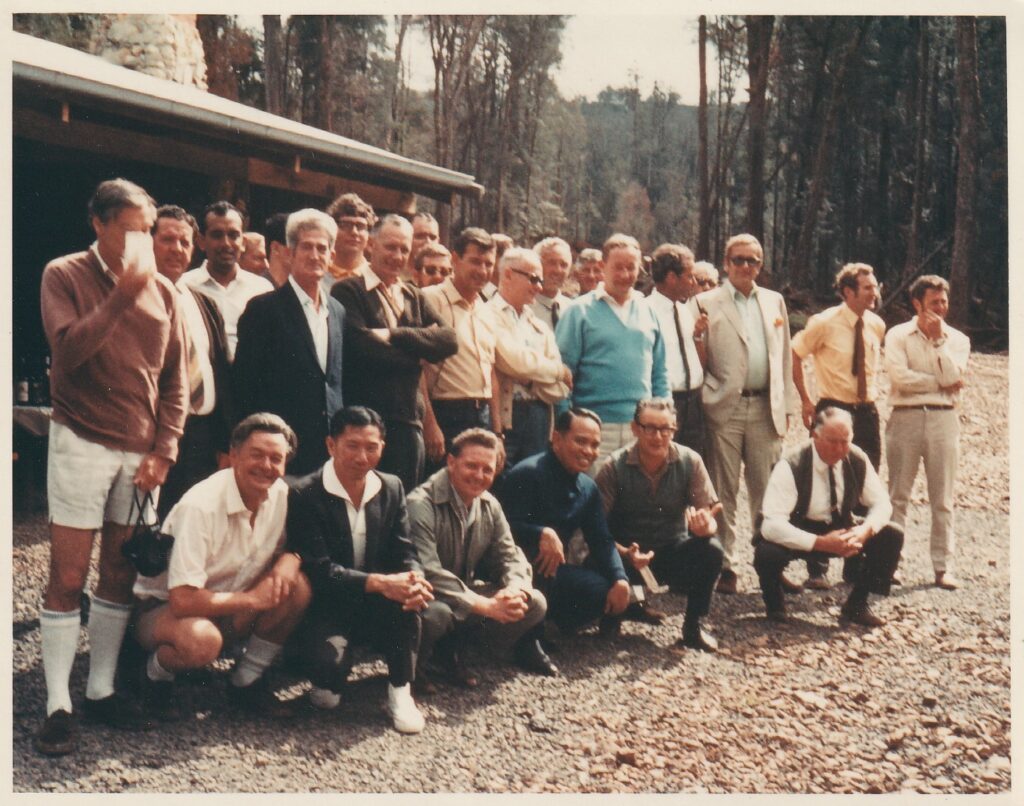 I made 100 trips up Valentines Peak along the southern ridge from Peak Plain. Flip Wyker made 200 trips. We had to do this to maintain the batteries and the equipment and do fire watch duty. I'd like to return to Surrey Hills and make my 101st trip to the Peak one day.
I did see a Tasmanian tiger at Surrey Hills. I was with Joe Bester, a highly respected bushman from Waratah. We were coming home one evening on Middlesex Road in 1972 after a good day's road line location. I was driving a brand-new Falcon ute, and as I slid around a corner, we almost ran over this animal running across the road – it looked like a scrawny greyhound. We stopped and ran after it across the white grass, but it had gone. We decided to keep this siting quiet, though we did tell Ted Crisp. Maybe the tiger died of fright!
AFH (formerly BB&T) was a good employer led by Reg Needham. The group had a professional and innovative forest management team that rated second to none in Australia. I was most fortunate to have the opportunity to work under and with them, especially before the advent of fully mechanised harvesting. At that time much of the work was performed by skilled, tough and dedicated men who were faithful to their chosen tasks and honest as the day was long (well, mostly anyway..!) be it with a cross-cut saw and axe, the early power saw (e.g. Danarm), sleeper cutting tools, spalling hammer in the quarries, log truck driving and equipment operation (logging and road-construction). They collectively made Surrey Hills into the beautiful working entity that the non-forest companies lucked upon, who then proceeded to reduce this former 'little Eden' into a gigantic mix of Eucalypt tree farm and remnant native forest.