As most of you would know, we eventually started our dream to travel full-time around Australia on 12 February this year. We had planned this trip for many years and saved hard to fund it. We retired from our jobs and managed to sell our house in Dalby on the Darling Downs in Queensland. The plan was to take our time travelling around Australia seeing as much as we could. We thought two years would be enough time, but we had no definite timelines.
We did commit to attending the Willow RV's first rally at Moama in late March, so we planned to travel through NSW slowly. There was a fair bit of coastal rain around northern NSW when we started, so we went inland and drove down the New England Highway. Reports about COVID-19 from around the world began to filter through, and we monitored the situation as we continued our travels. The organisers of the rally considered postponing it, but all the members attending were still keen for the event to continue, with some additional social distancing rules. However, by the end of the rally on 22 March, it had become abundantly clear that we would have to stop travelling and decide where to bunker down.
There were the Ruby Princess incident and reports of the first deaths in Australia from the virus. One week after advertising that National Parks in the NT were offering free camping, the NT government announced on the 21 March the first closure of their borders from the 24 March. The other states soon followed with similar announcements. We knew that our plan to drive through Victoria, South Australia and up to the NT for winter was not going to happen.
Panic buying at supermarkets was in full swing. We heard reports of busloads of people travelling from Melbourne to stock up on items such as toilet paper, flour, sugar, pasta, hand sanitiser etc. In response, some of the small towns in regional Victoria and NSW were preventing non-residents from shopping in their supermarkets. The Federal Agricultural Minister called people with caravans the "cruise ships of the outback". We suddenly found ourselves being heavily ostracised. It was not a good time to be a full-time traveller without a fixed address, especially with Queensland number plates in another state. I and many others turned to social media for advice. All we got was a sanctimonious direction for full-time travellers to "just go home". Some were extremely abusive. But for 85,000 Australians it wasn't as simple as that. Some still had their homes but rented out under a legal contract. Others, like ourselves, have sold up and had no 'home' to go to. Some were lucky to have family or friends where they could park their van. For most of us, however, we had to find somewhere we could bunker down long term. We couldn't afford to keep moving because people didn't want you anymore or they were going to close their caravan park, as most Council-operated ones were doing.
We seriously had to consider our options. A mate offered to let us stay at his place in Tasmania to ride out the pandemic. We thought about leaving the van on the mainland. When the Tasmanian border closed and we realised what quarantine requirements were, it became less attractive. Nor did we relish the idea of spending winter in Tasmania or not knowing how long we would be there.
I spoke to others at the rally who were going back to Queensland to find out how they would deal with the border closure. Once they told me the Queensland border wasn't closed, we hastily decided our best option was to head back there. After making a few enquiries, we found a caravan park at Hervey Bay that was taking long-term travellers under certain conditions. Once we made that decision, the Queensland government announced it was closing its borders at midnight on 25 March. We had three days to travel from Moama. We left at the same time as two other Willow families travelling also full-time on the road. We kept in touch via Messenger to make sure each was safe and saw each other at various towns along the way. Heading north along the Newell Highway, there was a constant stream of caravans travelling south, presumably back home or to somewhere they could park up. The towns we stopped at were quiet as businesses had to close. We found free campsites we could park up for the night and continue early the next morning. We safely entered Queensland in time and settled in at Hervey Bay.
For us, things worked out well. We had somewhere to stay for the duration of the lockdowns at a reasonable price. We were near the beach with plenty of things to keep us occupied – swimming, paddle boarding, bike riding, walking etc. It was also timely for me as I had to spend a lot of time finalising the manuscript for the book design, which would have been hard to do while travelling full-time. It was sad to see Hervey Bay virtually empty and quiet, especially for all those small businesses. Unfortunately, we read on Facebook the problems a lot of full-time travellers found securing a place to ride out the pandemic. They didn't want to continue on the road as many people assumed they were holidaying.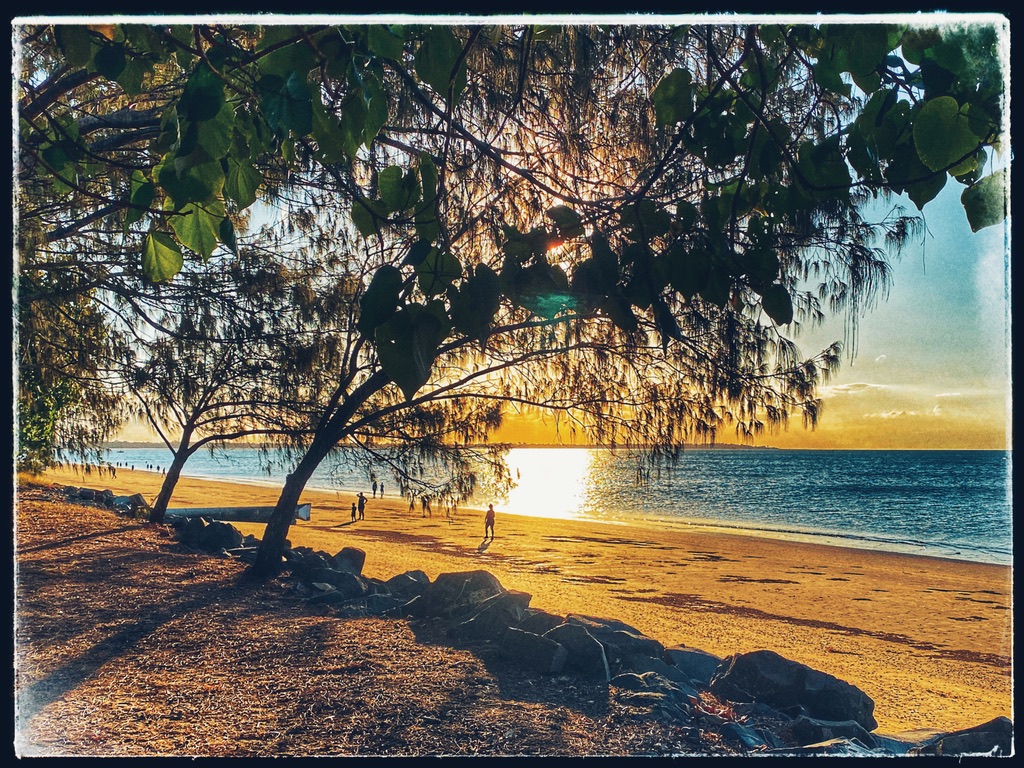 We spent 12 weeks at Hervey Bay. The Premier allowed Queenslanders to travel around the state freely in early June. We decided to continue our travelling in Queensland only and headed west and north during winter. We left in mid-June.
As I write this, we do not know when we can travel beyond the Queensland borders. The whole pandemic has turned a lot of people's lives upside down. Most of the economic effects will probably last an entire generation as the country goes into colossal debt. We do not have to worry about our jobs, although our savings, like everyone else, has had a hit. We were lucky we managed to sell our house before the pandemic. This significant event has affected us in ways we never thought possible. In our own country, we were treated as foreigners and not made welcome, simply because of the way we decided to live. We saw a part of Australians we never want to see again as panic and fear reigned supreme. As a second wave now crushes Melbournians, the vilifications have turned towards Victorians in general. It is not good.
We only hope that the country can get back to some sort of normalcy as soon as possible and state borders re-open, and we become one country again.