Bush Watch is a community policing initiative which encourages bush users to report unusual or suspicious activities. It was set up like Neighbourhood Watch to deal with the spate of sabotage on equipment, logs etc.
The Bush Watch idea was first developed by the now defunct Forest Protection Society (FPS). FPS started from humble beginnings in 1987 in frustration at government policies that increasingly destroyed small timber communities and their families. It was too much for Robyn Bain (nee Loydell), who had lived in the logging town of Nimmitabel in south-east New South Wales all her life. She formed a group with an organised voice to counter the propaganda extreme greens peddled via emotive language in glossy leaflets.
At its height, FPS boasted 12,000 members and 55 branches across the country representing grassroots timber people.
FPS aimed to gain secure long-term access to natural resources to generate employment and a future for regional communities. They campaigned to ensure that native forests were scientifically evaluated and sustainably managed for the benefit of future generations. And they fought against the campaigns run by the armchair conservationists who misled and prejudiced fellow Australians on regional issues by taking advantage of those ignorant of the real problems.
They were at the forefront of achieving balance and providing facts about the timber industry. As Robyn would say, "I don't think it too outrageous to ask that people be given the same consideration as trees."
The FPS network across this country not only motivated activity to make representations for, and on behalf of, their communities in a whole range of areas, they managed to unite civic-minded people who respected law and order. However, its greatest strength was to mobilise law-abiding workers and users of the forest to unite against those that wanted to exploit forest resources illegally and vandalise the equipment of forest workers.
They devised a scheme called Bush Watch to encourage bush users to report illegal activities and prevent theft and vandalism. Bush Watch was officially launched in New South Wales at Coffs Harbour on 12 February 1989.
Meanwhile, Surrey Hills and other freehold land owned by Associated Forest Holdings (AFH) had many kilometres of forest roads and access points for people who wanted to carry out illegal activities such as wood hooking, unauthorised shooting and theft and vandalism of logging and roading machinery. While AFH tried to control access through gatekeepers at its entry points on the main property at Surrey Hills in the early days, the rapid development of an industrial plantation estate from the 1980s increased the roads and the potential entry points.
Noel "Yogi" Wells was one of the last gatekeepers and he ran the Surrey Hills Wildlife Trust. Essentially, this Trust was made up of members of the public that wanted access to Surrey Hills for an annual fee of $5. Its name suggests a conservation leaning, but in reality it had little to no environmental benefits. It didn't serve any purpose other than providing a form of controlled access for users of the Surrey Hills estate. The annual fee gave them the key to open all the gate padlocks.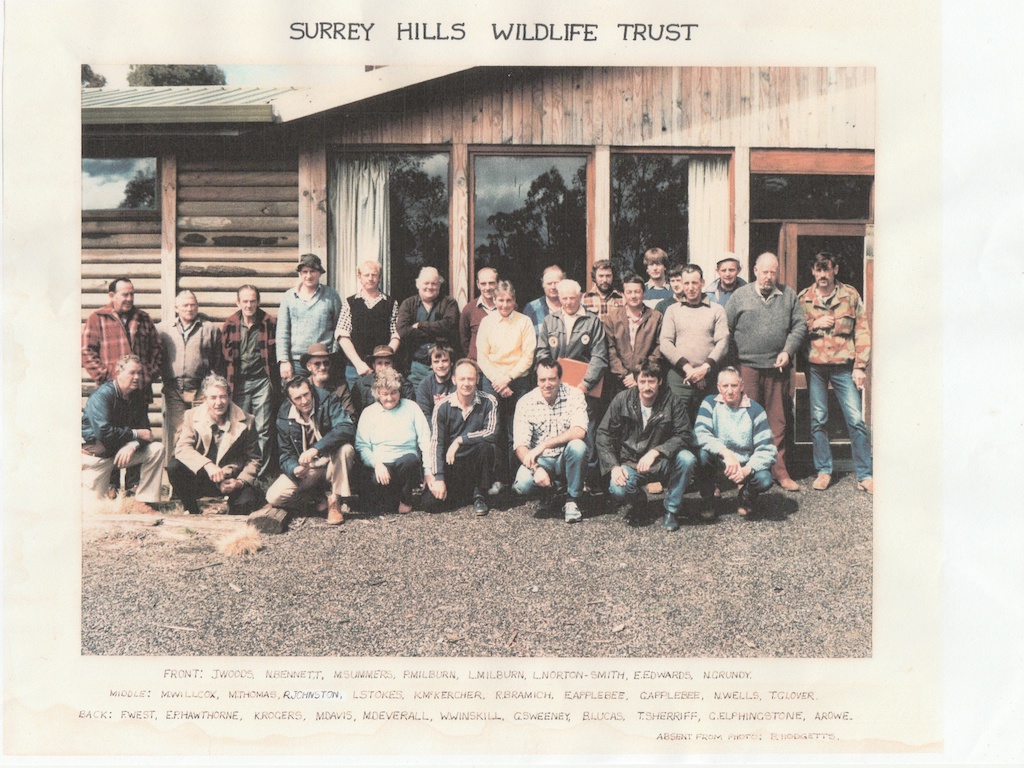 Bob MacAulay came to Tasmania in October 1988 as the Contract Services Manager for the Wesley Vale pulp mill project. Not long after, in 1989, due to political reasons, North Limited decided not to pursue its ambitions to build the mill, and he was seconded to the Burnie Paper Mill on several projects. Afterwards, he was seconded to North Forest Products (NFP) to restructure their award for field staff (AFH was a subsidiary of NFP, based out of the north-west operations).
In 1992, the AFH Safety Manager, Frank Sheridan, indicated his intentions to retire. As a result, Bob agreed to transfer full-time as the Safety and Security Manager.
Bob decided to introduce a new permit system for all users of the AFH freehold estate in the north-west of the state. He replaced all the locks with a hierarchical key system which prevented access through every gate for the public. This included restricting vehicular access to Talbots Lagoon for fishermen to avoid sharing with the roads with the logging trucks. Through a consultative committee, Bob organised funds to build a parallel road to a car park, an interpretive shelter and walking trails. The car park was located outside the Guildford Road gate, and fishermen could walk to their fishing spots, which is what they did at other rivers and streams to get to their favourite areas.
Membership of the Trust dwindled, and it was eventually disbanded and replaced by a consultative committee run by a public relations employee based at Ridgley in 1995. He was a keen fly fisher who insisted that those affected by the changes needed to be consulted by the changes Bob was introducing. Bob's idea of consultation was that he was more than happy to let people know of the changes, but he stopped short of seeking their blessing.
Meanwhile, Bob found some printed notepads titled "FPS Bush Watch" in Frank Sheridan's cupboard. They were proformas to record anything suspicious or untoward in the bush. They included dates, time, registration number, location, what was seen, how many people etc. He thought it was a good idea but didn't think more of it at the time.
Bob had staff drive around the bush, including at night, to catch illegal and unpermitted activities. It was dangerous as many times when they came across activities that were not allowed, the staff were by themselves and couldn't risk putting themselves in a dangerous situation. Bob understood he couldn't achieve his own goals with his limited team. He soon realised he needed every other user of Surrey Hills to have a stake in ensuring untoward activities could be reported and minimised.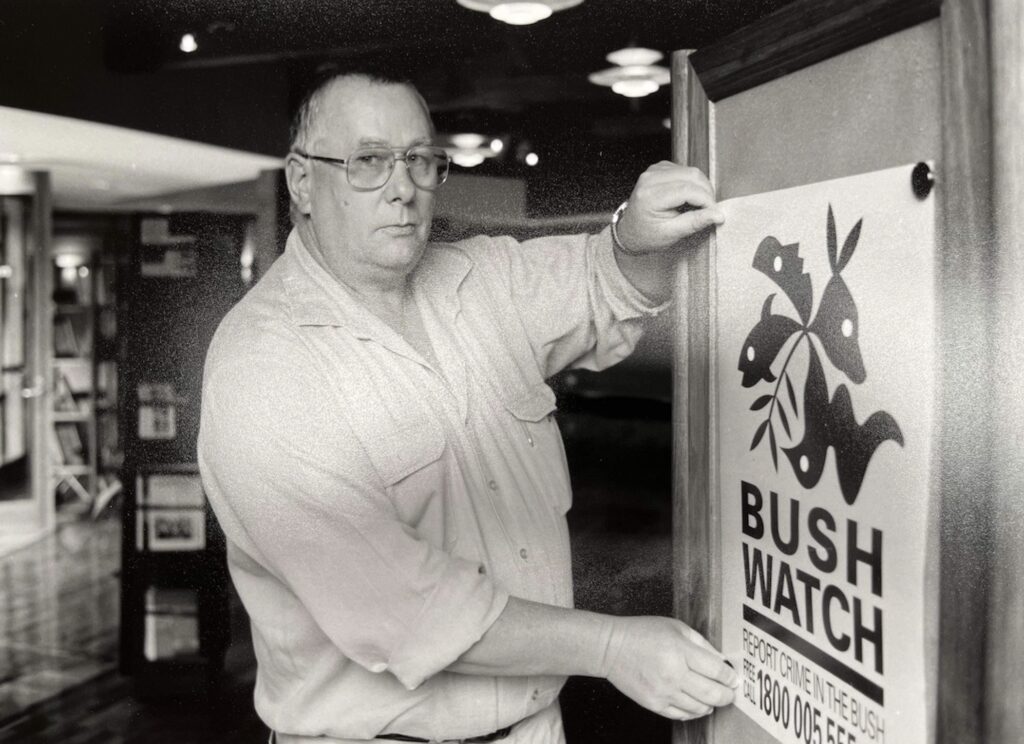 So, as part of having a permit for shooting, fishing or collecting firewood, or any other recreational activity or even research or beekeeping, Bob put an onus on the permittees to report to him what he needed to know to get on top of unwanted activities. He wanted them to be the eyes and ears about what was happening in the vast Surrey Hills block and associated freehold areas. And if Bob found out they didn't report back, he threatened to take away their permit. This gave the basis to encourage all the users of Surrey Hills to report anything detrimental to AFH business. Bob's net grew wider with other organisations such as PWS and shire councils coming on board.
Meanwhile, Tasmania Police had plans to set up a program, like its successful Neighbourhood Watch system, in the bush but the concept had never taken off.
A Hobart sergeant associated with Crime Prevention and an ex-Tactical Personal Protection Squad member, who had been involved in the Port Arthur massacre, travelled to the United States to look at a similar public policing initiative. When Bob heard about it, he was enthusiastic to see the program develop in Tasmania.
On the sergeant's return, however, there was no impetus to develop this program through the Tasmania Police. Bob, instead, decided to go alone and had Bush Watch signs made up by a sign maker in Hobart and planned to hold a public launch in the north-west. However, FPS had caught wind of this and complained that NFP couldn't do this and had to go through the Tasmania Police.
Around the same time, Tasmania Police had a change of heart. They decided to support Bush Watch as a preventative crime initiative to encourage users of the bush or recreational areas to report unusual, suspicious, or criminal activity and vandalism to police, using a 13-phone number that was the same as Crime Watch. They also wanted people to be the eyes and ears of the bush.
The main aims of Bush Watch were to encourage reporting of suspicious activity and vandalism to the police. People didn't have to give their names, and any information that led to an arrest and conviction was supported with a reward offer. In addition, they encouraged people to lock vehicles and secure equipment and valuables when in the bush. This included an engraving of property with a personal driver's licence number prefixed with the letter 'T'.
Bush Watch gained prominence through Tasmania Police and helped increase awareness of rural crime and community safety issues. It provided the public with strategies to protect industry, infrastructure and residential properties in rural communities. It also offered a dedicated number to report crimes and suspicious activity anonymously if wanted.
In 1996, Tasmania Police organised a public launch of Bush Watch. More than 60 people attended the event of the formation of the Western District Bush Watch Committee, held at the Oldina Forest Reserve. Champion axeman and the inaugural patron, David Foster, opened the launch. Senior Sergeant Basil McClymont was the first chairman.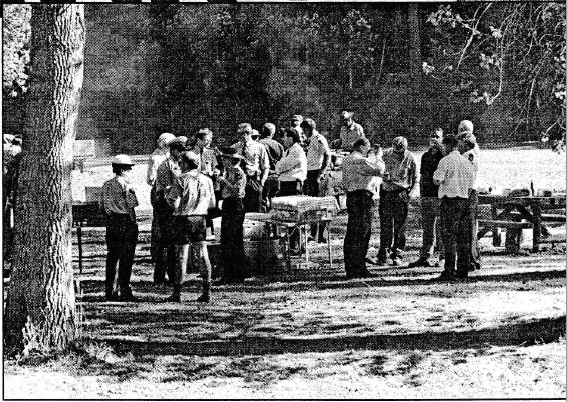 As per Bob's original intention, Bush Watch's main achievement was getting others to assist management in reporting suspicious and illegal activities in the bush by using their greater presence as the eyes and ears.
Bob took the initiative to host the Western District Bush Watch meetings and provide lunch at the NFP office at Ridgley because he wanted the public to associate a strong link between Bush Watch and NFP.
In 2002, the committee was officially recognised with an Australian Crime and Violence Prevention Award, highlighting outstanding projects that prevented or reduced violence in Australia.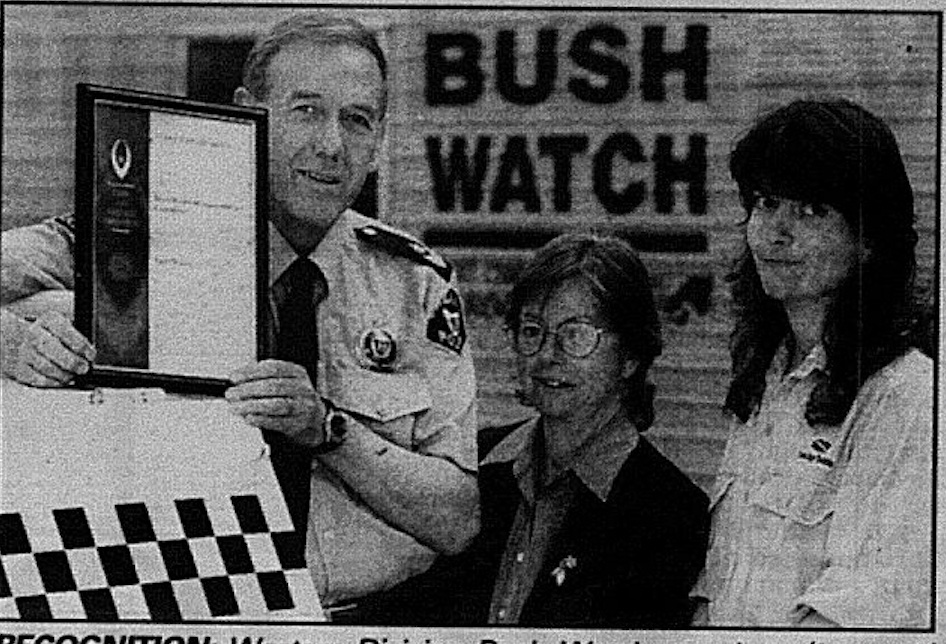 Bob is grateful that there was an active Bush Watch program in the north-west as it helped him try and stamp out illegal activity. In addition, the networking opportunities across different organisations assisted in intelligence gathering and evidence collection to assist police prosecutions.
One case in point was around 2003-04 when there was a spate of diesel thefts in the bush. In conjunction with a detailed analysis by Tasmania Police, it was found that a truck driver was delivering fuel to contractors in the bush in cahoots with a service station operator near Burnie. Between them, they devised a system where the truck driver recorded filling the contractor's fuel tanks, only putting in 50 per cent. They had a hidden trailer tanker in the bush that he would fill with the excess, and the station operator would take the tanker to his retail tank. Information from various people in Bush Watch led to the supposition of an inside job. Eventually, the truck driver was convicted on a suspended sentence.
With the use of hidden security cameras strategically placed in the bush, several illegal wood hookers were caught and fined. In addition, with the assistance of Bush Watch, Tasmania Police were able to apprehend people shipping man ferns from the state without a licence.
Another example was when a logging contractor set up a camera between Christmas and New Year after suffering several fuel thefts. He supplied an image of the offending vehicle, but the sunlight obscured the registration plate. Tasmania Police managed to use the negative image to identify the offender and found three 44-gallon drums of diesel at the premises.
Bush Watch had an important educational role as well. For example, contractors working in the bush were encouraged to carry fuel instead of leaving a tanker on site and remove two-way radios from machines daily.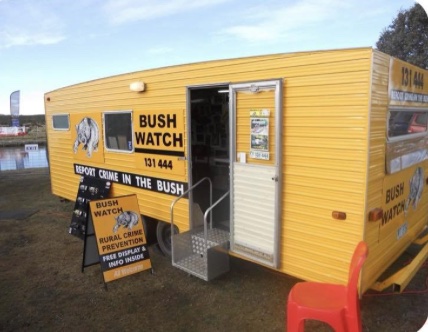 Bob organised the donation of a surplus caravan from AFH that had previously been under-utilised as a mobile trading room for the Bush Watch committee. It was refurbished by services and or products from sponsoring businesses. For example, the exterior paint was supplied by William Adams in the Cat yellow colour. It was used at shows and events to help promote Bush Watch. Each year at Ag Fest, the caravan occupied a site. Bob used to also run a surveillance operation on ATVs in the car park as a presence to deter thieving.
After Basil McClymont retired, Detective Senior Constable Russell Broomhall stepped in as Chairman. Russell was involved in Bush Watch since its inception and ably steered the committee through its next phase until his retirement in 2018.
Unfortunately, the Bush Watch Committee has had to deal with some tragic events in the bush. In 2015, a call through Bush Watch reported a suicide case near Valentines Peak. Another guy killed himself in a burnt-out vehicle in 2017 at Guildford. He had been missing for a few days, and local Council staff found the car. Forensic analysis diagnosed the deceased had a terminal illness.
There were other Bush Watch committees in the state, such as at Westerway near Mt Field National Park, which was active for a while. Another one started out of Scottsdale in the north-east. However, the north-west committee, which has always been the most active branch, remains the only active Bush Watch branch in the state. It has been so successful and has remained the only continuously active branch in Australia solely due to the advocacy and hard work Bob put into it in the early years.
I can attest to the value of Bush Watch as I, too, became involved in 2010. Bush Watch became critical then as we had no logging or plantation establishment activities on Surrey and Hampshire Hills, and the Hampshire wood chip mill had closed. The company was in its last throes before going into administration. Without any staff to help me, I relied on the few remaining permit users to assist in reporting activities that were increasing on a vast, lonely and empty freehold estate. I also appreciated having a direct line to the police to help me try to bust extensive firewood hooking operations that were selling firewood commercially on the streets.