In Chapter 10 of my book, Fires, Farms and Forests, I outlined a fantastic summer picnic and sporting carnival held on Surrey Hills from 1922 until 1930. A picturesque location immediately adjacent to the Emu Bay Railway (EBR) line, just outside Guildford Junction, was the chosen site and it became known as the Muddy Creek sports ground. It was two acres of flat, cleared land and located centrally to both ends of the railway line. Special trains ran from Burnie, Zeehan and Waratah to ferry people to the event.
The EBR Company decided to host an event for its employees and families on an overcast day in late February 1922. About 1,000 people attended, and it was so popular, the event was held annually on the last Monday in January. In those days, it was a public holiday known as Foundation Day.
Foot running originated in the English midlands in the mid-nineteenth century. Soon after, Australian professional foot running began in the colonial period to provide entertainment in the Victorian goldfields. From there, the sport thrived, with athletic clubs springing up all over the nation.
In Tasmania, sporting carnivals run during summer at various towns hosting running, cycling, and woodchopping events. They started as humble picnic events and, by the 1950s, became elite sporting events. The Burnie New Year sports carnival became one of Australia's most diversified and entertaining one-day sporting carnivals. It started in the 1860s on a "piece of geese-flattened grassland" with its bumpy, sandy track. In 1915 the carnival was moved to its current location at West Park with its much-improved asphalt track. In 1924 it offered the biggest prizemoney pool in Tasmania, attracted a record number of entries and a crowd of more than 10,000 people. The Burnie Gift is one of Australia's most prestigious foot races after the Stawell Gift.
With this background, the Muddy Creek picnic and sports carnival originated. The main sporting events were running races and woodchopping activities. The running races were called a Sheffield run over 130 yards. The name is derived from the distance between two local pubs in the English town of Sheffield.
A committee was formed to organise the sporting events and treats for the children. The running track and chopping arena were fenced off; a separate judges stand was built; refreshment booths provided; a children's playground and a band played to entertain the guests.
The inaugural winner of the Open Sheffield was A. R. Saltmarsh, beating B. Geaves by inches to win £5. K Hart won the Railway Sheffield. E. Murray won the Railway Chop in 53 seconds, and Mr E. A. Lohrey of Ridgley won the Open Chop in 46 seconds. Mrs Boram from Waratah won the married ladies race, and Mr J Burke won the Old Buffers Race.
Although not a lot is known about the Muddy Creek event, we are fortunate that a resident of Waratah was very handy with his camera and took photos of the event.
The following is a summary of John Henry ("Jackie") Robinson's life written by Nic Haygarth for the 2012 Tasmanian Museum and Art Gallery exhibition called "Mining, Mud and Mirth":
"For forty years John Henry ("Jackie") Robinson framed Tasmania's Waratah district and surrounding mining areas with his camera. From 1913 to 1935 he was the Weekly Courier newspaper's resident eye on the West. Until his death in 1953 at the age of 70, his crystal clear black and white landscapes continued to illustrate [The Launceston] Examiner Annuals. His lantern slides were also regularly used to promote Tasmanian tourism.
Working for the Mounty Bischoff [Tin Mining] Company allowed Jackie all-areas access to one of Tasmania's greatest mining operations. His shutter also celebrated the region's social life and daily events. Rarely was a golden wedding anniversary, wheelbarrow race, vice-regal visit or snowfall missed. Diggers subsisting in canvas and King Billy timber shanties on the Savage River and Mount Stewart osmiridium fields were vividly documented.".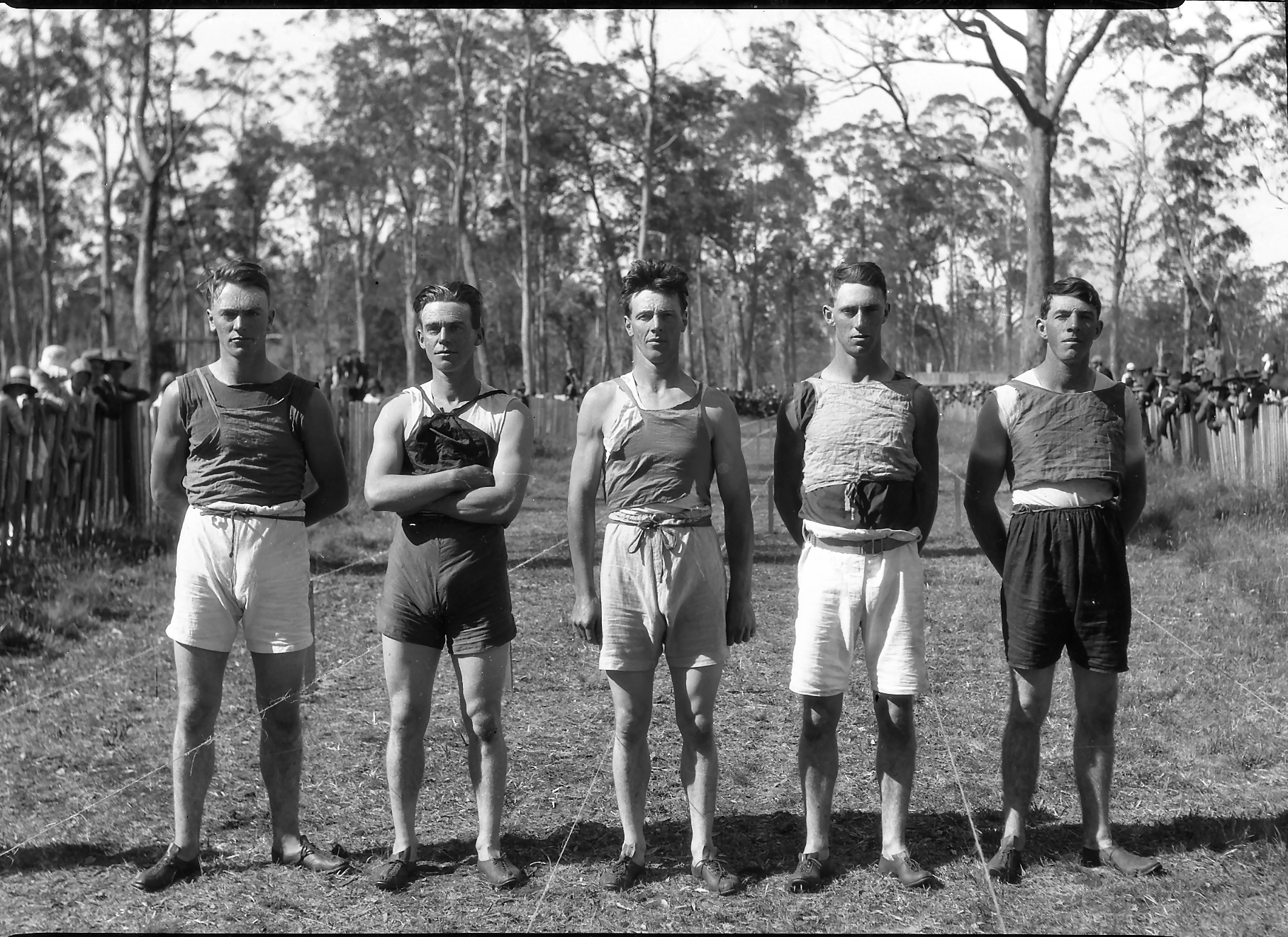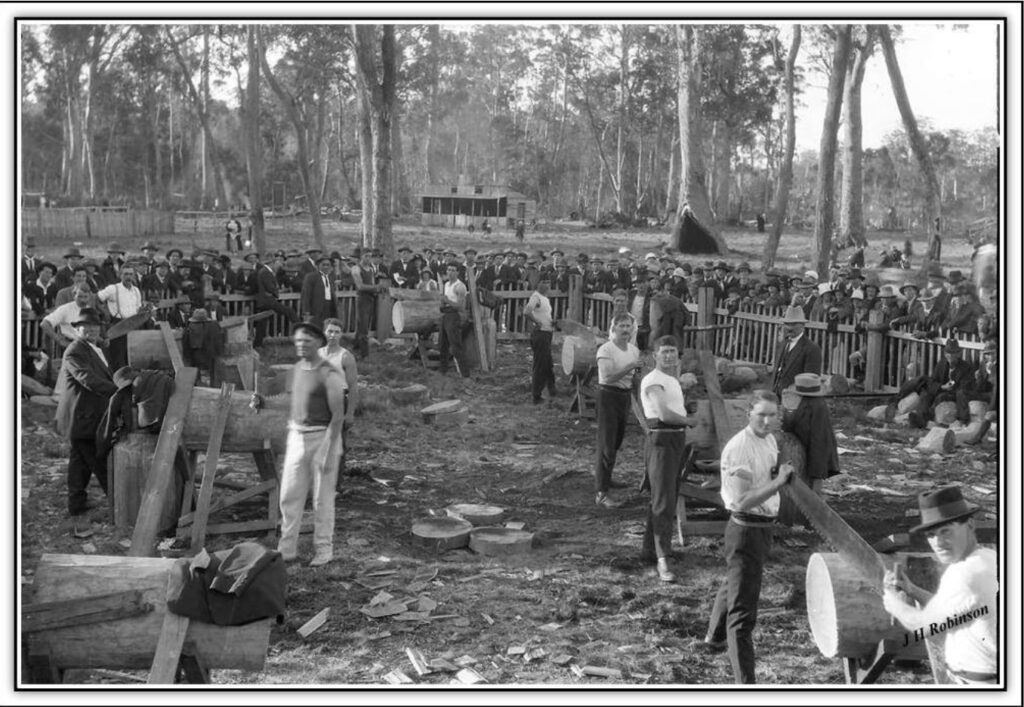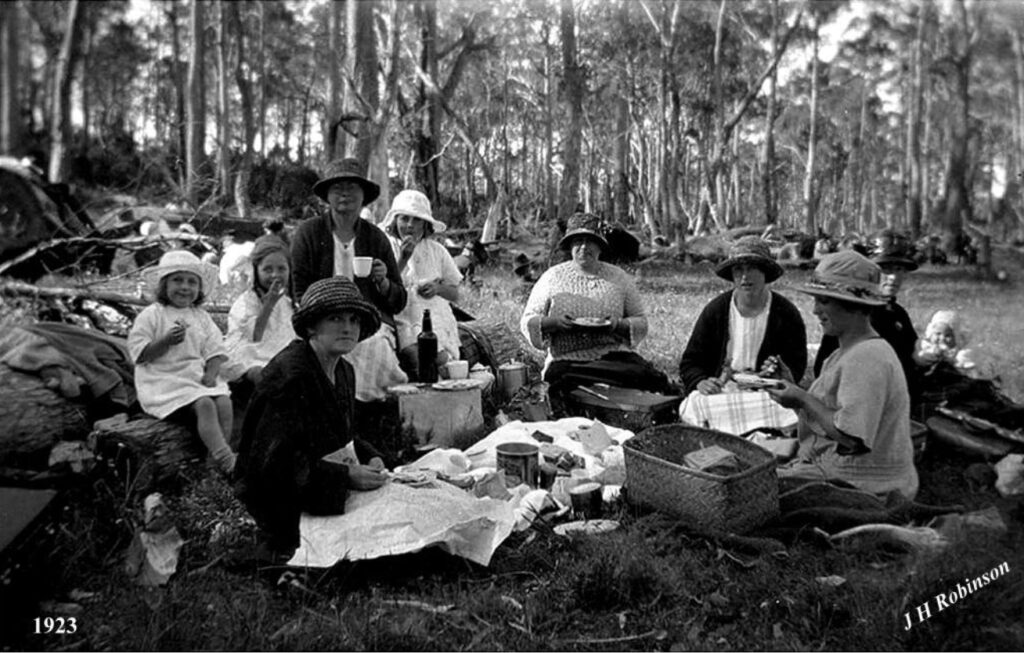 Knowing these photos and possessing a keen interest in historical places associated with Waratah and surrounding districts, amateur historian and keen bushman Winston Nickols decided to try and find the Muddy Creek Sportsground on Surrey Hills. He initially tried to locate it by himself without much background information.
Meanwhile, Winston had found a very willing companion for his regular trips to the bush in western Tasmania via retired teacher and artist Anne Dunham. So they went looking for the famed Muddy Creek site in June 2016 on a cold, miserable winter's day. While they didn't find it, they thought it would be good to organise a tribute to Jackie Robinson, who left us beautiful photos of the event. So why not get people to dress up and re-enact some of his pictures?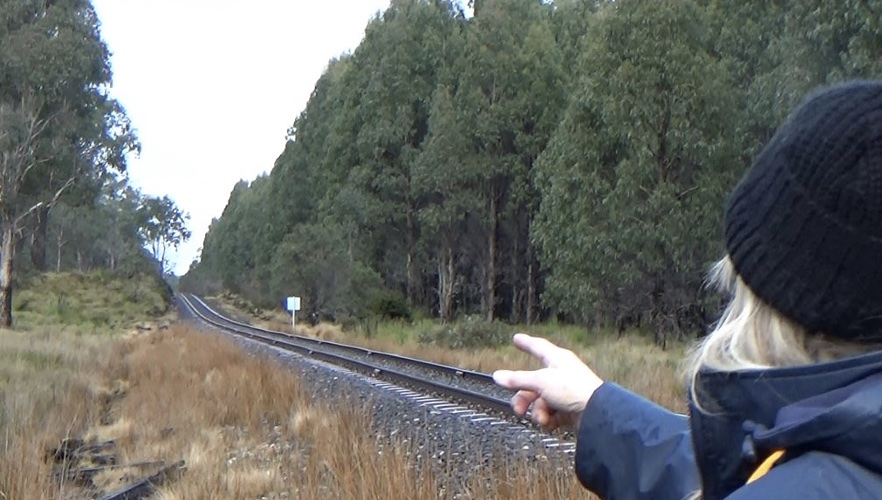 Winston went into full gear to find the sports ground. He made enquiries with some of his friends and colleagues. An Emu Bay Railway Company train driver told his mate Lyle Turnbull that chopping blocks resembling those seen in Robinson's photos were on the right-hand side of the railway line just past the Muddy Creek bridge. So, on a beautiful sunny winter's day the following month, Winston and Lyle went looking again. They found a grassy plain area but no evidence of chopping blocks or fence posts. Winston also searched within a section of regrowth scrub. He was concerned that if they were at the sports ground, all trace of it was gone and possibly all evidence was removed as part of the plantation establishment. He planned to seek more information as he had scratched an itch.
After chatting to Daryl Luke, a train driver for the Emu Bay Railway Company for 30 years, he was told, "Ya can see the dummies!" Daryl was referring to the chopping block remains from the chopping arena. So, Winston and Lyle went back and found the "dummies" on the chopping arena.
Over the following months, Winston and Anne put a lot of thought into organising a re-enactment. They considered the items to recreate a picnic, including the period items like bottles, baskets, bread, jam, cream cakes and even an ancient wind-up gramophone. They also studied what dresswear was appropriate for that period.
Finally, with preparations in place, a date was set in January 2017. People were invited to a picnic with a difference to re-enact photos taken in the 1920s. Participants were encouraged to wear clothing of that era – ladies with hats or bonnets, long dresses or wrap arounds and men with hats, waistcoats, suit coats, ties or bow ties. They also listed hats and long dresses for the girls and long pants, braces, long sleeve shirts and boots for the boys. People were encouraged to bring cane baskets, suitcases, old bottles, cream jars, loaves of bread, old china cups, billy, biscuit tin and table cloths for the picnic. Winston sent out some of Robinson's photos that he wanted to re-enact as a guide.
Seventeen people went to the re-enactment, attempting to re-create some of the Robinson photos. The weather was overcast but stayed fine, and everyone got into the spirit of the occasion, enjoying the opportunity to recreate a historical event. Winston scouted for the appropriate locations to find a log and hollow tree butt.
One of the participants, Maurice Jones, read out a newspaper article of the event from 1929. He added, "not the script, but I think we should pay tribute to those who have organised this day. Firstly, I blame Winston, Anne and Kim for their work organising this day. It will be a long time before Muddy Creek sees this many people again".
The photos are a tribute to the hard work of Winston and Anne in successfully organising the event and providing a reminder of life in the 1920s.
Here are the original photos and the re-enacted ones. In addition, Winston has produced several videos of his trips to the site, which can be found on YouTube. More Jackie Robinson photos can be found on the Facebook page "John H Robinson photos".