The COVID-19 pandemic has made us drastically change our travel plans. After only six weeks, we made it to the NSW-Vic border but returned to Queensland to sit out the nationwide lockdowns. Given some states maintained their border closures at the drop of a hat, we decided to remain in Queensland until things settled down and everyday life returned. Once travel bans were lifted in June, we spent the next five months doing a lap of that state. By late November we knew we would be in south-east Queensland. Instead of competing with thousands of families for limited and expensive caravan park spaces near the coast as we headed into the summer holidays, we decided to explore alternative options.
During the year we had talked about what to do during the busy school holidays. We decided to try house-sitting and registered a profile on the Australian House Sitting site to attract enquiries. Of course, it all depended on whether people would have the confidence to travel themselves and leave home. We also placed an advertisement in the Grey Nomads classifieds. It is pretty competitive as there are many house sitters and opportunities are taken very quickly. The whole system is based on trust, and having references from previous house-sitting engagements always helps win a gig. We had none and so struggled early on to compete with experienced house sitters with an impressive profile.
Using the appropriate filters, it didn't take long to receive notifications for house-sitting opportunities. We changed our profile to suit the times and location. We decided to seek a house sit during the September school holidays while we were on the Central Queensland coast. Our first house sit was at Sarina Beach for a week with owners seeking sitters for the first time. Located on a small hobby farm, we had to look after two dogs, two Brahman bulls, two caged parrots, and feed resident kookaburras and magpies at dusk. The arrangements vary for each house sit and are sorted out when finalising commitments. In this case, we stayed in our van in a nice shady spot with access to power, bore water and a separate bathroom and laundry in the garage.
The two dogs slept in the house with the TV on, and I had to keep the house door open so they could go outside during the night to ablute. The only problem was that they missed their owners and their regular routines, and when they went outside, they were restless and began barking. I spent a few nights nursing them to sleep inside while I watched the TV and snuck out quietly to go back to bed. The other negative was that on days without any wind, we got swamped by midges.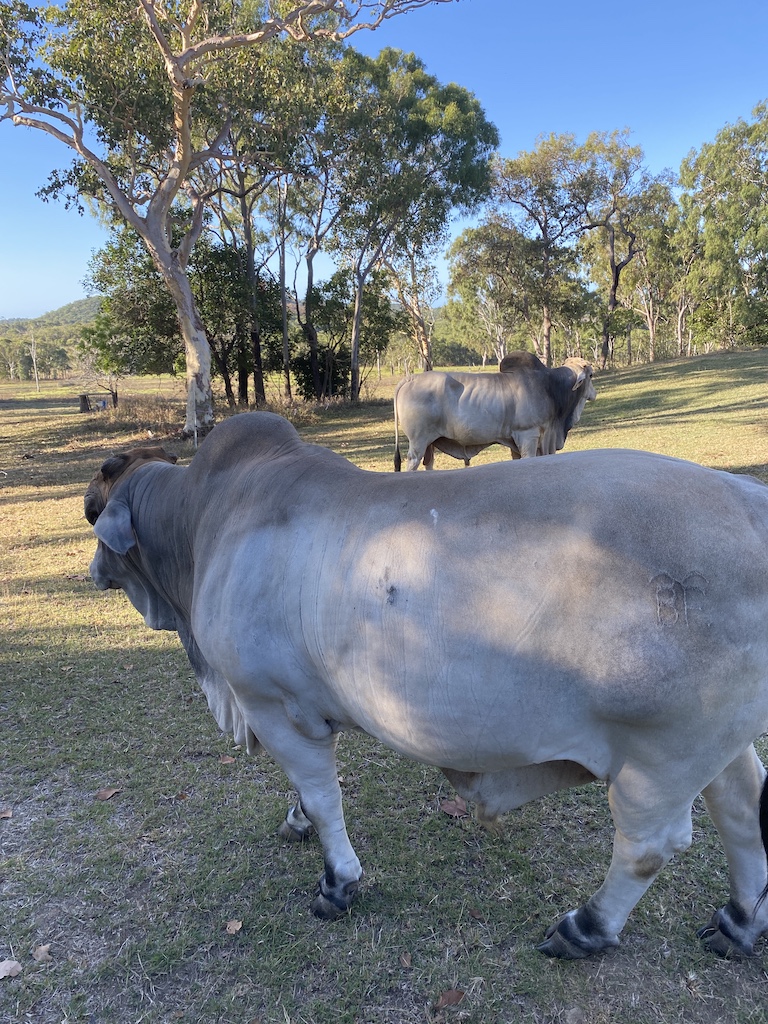 Our next house sit was in late November for a week again. This one was through an ad in the Grey Nomads newsletter. It was located on 130 acres at the end of a quiet road at Glastonbury, about 15 kilometres west of Gympie. They had a herd of cattle and four horses, which looked after themselves. We just had to check they had water in their troughs. We had eight working dogs to look after. They stayed in a gated compound, chained at night, and I let them go for a short run twice a day. They were mainly kelpies and one border collie. Two Lithgow Collie pups were housed separately and had to be fed and let loose twice a day. There was also a matriarch mongrel, nearly blind dog on her last legs and a cat to feed. We parked the van next to the house and used the house kitchen and lounge room, while we slept in the van.
It was a beautiful property that had a small above ground pool. However, a mishap was when one of the puppies decided to chew on a dried-up cane toad carcass. I tried to stop the dog from eating it by putting my fingers in its mouth to prise it out. That was a mistake as he bit into my finger and swallowed the carcass. He survived, and I didn't get rabies, but it was still a nasty cut. They were a handful to keep under control while they endlessly ran about when outside their cage, including into the neighbouring paddocks. When the owner returned, he taught me some tricks to maintain control of the puppies.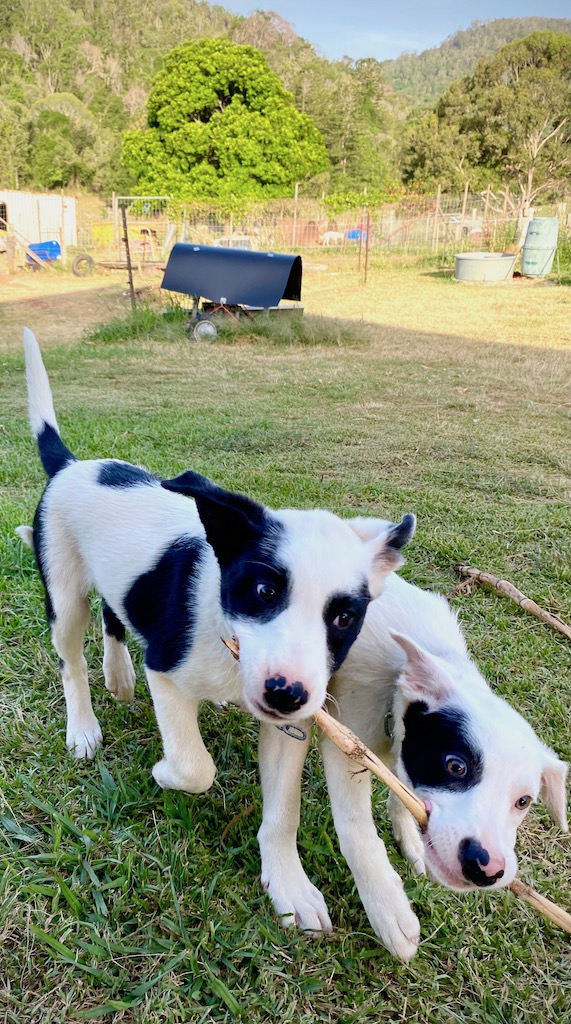 Immediately after, we had a house sit near Beaudesert at Allenview, in southern Queensland for ten days. It was on a 30-acre property with an inground pool. We had to look after three horses, two greyhounds, one sheep, two cats, three guinea pigs and four chickens. Again, we had access to the house and stayed in our van connected to power and water. The horses and sheep were fed twice a day. The dogs slept most of the day and didn't really like their nightly Chum meal. Another mishap occurred an hour before leaving when I got a nasty gash on my right heel from the base of the screen door, which later got infected and took over six weeks to heal properly.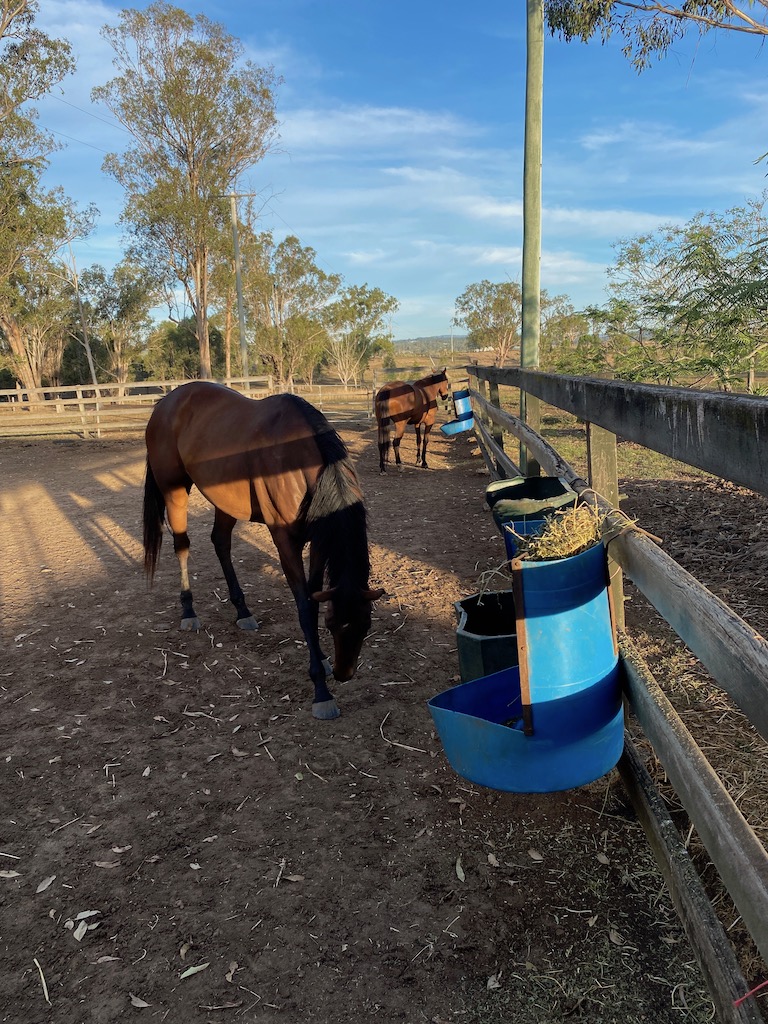 We had a house sit over Christmas at Pacific Haven, just north of Hervey Bay, for a week. It is a rural lifestyle property situated on the Burrum River with a great back verandah overlooking the river. We didn't have access to the house, except for a bathroom and laundry. We had to look after two dogs, one a rottweiler and the other the fattest red heeler you will ever see. I even tried to catch a crab from the river using their pots without success. It was another place with the nasty midges but was nice and quiet and peaceful, directly on the river.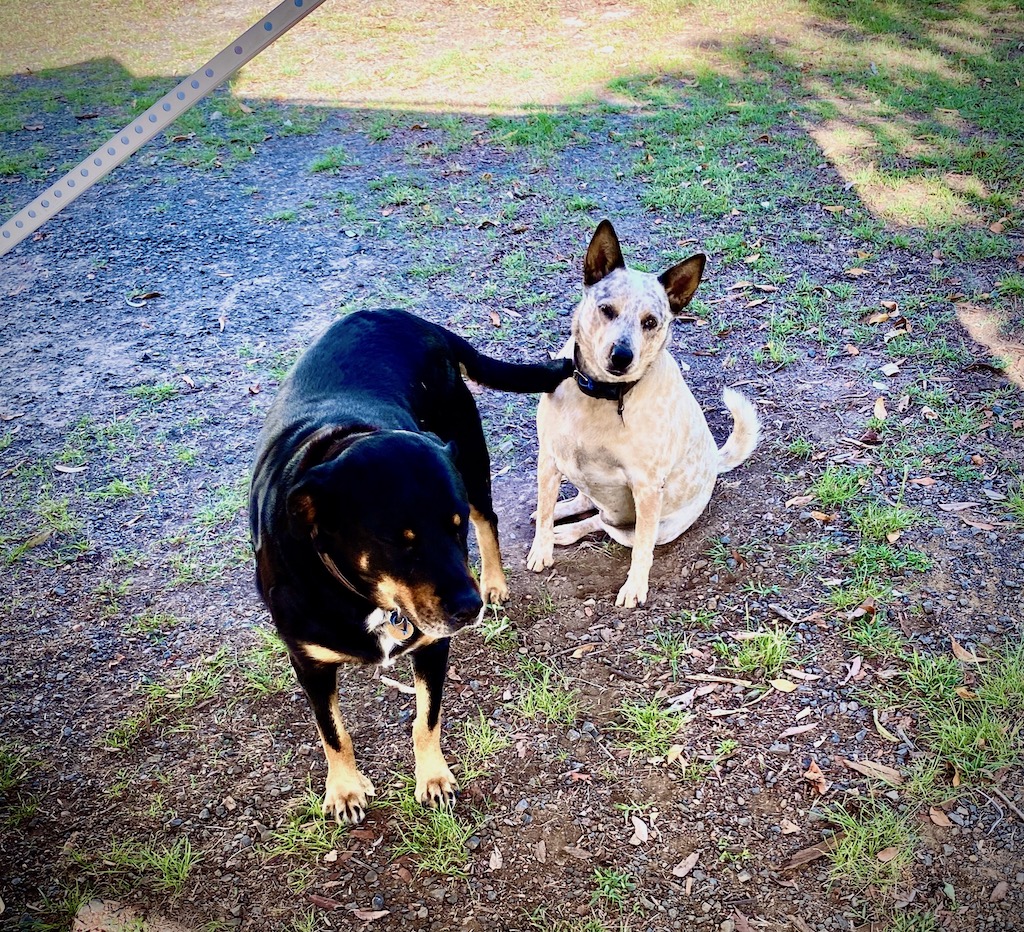 We then went to a stunning place in the Samford Valley, on the outskirts of Brisbane. We had full access to the beautiful Queenslander house with 10-foot ceilings. The house retained traditional elements and had a 3-metre-wide wrap around verandah overlooking the gardens. We had to look after a horse, dairy steer and an indoor cat. The horse (Amber) and steer (Stanley) were fed twice a day, and each morning they were led by a rope head halter to their paddock and return each night to the night yard. I looked after the steer, and because of my inexperience, I wasn't firm enough in keeping him in control, and he quickly took advantage of that. Once you lose control of a half a tonne beast, you regret it. Towards the end of our stay, he got out of his halter on the way to his day paddock, which by then was low on grass. He charged towards the long grass, and we tried to corral him towards the fenced day paddock. While I bent down and tried one last time to put the head halter on while Stanley fed on the grass, Mel gave him another whip with her rope halter, and he suddenly lifted his head straight into my nose, breaking it. I finished the house sit still nursing my infected foot and a bloodied broken nose.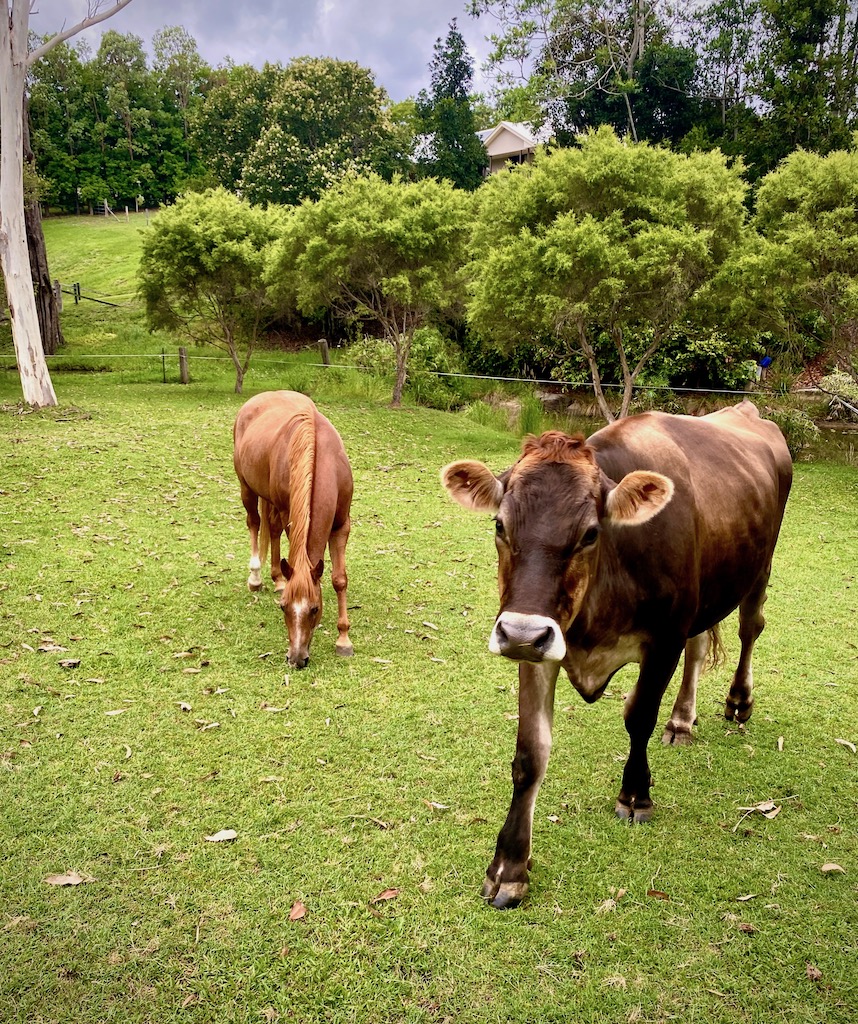 We then headed back to Dalby to house sit our friend's place for just over a week to finish our summer of house sits. Thankfully there were no animals to look after as I managed to recuperate. We had full access to the house and an inground pool. Our main task was looking after the garden.
House sitting is an excellent alternative to constantly living in the confined spaces of the caravan. It also allows us to save on accommodation costs and explore areas from an area you wouldn't usually base yourself. The system is based on trust, but if you don't prove to be a reliable house sitter, you can get a poor rating, affecting your ability to pick up future house sit opportunities. When you have to look after unfamiliar animals, you are challenged, but you learn along the way.
You get the opportunity to seek the sort of arrangements you want. In our case, we wanted a safe and suitable place to park up the van, preferably on a rural property rather than a driveway at a suburban house. We also wanted access to power and water if we stayed inside the van, although our preference was to access the house for the living space.
We look forward to our next house sitting adventures this summer, most likely in Western and South Australia. I just need to be more careful to avoid injuries.